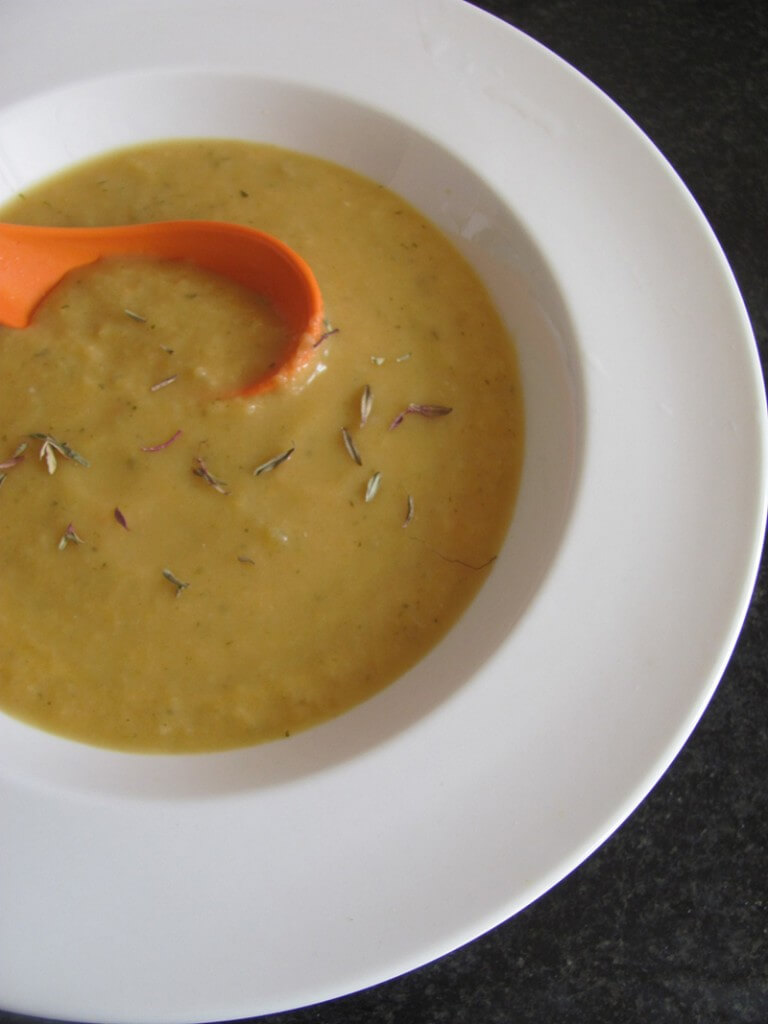 I am in love with vegetables after joining Lumiere and this is not a marketing gimmick. I have had the most amazing papaya and watermelon, bottle gourd and brinjal after joining here. Organic pumpkin char grilled tastes heavenly. So I made this bottle gourd soup and spinach and lentils curry for Sarah from the stuff I got from Lumiere. The first time I made bottle gourd soup was when my mother in law had her tooth extracted. She could not have rotis so I transformed the pressure cooked bottle gourd and lentil into a soup. And ever since then bottle gourd and lentils soup became a regular option at home. Spinach and lentils curry is however a staple option at home from childhood, just that we add meat to it at times to make it exciting. But since Sarah is aversive to meat, I make spinach and lentils curry in the purest of vegetarian form.
Sarah is her usual self just a bit more naughtier than the usual. I am trying to believe this is a phase and that she will stop yelling, howling, hitting and scratching people very soon. I guess she is as volatile and aggressive as her mother but she is equally loving too, but working with her around makes me more tired than working in the kitchen for 12 hours. I am finding it hard to stay awake at the moment So let me get to those recipes.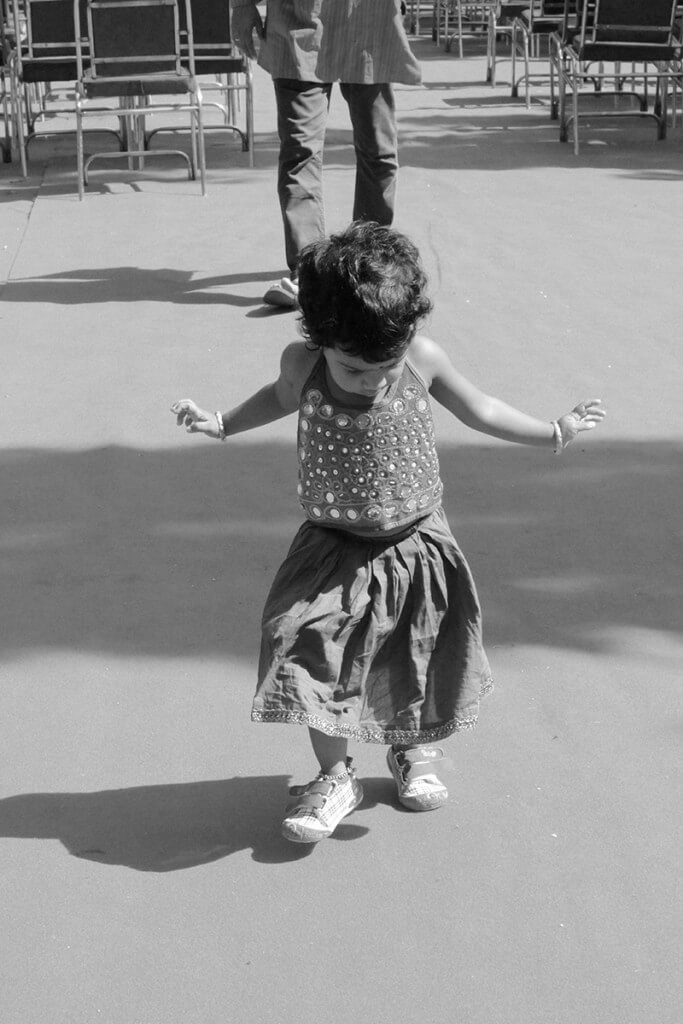 As usual I did not have the time to click pics for the bottle gourd lentil soup so I used the old images from my folder. The spinach and lentils curry I clicked as I was packing Sarah's tiffin, so you can see there are no props in the background. I am still lagging by one day as in you are still seeing recipes prepped yesterday and day before. So I will try to break even by posting my recipe for today by the end of this day. I am sure you aren't counting days like me but to me a challenge has to be honest. And so I am bound to post today's recipe. For now I will share the recipe to spinach and lentils curry and bottle gourd soup.
Ingredients for Spinach Lentils Curry
Spinach- 200g
Split green gram lentils- 100g
Garlic- 5 cloves
Green chilies- 3
Onion- 1
Tomatoes- 3
Ginger- 1/2 inch long piece
Turmeric powder- 1/2 tsp
Chili powder- 1 tsp
Cumin seeds- a pinch
Salt- 1/2 tsp
Coriander leaves- 1/4 cup
Directions
Separate the spinach from the stalk, wash and chop them up roughly. Heat oil in a pressure pan and add the cumin seeds. When they cumin seeds splutter, add the minced garlic cloves. Saute till the garlic browns and then add the chopped onion, green chilies and ginger. Saute till the onion brown and the turmeric and chili powder. Saute for 2 minutes till the spices are roasted well and add the chopped tomatoes with salt. Saute till the tomatoes wilt and then, add the chopped spinach and lentils. Pour 1 1/2 cup water and pressure cook the lentil and spinach up to 2 whistles. Once the pressure settles, check the salt level and garnish with chopped coriander leaves. Serve with rice or rotis.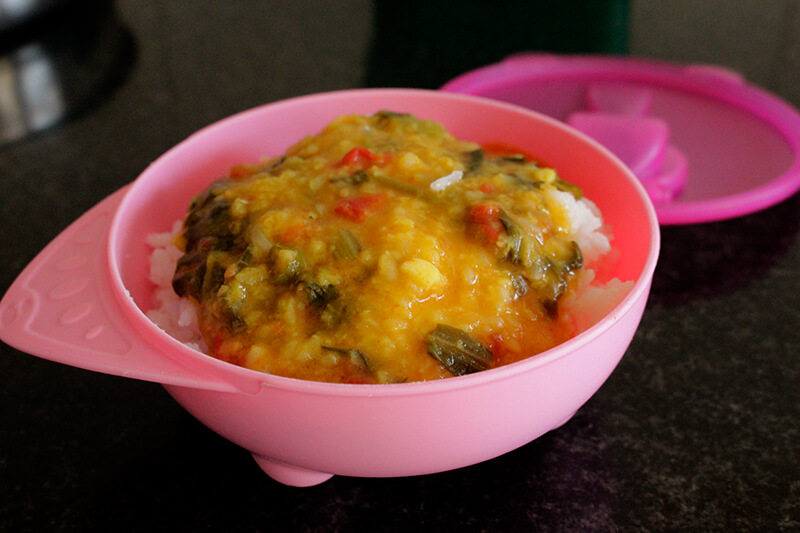 Ingredients for Bottle Gourd Soup
Bottle gourd- 200g
Potatoes- 50g
Carrots- 50g
Tomatoes- 25 g
Onion- 25 g
Garlic- 3 cloves
Milk- 100 ml
Thyme- a pinch
Butter- 1 tsp
Celery- 1 stalk
Pepper- a pinch
Salt- a pinch
Directions
Peel and cube the bottle gourd, potatoes and carrots. Heat butter in a pan and saute the garlic cloves first. Add the onions after this and saute till they soften. Now add the carrots, potatoes, tomatoes and cubed bottle gourd. Add the milk and cook the vegetables over medium flame. Add chopped celery while the vegetables simmer. Switch off the stove when the vegetables are cooked. Puree the vegetables along with the stock it was cooked in. Now heat the butter in a pan and add the pureed vegetables back, Add salt, pepper and thyme along with 1/4 cup water and bring the soup to boil. Let it simmer for 5 minutes and check the seasonings before switching off the flame. Serve the soup with croutons.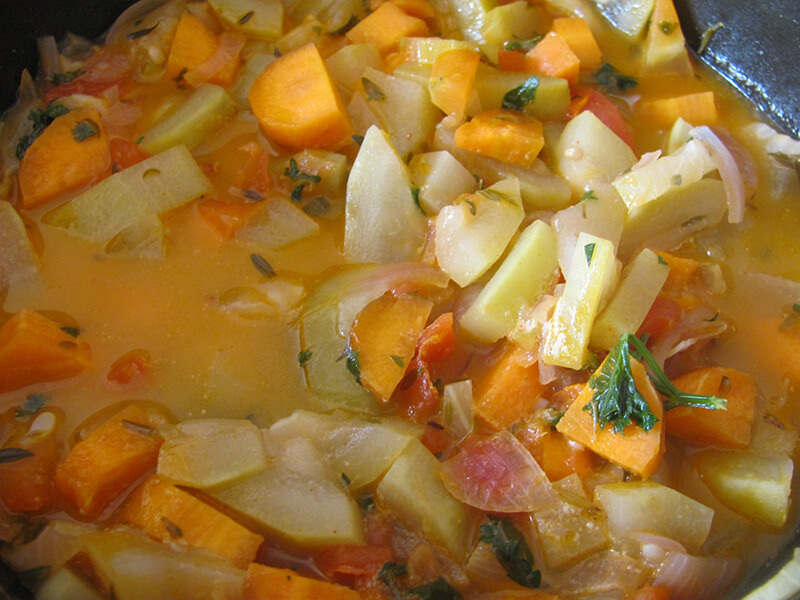 Despite my efforts Sarah is turning into a junk addict insisting on cookies and cakes. Yesterday she has some lentils from our plate but today she refused the spinach lentils at her day care, but she did have it from me when she got back. I lose my patience at times but I try telling myself that's how toddlers are maybe. Hoping to survive another day and stay tuned for 2 more recipes tomorrow.