Summers to me means light eating. I can't stuff myself with heavy meals in the heat. So I prefer sandwiches, smoothies and salads mostly. But I never bother writing them up or clicking them. But this time I had a special reason. I had special buns baked with organic, whole wheat flour at Lumiere kitchen. And I also learned to do the twisted knot from the head baker and did my dinner rolls myself. But he gave me the best ones for the shoot. I decided to make an egg salad sandwich with one of the buns, its one of our childhood favourites. The bun I chose for the egg salad sandwich is the oblong bun. This bun has potato flour in the dough. I will share the recipes for these buns the next time when I do and exclusive post on breads. The second sandwich has home made seekh kebab balls and its a simple recipe that one can follow. I could not have both of them (the sandwiches) because I was full with the egg salad one. So I had one of the egg salad sandwich for breakfast and had the seekh kebab one for dinner. These sandwiches make great picnic treats or party treats for kids and adults, especially the egg salad sandwich because its made with ingredients mostly home. They are a bit creamy so I would not call them healthy but the breads being totally whole wheat a bit of mayo and cream won't hurt I guess. Sarah loves the whole wheat breads from Lumiere and she hates regular breads. I am considering baking breads for her and I also have the toddler challenge to continue. It's been totally chaotic and the heat and lack of power supply is adding to the mess. My comp behave quite erratic these days, shutting down without notice making me type and retype posts. So before the comp shuts down the nth time I leave you with my family's favourite egg salad sandwich recipe. I love this one to the seekh kebab one. But the seekh kebab one is a meat lover's delight ;)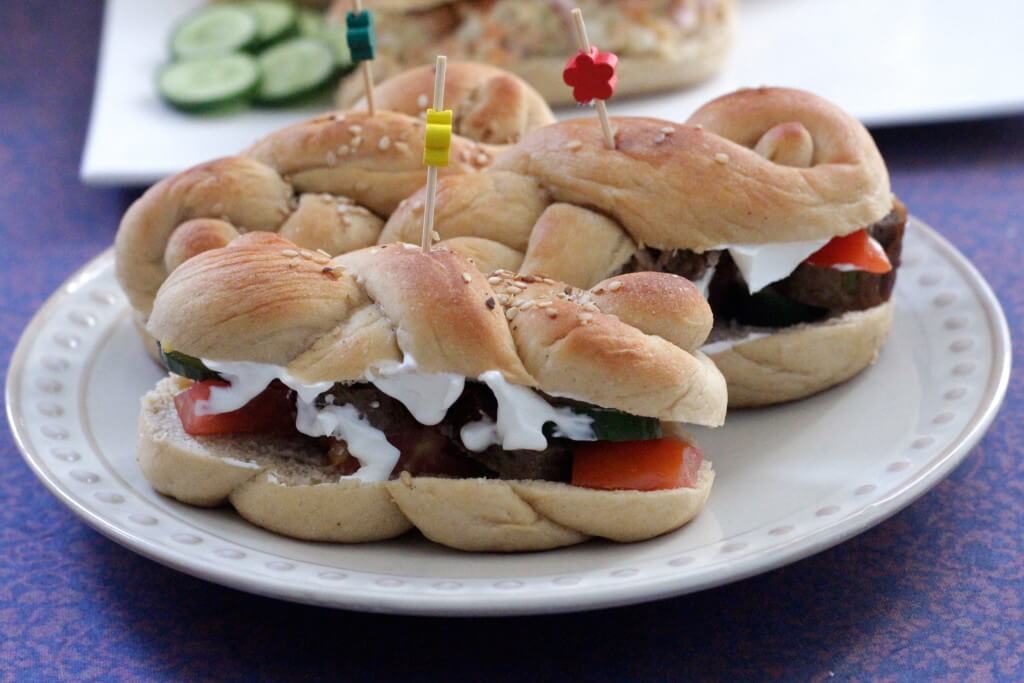 Ingredients for Egg Salad Sandwich
Oblong buns ( buns/ bread slices)- 2
Boiled eggs- 2
Grated carrots- 1/2 cup
Chopped onions- 1/4 cup
Shredded cabbage- 1/4 cup
Fresh cream- 5 tbsp
Salt- 1 pinch
Pepper crushed- 1 tsp
Mustard sauce- 1/2 tsp
Celery/Scallions chopped- 2 tsp
Directions
Mash the boiled eggs in a bowl and add all the other ingredients. Mix them well with a spoon. Slice the buns and toast them. Chill the mashed egg filling for 20 minutes, they taste best when had chilled. Stuff the buns with the filling and enjoy your sandwich with some ketchup.
Note: You can omit egg yolks to make the sandwich healthy. Try mayo instead of cream, if you don't have fresh cream or don't like it.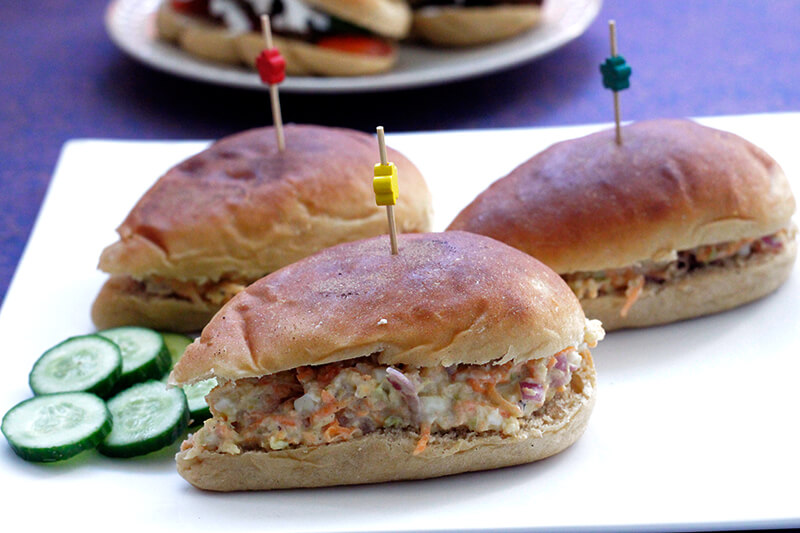 Ingredients for Seekh Kebab Sandwich
Dinner rolls- 2
Cucumber slices- 5
Sliced tomatoes- 5-6 pieces
Mutton mince- 50 g
Freshly chopped mint- 3 tsp
Freshly chopped parsley- 3 tsp
Finely diced onions- 1/4 cup
Garlic cloves minced- 2
Lemon juice- 2 tsp
Pepper- 1 tsp
Salt- a pinch
Olive oil- 1 tbsp
Mayonnaise- 2 tbsp
Directions
This is a simple no spice seekh kebabs that I fry like koftes for sandwiches. For this you need to take the mutton mince in a bowl. Add the chopped herbs, onions, salt,lemon juice, pepper and olive oil. Make balls out of this mix and refrigerate for 20 minutes to make them firm. I don't add eggs or meat tenderizer for these kebabs. I shallow fry them with 2 tsp oil. And in 10 minutes these kebabs are done. You can also bake, grill or fry them up in an air fryer. I smoke them using the dhungar method at time. This is interesting when you have guests and no time for bbq for the smoky effect. Just put the kebabs in a pressure cooker. Heat up a piece of coal and place it in a small bowl that can go into the cooker. Add a drop of ghee to the coal after its hot and do this after placing the coal in the bowl and transfer this bowl to the cooker. Close the pressure cooker immediately and let the kebabs get the smoky flavour. To assemble the sandwich chop the kebabs into small pieces. Cut the dinner rolls into halves and toast them. Now layer the cucumber and tomato slices in top of the sliced roll and finally add the kebabs and mayo. I did not have any lettuce but if you can get some line the buns with some shredded lettuce before you top them with cucumbers and tomatoes. And smoky seekh kebab rolls are ready.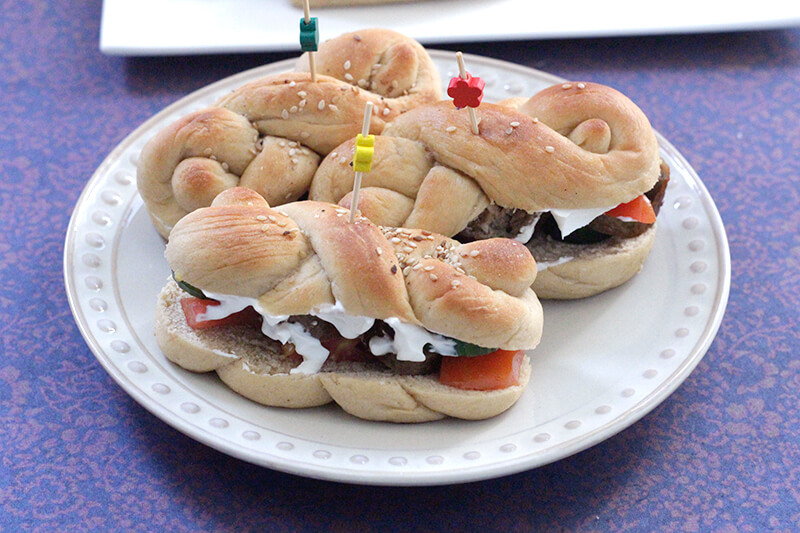 And I thought writing this would be easy and over in a jiffy to think of it, it isn't that easy :) I guess I haven't posted any salad recipes lately. So watch out this space for some salad special salad recipes. Also ooonuready is now being featured on Indian express and so you can now find us basking some media coverage. Here's the link to the articles that were published by them over the last 2 weeks
http://indianexpress.com/article/lifestyle/food-wine/how-to-make-the-ultimate-chilli-pork/
http://indianexpress.com/article/lifestyle/food-wine/how-to-make-flourless-chocolate-brownies/
That's all for tonight. We are having some kadai mutton and rice and I am so sad I could not click them. But I will definitely post them here next time. And till we meet again eat healthy and stay blessed.