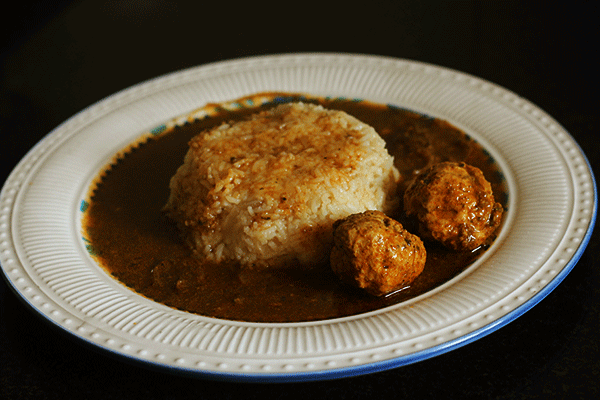 The Anglo-Indian ball curry or 'ball curry' as we called it was a popular curry in my childhood. I have no clue where mom got this recipe from and whether she knew she was making a colonial classic. My recent interest in colonial Indian recipes and Anglo-Indian recipes brought my attention to the Anglo-Indian meatball curry. I realized the ingredients were similar to mom's ball curry and perhaps she picked this recipe from her Anglo Indian friends in Mumbai or Kuwait. I have used chicken kheema but mom always used mutton and mutton kheema balls taste heavenly. Nevertheless a ball curry is yummy irrespective of what meat you use. A lot of these colonial recipes are vanishing today because very few of us know about them and not many of us cook these days :) I can't wait for Sarah to try this curry .
Ingredients for Anglo-India Meatball Curry
Minced meat/kheema (chicken/mutton/beef)- 1 kg
Chopped onion- 4 cups
Green chilies- 6
Ginger- Garlic paste- 6 tsp
Tomatoes- 3 (or 200 ml tomato puree)
Grated coconut- 1 1/2 cup
Chopped coriander leaves- 1 cup
Coriander powder- 2 tbsp
Chili powder- 2 1/2 tsp
Turmeric powder- 1/2 tsp
Garam Masala- 3 tsp
Salt- to taste
Curry leaves- 6-8 leaves
Oil- 3 tsp
Lemon juice- 2 tbsp
Egg- 1
Directions
Prepare the meatballs by adding 1 cup chopped onion, 2 chopped green chilies, 2 tsp ginger garlic paste, 1 tsp chili powder, 1 tsp garam masala , 1 tbsp coriander powder, salt and lemon juice to the minced meat. Mix well and let the minced meat rest for 20 minutes. Add the whisked egg to the minced meat mixture and shape them into small balls. Wet your hands in between shaping the balls to get perfect balls.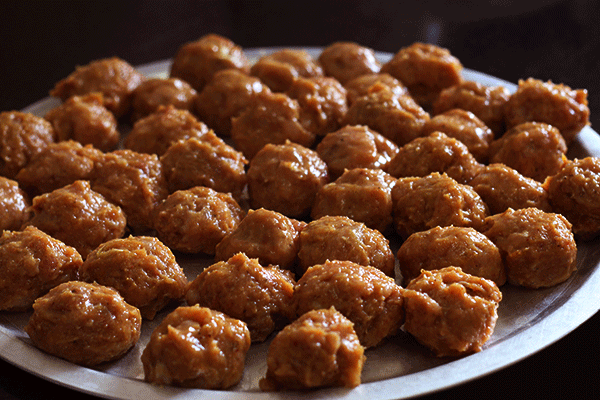 In a grinder, grind the remaining onion, green chilies,ginger garlic paste, tomatoes, chopped coriander leaves and grated coconut. Heat oil in a pan and add the curry leaves. Once they curry leaves are crisp, add the ground paste and saute for 10 minutes till their raw smell abates. Add the spice powders left after the marination of meatballs. Saute for 3-5 minutes. Now add chopped tomatoes and salt. You can use tomato puree instead of chopped tomatoes. Once the gravy is thick ans saucy drop the meat balls gently. Now cook the meatballs over low flame for 10- 15 minutes.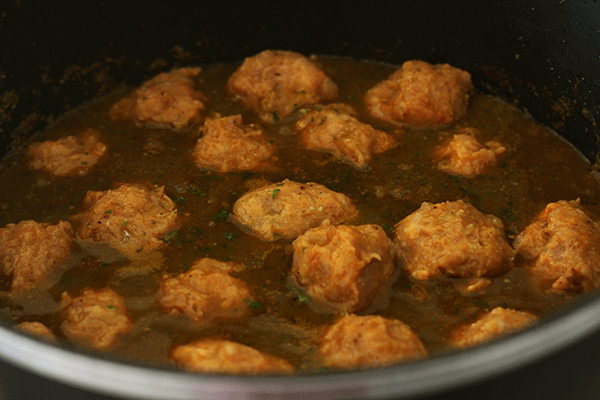 Add a little water after 5 minutes. The meatballs will release sufficient water to cook this curry the extra water is to add more gravy. Once the meatballs are cooked the curry is done. If you don't have grated coconut you can add instant coconut milk towards the end of this curry and bring it to a final boil. I do this when I don't have grated coconut.
I am planning to introduce her to meats soon, she has not been very keen so far. I have served this meatball curry with mom's brown onion rice but traditionally this rice is had with the Anglo-Indian yellow coconut rice. So go try some colonial flavours in your kitchen this weekend. I will post the recipe for yellow coconut rice soon. Maybe with another colonial recipe.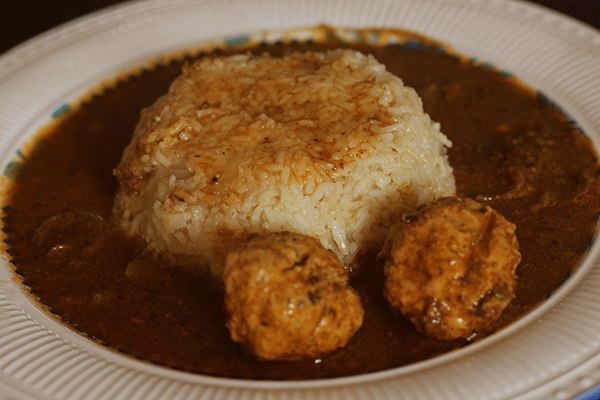 In case you are interested in colonial recipes and want to know more try reading up on Goalando steamer chicken curry, Railway Mutton Curry, Dak Bungalow Chicken and Vindaloo this should satiate your curiosity. And till we meet again stay blessed and eat healthy!