Unlike many who have Monday blues, I have Sunday blues or Pre-Monday blues. It can be too overwhelming at times and I feel myself drowning into a murky quicksand of sadness. I hate cooking on Sundays. I find it hard to pull myself up and the kiddo is overexcited to have both her parents home and does not let me complete any task for that matter. This Sunday, it so happened that my kiddo slept by 12 noon. And I thought this was the first Sunday I got to be alone in the kitchen after a year. Maybe the kiddo's sleep cycle has changed and this meant I could get more Sundays in future. So I decided to start a Sunday special series. A rice-curry combo that is easy to make and hearty too. For the first entry I tried Chicken stroganoff and Herbed garlic rice. Not only did I managed to cook these dishes before 1pm, we also had lunch together before Sarah woke up. Having uninterrupted lunch is a luxury once you become a parent and I am sure man out there reading this can vouch for this.
Another reason I chose these recipes were because they had very low spice quotient making it safe for the kiddo. She had the herbed garlic rice and chicken stroganoff curry and seemed extremely happy to binge on the lemon pie as well. I am looking out for more combos that I can share with Sarah and cook in a jiffy. Hope I can continue my experiments uninterrupted. As usual I have tweaked this recipe a bit so its my version of a stroganoff and I am dying to do another version with beef. But lets pacify ourselves with some chicken stroganoff till then.
Ingredients for Chicken Stroganoff
Chicken- 2 breasts
Mushrooms- 200g
Butter- 50 g
Onion- 1
Fresh cream- 100 ml
Rosemary- 1 sprig
Chicken stock- 2 cups
Wine- 1/2 cup
Worcestershire sauce- 2 tsp
Salt- to taste
Pepper- a dash
Directions
Heat butter in a pan and brown the diced chicken in batches. Set the browned chicken aside and in the same pan with chicken grease add sliced onions.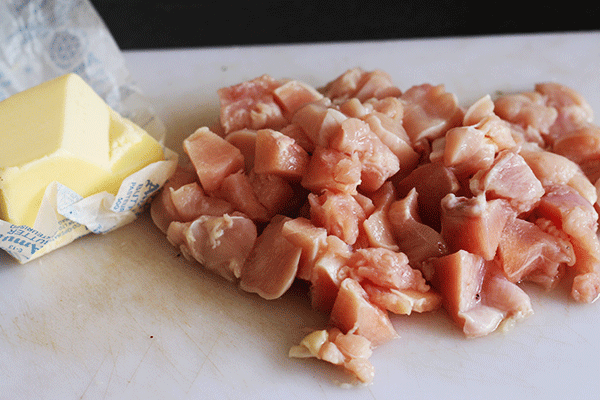 Saute till the onions brown before adding the diced mushrooms. Add the diced mushrooms when the onions are translucent and sprinkle some salt. Do not overcook the mushrooms. So after 2 minutes of sauteeing add the chicken stock, Worcestershire sauce and wine. Bring the gravy to boil and add pepper and rosemary. Add the browned chicken to the gravy and cook over low flame for 10 minutes with the lid on.
After 10 minutes add the fresh cream and bring the chicken stroganoff to a final boil. The gravy will start to thicken and now you can switch off the flame.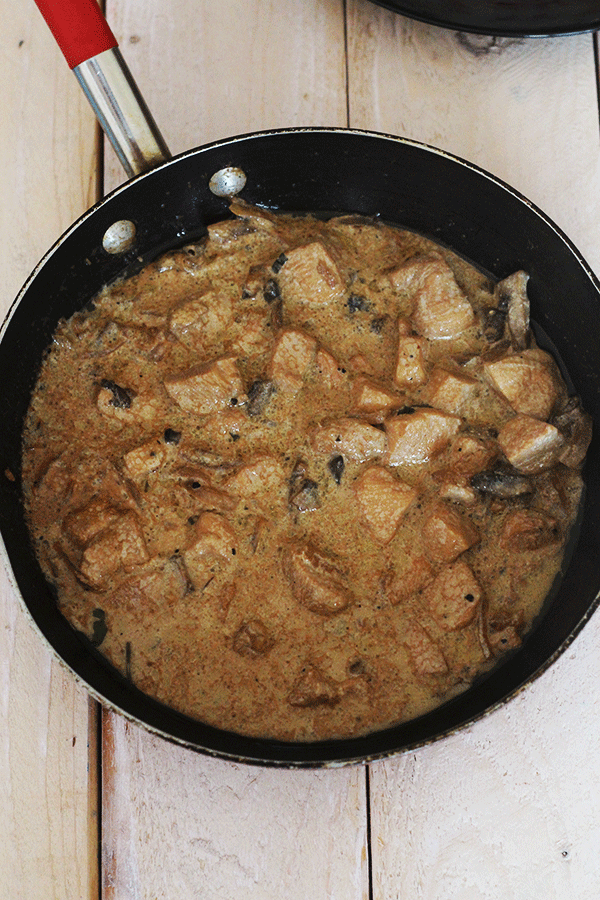 Ingredients for the Herbed Garlic Rice
Basmati Rice- 1 cup
Water- 2 cups
Garlic- 16 cloves
Celery- 4 stalks
Butter- 50 g
Salt- to taste
Directions
Wash and soak the rice for 15 minutes. Boil water with salt and add rice to water, when water starts to boil. Cook for ten minutes. The rice should be just cooked and not overcooked. Mince the garlic and chop up the celery while the rice is cooking. Drain the rice and pour some cold water over the rice to prevent it from cooking any further. Heat butter in a pan and saute minced garlic.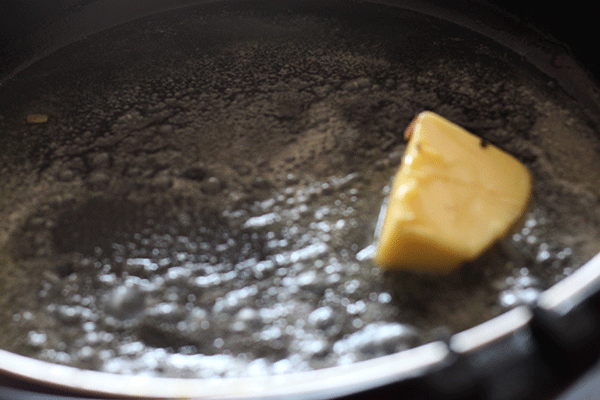 When the garlic turns golden add finely chopped celery and saute for a minute. Now add the cooked rice rather toss it and do not stir a lot because the rice gets squished. Now cover and cook for 1o minutes stirring gently occasionally. Check if the rice has cooked sufficiently to your preference after 10 minutes and serve immediately.
Stay tuned for more posts, I am more excited to try this series than any other posts seems like Sundays are all that I might get to do a proper shoot. Do write to me I am dying to hear from you guys. Till we meet again eat healthy and stay blessed !