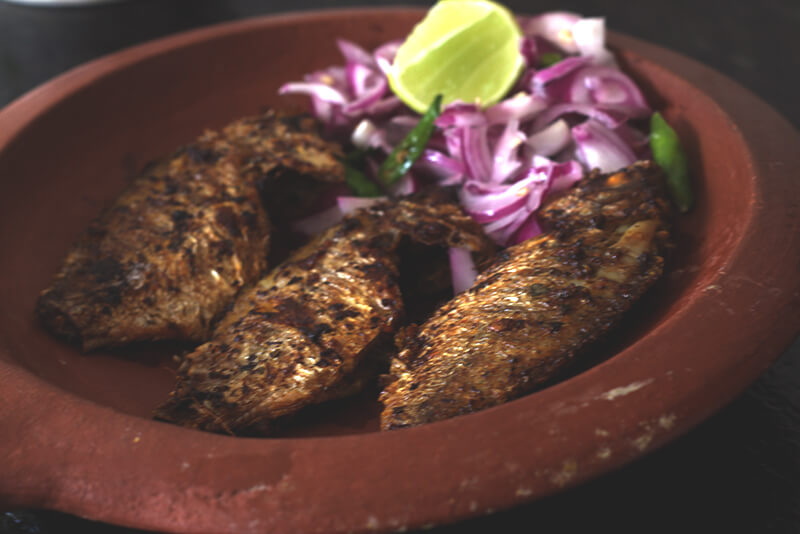 Pachakurumulakaracha Meen Varuthathu though sounds like the name of a malayalam movie it just means a fish fry that uses green pepper for the marinade. And how does this make anything exotic? Well it is healthy to begin with – much healthier than the chili powder that goes into the normal fish fry marinades. And this recipe unlike the normal fish fry at home (which has turmeric, salt, chili powder) has shallots, garlic, curry leaves and ginger ground together making this a very different recipe. And a fish fry cannot do without challas or sarlas the royal side salad in my house. In my childhood, this was something served to dad or his friends who came home to have a couple of drinks. As a kid, getting a portion of the challas was a privilege though it was nothing just onions and chilies made into a side salad. But maybe the way mom mixed it with salt, chilies and coconut oil and that final dash of vinegar- elevated the onions to a different level. I am not a seafood lover unlike hubby dear and so seafood never appealed to me. But Sarah loves fish just like her dad and so I decided to go ahead with this marinade – Pachakurumulakaracha Meen Varuthathu today. I started with sardines so you might see sardines in one of the images, finally we also fried some silver carp which is what you see in my final images. The same recipe goes well with pork and chicken so if you are not in the mood to try fish, try the same with meats.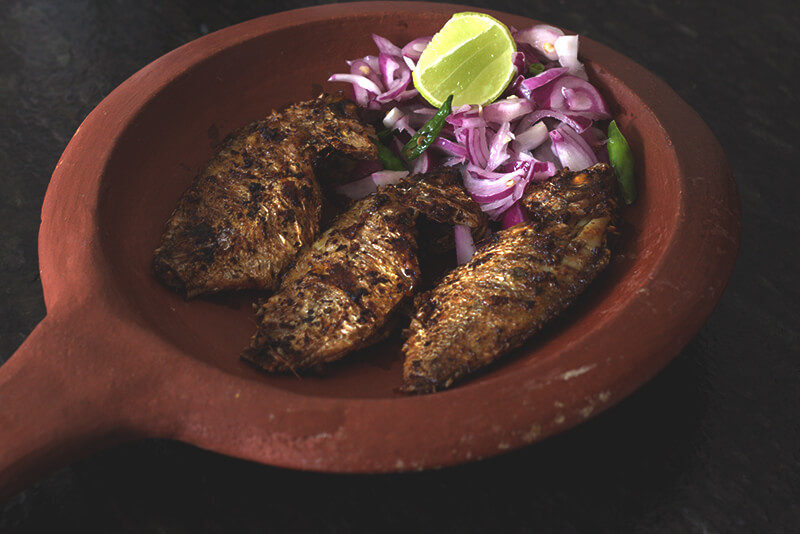 As for me, I decided to go ahead with this easy recipe for a gooseberry chutney – a recipe I picked up from friend Anagha. It feels so good to have this and this being gooseberry season, I am making the most of it. I won't share the recipe for the chutney this time but stay tuned and get back for this recipe.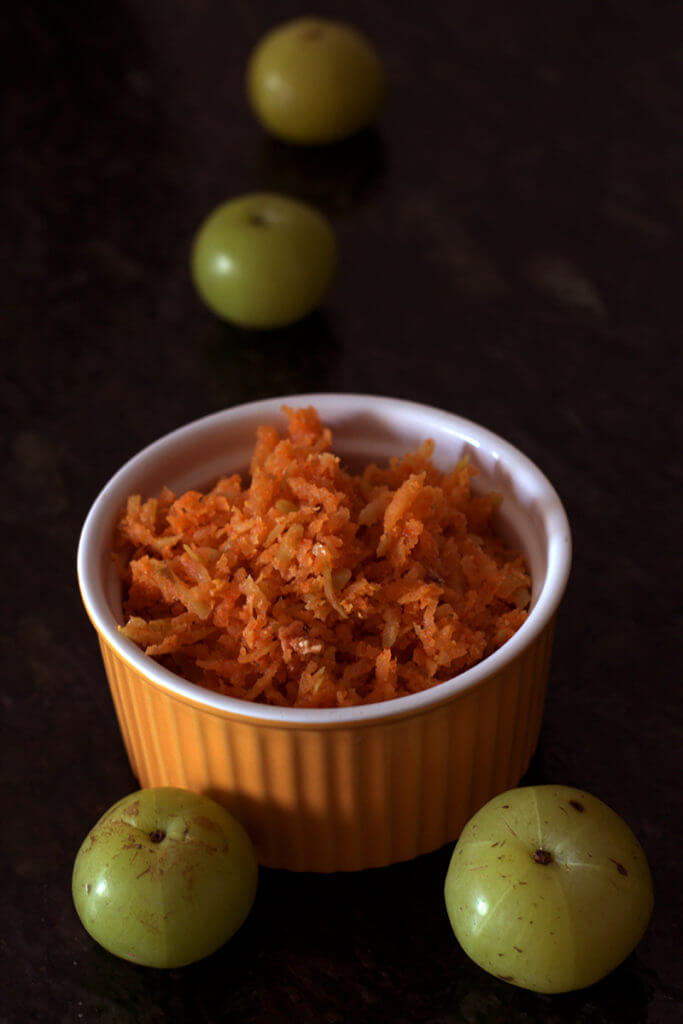 Ingredients for Pachakurumulakaracha Meen Varuthathu (Fish fry with green whole pepper marinade)
Fish(sardines/silver carp)- 1/2 kg
Shallots- 6-8
Garlic- 6-8 cloves
Ginger- 1/2 inch piece
Green whole pepper- 3 tsp
Salt- to taste
Turmeric powder- 1/4 tsp
Curry leaves- 6-9 leaves
Oil- to fry (coconut oil is what I used)
Vinegar- 1 tsp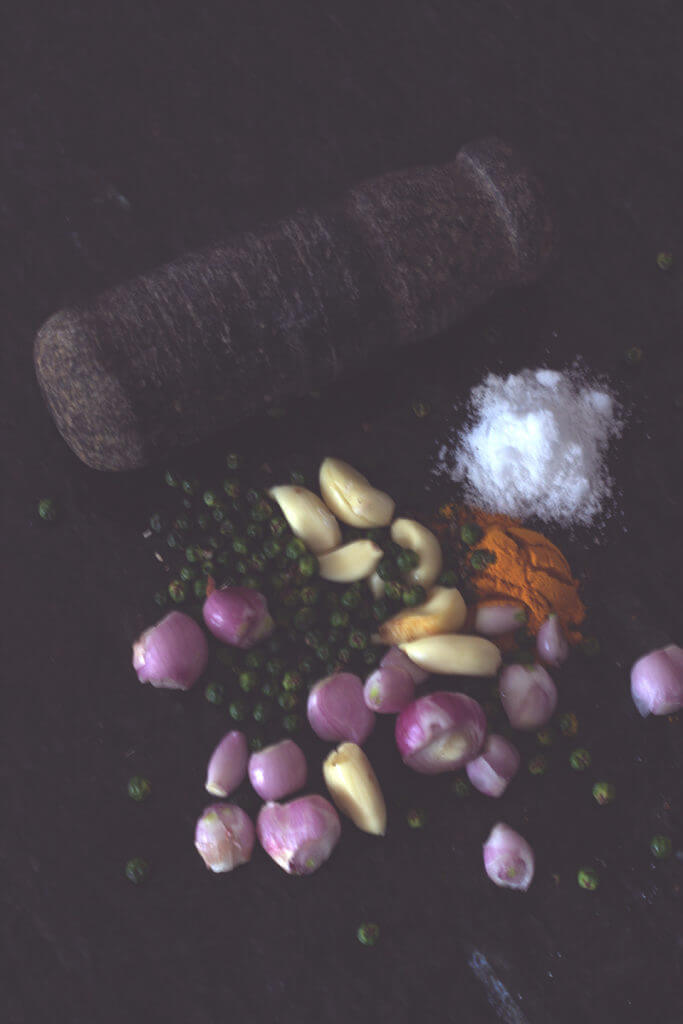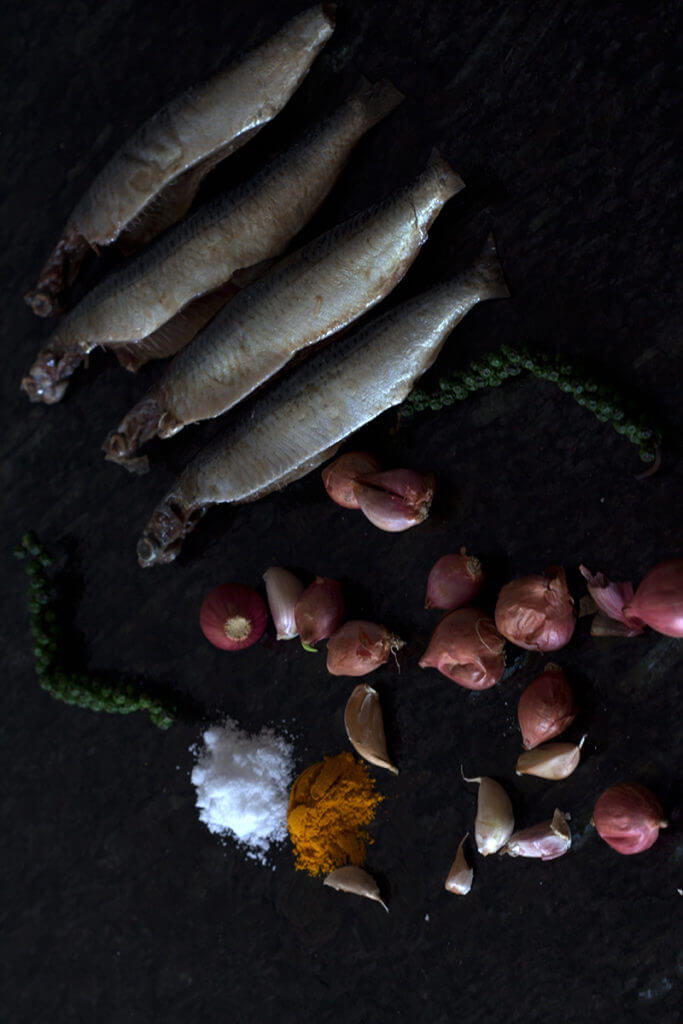 For Challas (Side salad with onions and green chilies)
Onion- 1
Green chilies- 2
Lemon- 1
Salt- to taste
Directions
Grind the green whole pepper, shallots, garlic and ginger to a fine paste along with the turmeric, salt and curry leaves. To this paste add the vinegar and a dash of oil to complete the marinade. Clean and wash the fish for marinating. Score the fish and apply the marinade. Stuff the marinade into the slits made after scoring and also into the cavity of the fish. Heat the oil for frying and start frying the fish immediately over medium flame till it is golden and crispy on both sides. You can also let the fish rest with the marinade on for 2- 3 hours before frying it.
To prepare the challas diced the onions, slit the chilies and cut them into small bits. Mix these together with salt, coconut oil and some vinegar/lemon juice or some tamarind extract. Serve the challas with the fried fish.
We had the fish with some gooseberry chutney, rasam and rice and we call this the killer combo. You can have it just as it is or with some rice or rotis.
Note: You can use any other fish of your choice. To make the marinade a but spicy we add pepper powder at times.
Hope you loved this recipe and will try this soon. And now to answer the most important question- where can one get green whole pepper. Well! if you have a friend from Kerala or Coorg, do ask them and they can get it for you. I found this at New Frostys Indiranagar, Bangalore last week. I do not recommend the salted ones.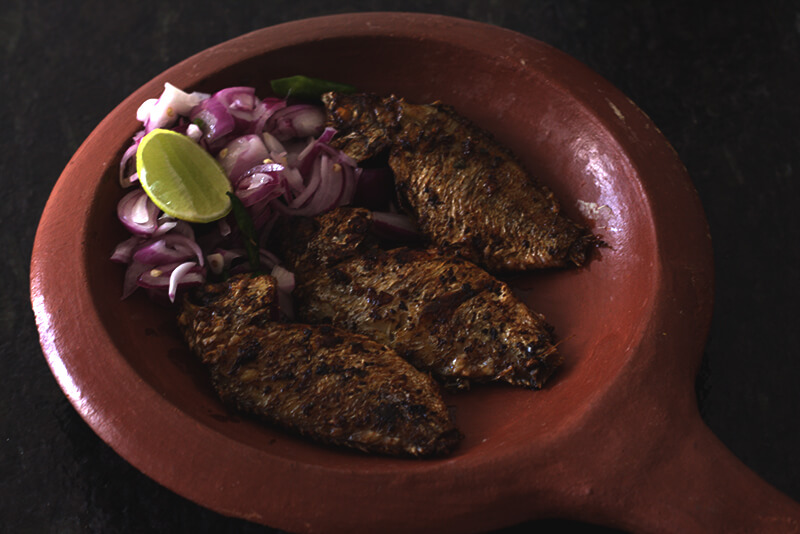 Till we meet again stay blessed and eat healthy. And yep you need to come back for the gooseberry chutney recipe.