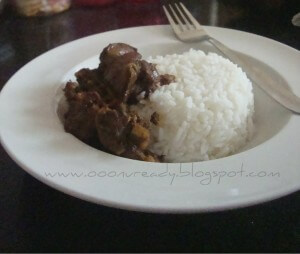 On my mom's side of the family ( Thrissur folks) whenever we got together for a feast at the church or a wedding in the family , the eve of the function would be a memorable celebration. Mostly the food would be cooked in the backyard of the house with firewood stoves. Since the menu next day always had chicken curry the menu for the eve had this collage of chicken liver, gizzard and wings cooked in a spicy gravy.It was always an accompaniment for my uncles who drank whole heartedly in the terrace of the house. I don't know if liver makes some of you feel yucky. But to me this is my fondest memory of eating livers unlimited and its never tasted this good ever even in my mom's kitchen. Maybe the smoked firewood flavour or the hunger pangs that eve for reasons I still can't fathom,always made this dish heavenly.Now gone are those celebrations and our backyard communal cooking has been replaced by caterers serving us anything we desire and can pay for. Liver became an occasional delicacy we gorged on if the butcher had not forgotten to throw away while he served us. It's relocating to Bangalore that brought chicken livers back into my life not to forget my hubby's fondness for the same. Despite the awareness of the HDL levels livers can boost we occasionally treat ourselves to the luxury of liver curry and pate. And now we have a new fan for chicken liver at home- Don our kitten. Mom had two ways of cooking chicken liver, she does a dry fry with all the same spices and ingredients I have used for this curry. Or she boils the liver and makes a gravy similar to what I have done. I see no point in boiling and I don't like deep frying stuff because of the oil content. So I made a semi gravy. My sister is getting married next month and my hubby and I are going home can't wait to sample those typical Kerala style curries. I know we wont have special delicacies like this, they aren't served anymore. But then I can always resort to mom and her kitchen if I did have any such cravings. After all its home sweet home.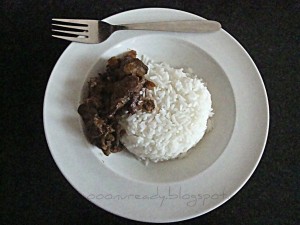 Ingredients for Chicken Liver Curry
Chicken liver/gizzard- 500 gms
Onions- 2 large ones diced
Ginger garlic paste- 2 tsp
Green Chillies- 5-7 slit
Curry leaves- lots
Potatoes- 2 large ones diced
Tomatoes- 3-4 juicy ones diced
Turmeric powder- 1 tsp
Chilli powder- 2 tbsp
Coriander powder- 2 tbsp
Garam masala powder- 1 tbsp
Pepper powder- 2 tsp
Salt – to taste
Oil- 2 tbsp
Directions
Heat oil in a pan. When the oil is hot saute the onions and curry leaves till brown. Add the ginger garlic paste and chillies now. Saute for few minutes and add the turmeric, chilli , coriander and garam masala powders. Now add the tomatoes followed by salt. Cook till the tomatoes are mashed and thick gravy forms. Add the potatoes to this gravy and cook till half done.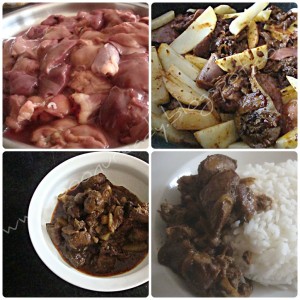 Now add the livers and cook well. Since the potatoes are half done the should cook right with the livers and will also absorb the fat released from the livers. Add the pepper powder now and let the curry simmer for 5 minutes. Serve with rice or rotis. I prefer it always with rice. Hope there are chicken liver lovers out there like me and for those of you who find this yucky I am sorry you turned up for this post.