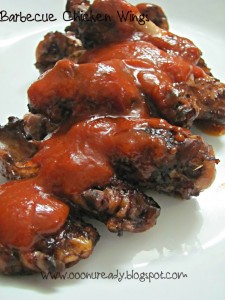 "I don't know why men like to barbecue so much. Maybe its the only thing they can cook. Or maybe they're just closet pyromaniacs."
– Cecilia Ahern, P.S I Love You
After a lot of fussing and crying and whining my hubby got his barbecue grill. Now I love char grilled stuff I really do but I was not as enthusiastic as him to get the grill. I was worried it would stay unused after a couple of grilling and that's what I have seen around. And to me a bbq means friends and guests at home – while to my hubby a bbq means 'PLAYING WITH FIRE' so I am not surprised at Cecilia's quote. I have never seen my guy so excited- reading the manual, trying to fit the grill set, running around to get few extra screws, buying coal, rushing back to get some Weber coal, lighting it at 4 pm to start the fire, getting disheartened by 5pm :) and relentlessly trying till 7 :) and that's how we spent our Sunday. He in fact gave up his Sunday nap and was rehearsing his pyromaniac antics which eventually led him to wake me up. And that's when I realized, this hobby of his is here to stay.
I got to do what I usually do, get the meats, decide the marinade and click pics. I am happy that I chose wings because usually wings is something I discard if it ever finds its way to my plate. In a curry I would never want the wings. But recently having been introduced to bbq wings at different restaurants I was convinced they would be ideal for a bbq cookout. It proved to be cheaper too :P and so I decided to rope in some wings. I read a couple of recipes but finally settled down for this version of mine. And I rate these grilled wings the best compared to the three other meats I grilled and so I am posting it right away. I have three more recipes in store but they will take some time to reach here. So here's my first bbq recipe ever for the festive season.
I dedicate the bbq series to my hubby hence the tag- 'Hubby's corner' because that's how I visualize bbq right now- as my hubby's pet project- if not for his persistence I would not be blogging this recipe today so its his corner. He is already dreaming of baking pizzas and bread and even cooking a dum biriyani over the grill :) so this section looks quite promising to me :)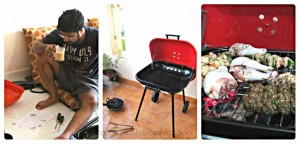 This cookout has made my hubby so happy that he intends to have a veggie bbq run next weekend the reason being his new found love for char grilled vegetables ( I added some to our skewers while preparing shish taouk). He was fantasizing about the veggies he intends to grill next weekend and was super excited while leaving for office today. I guess somebody here has found his passion finally !!!!
We have a mega cook out planned for Christmas, I wish it could be in the woods or near a water fall- let's see. I have got my share of nuts and fruit peels for Christmas how about you?
Ingredients for Barbecue Chicken Wings
For the Marinade
Chicken wings- 6
Soya sauce- 4 tbsp
Worcestershire sauce- 4 tbsp
Apple cider vinegar- 1 tbsp
Salt- to taste
Garlic powder- 1 tbsp
For the Sauce
Butter- 2 tbsp
Tomato ketchup- 1/2 cup
Louisiana sauce ( or tabasco sauce)- 1/4 cup
Directions
Cut the wings into three- drumette, wingette and wing tips. I discarded the wing tips ( gave it to Don- my cat). Wash the drumettes and wingettes and pat them dry. In a bowl add the wings and marinate them with salt and garlic powder. leave them aside for 10 minutes. Now add the remaining ingredients mentioned under the marinade and let the wings rest for an hour. Heat the barbecue grill ( or our oven grill).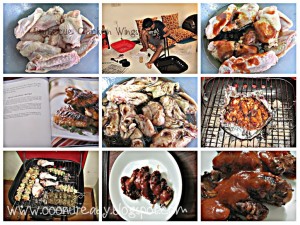 If you are using the bbq grill place a sheet of aluminum foil and cook the wings on top of this ( this is to prevent the wings from getting dry and also to pour in the marinade over the wings and to prevent that from dripping).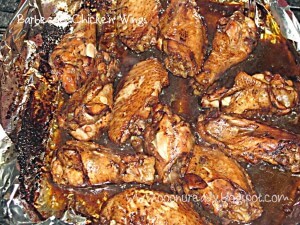 The wings took about 15 minutes to cook. Once the wings are cooked remove them from the grill and place them onto a plate. Now for the sauce ( this isn't mandatory but it makes a world's difference if you have this with our wings) heat some butter and add the ketchup and Louisiana sauce. Just heat the mixture and don't let it boil. Pour the sauce over the wings and your wings are ready to fly :)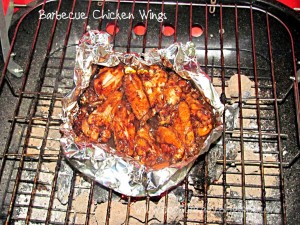 Verdict: My hubby loves the bbq wings served by Dominos Pizza and he told me these wings were quite close to the Dominos version. I had them in mind when I made these and so his verdict is my prize :)