I have not craved for anything throughout my pregnancy but there were one or two occasions when I wanted something spicy and tangy and both the times I bought raw mangoes to make some pickles. But they tasted horrible. I had lost faith is procuring the perfect raw mangoes when my co- guide and friend Dr Rajshri came to visit me with raw mangoes. She says I was lamenting over the poor mangoes in Bangalore so when she saw these beauties she thought they would satiate my quest for the perfect mangoes. Now I was already in my 32nd week of pregnancy and had no patience for a proper pickle that would take months to get ready to be used. I was also told by many that spicy stuff was a total no-no once the kiddo was born because it interfered with the kiddo's digestion when you breast feed. I had no clue if this was a myth or truth so I decided to have these mangoes asap. And that's how I thought of the instant kadu manga achar we always make for Onam sadhyas.
A phone call to mom, and with all the right instructions ( and bhai's assistance- poor guy did all the chopping while he was in town for a business trip- and I shared half my loot with him too) the pickle was ready by noon and ready for consumption from the next day. I think this is the easiest pickle one can make without worrying if it's gonna get spoilt and the best part is you don't need a stove for this pickle- not heating , sauteing. I guess the mango season is at our door steps and it's the time to pickle, so beginners and impatient pickle lovers ( like me) try this out.
Ingredients for Kadu manga Achar
Raw mangoes- 4 ( chopped into small pieces)
Chilli powder- 3-4 tbsp ( I use Ashirvad's red and hot it' spicy and gives colour)
Fenugreek powder- 1 tsp
Asafoetida- 1 tbsp
Salt – to taste
Mustard powder- 2 tsp
Coconut oil- 4 tbsp ( I don't suggest any other oil, for me this pickle is to be made in coconut oil)
Directions
Marinate the mango pieces with the spice powders and salt and set aside for half a day ( even one day preferably).
Next day add oil to the marinated mango pieces and transfer it to an air tight container. The pickle is now ready to use. If you let it rest for few days the mango will get softer, I stored it in the refrigerator because I wanted it to last longer ( yep 5 days is long enough for me :) )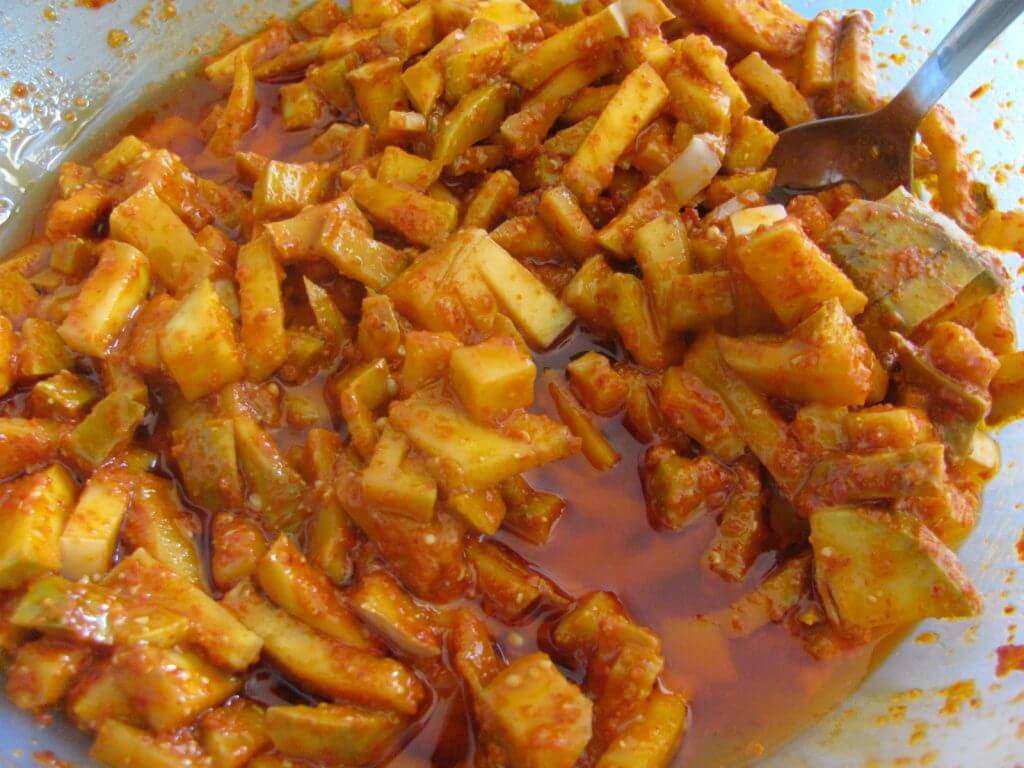 Ma'am I really, really wanted to save some for you but these guys home ( bhai and my hubby) were impatient and finished it ( even I joined them) in five days ( yes that's how long 4 mangoes can last). So my deep apologies. But I dedicate this post to you, these were the best mangoes I had in a long time. And as penance I am gonna overload you with some treats when you visit me next time.