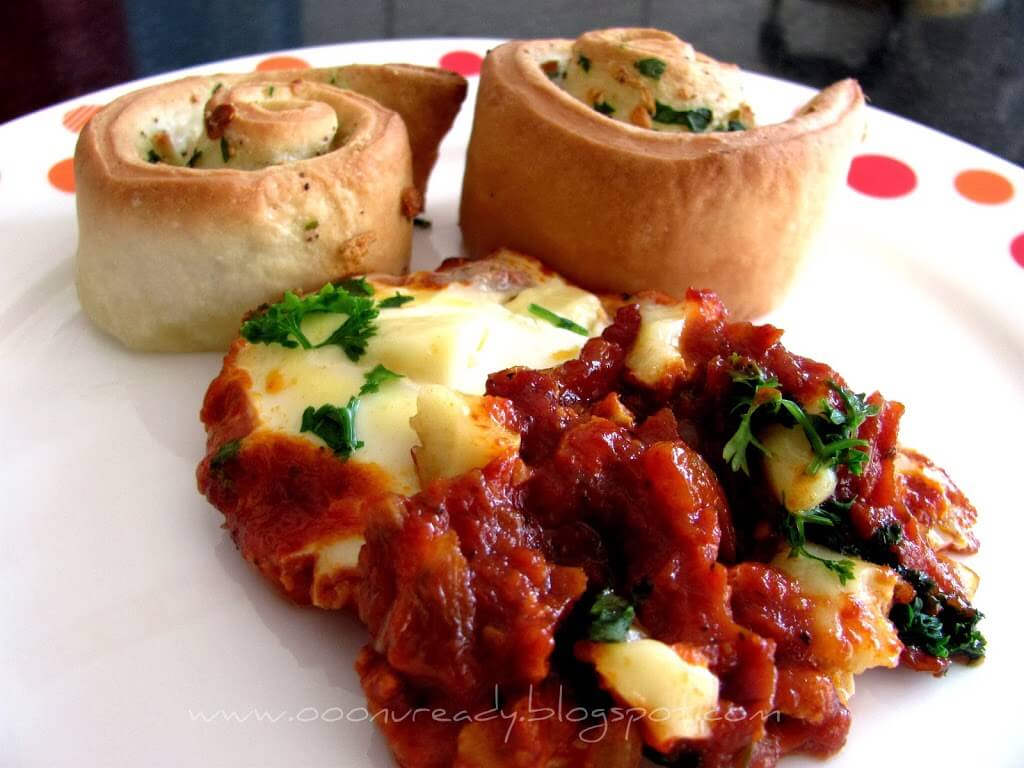 "A successful marriage requires falling in love many times, always with the same person. -Mignon McLaughlin
Basil garlic pull apart bread and shakshouka what a wonderful start to mark 4 years of being married. It's been four years since we got married and we find it hard to believe even today. Maybe it is because we spent 3.5 years apart in two cities and therefore I would not call it a functional marriage :). We were just seeing each other rather living together. I always found it hard to believe that we would get to be in the same city. I dreaded all those anniversaries when we woke up in two different cities and pacified each other we would be together the next year. But then it finally happened and I am grateful to god for everything he has bestowed us with, even the distance and pain in the last 3.5 years because it just made us stronger.
I wanted to make something special this time but with my new ailment kneading and cooking fancy stuff was out of the way. So we decided to divide this chores this time. My hubby decided to help me with the baking and I decided to do the eggs. I usually fret a lot over the success of the recipes I choose especially on special days because I want it all perfect. But everything turned out perfect and we had a great start.
We made Shakshouka and Basil garlic pull apart bread for breakfast and I must tell you this is an amazing combination even for brunch or a light dinner. This was my first experience with wet yeast and I am super impressed with this yeast. As for shakshouka I would call it a cheat's guide to shakshouka because I used some leftover pizza sauce and played with this recipe.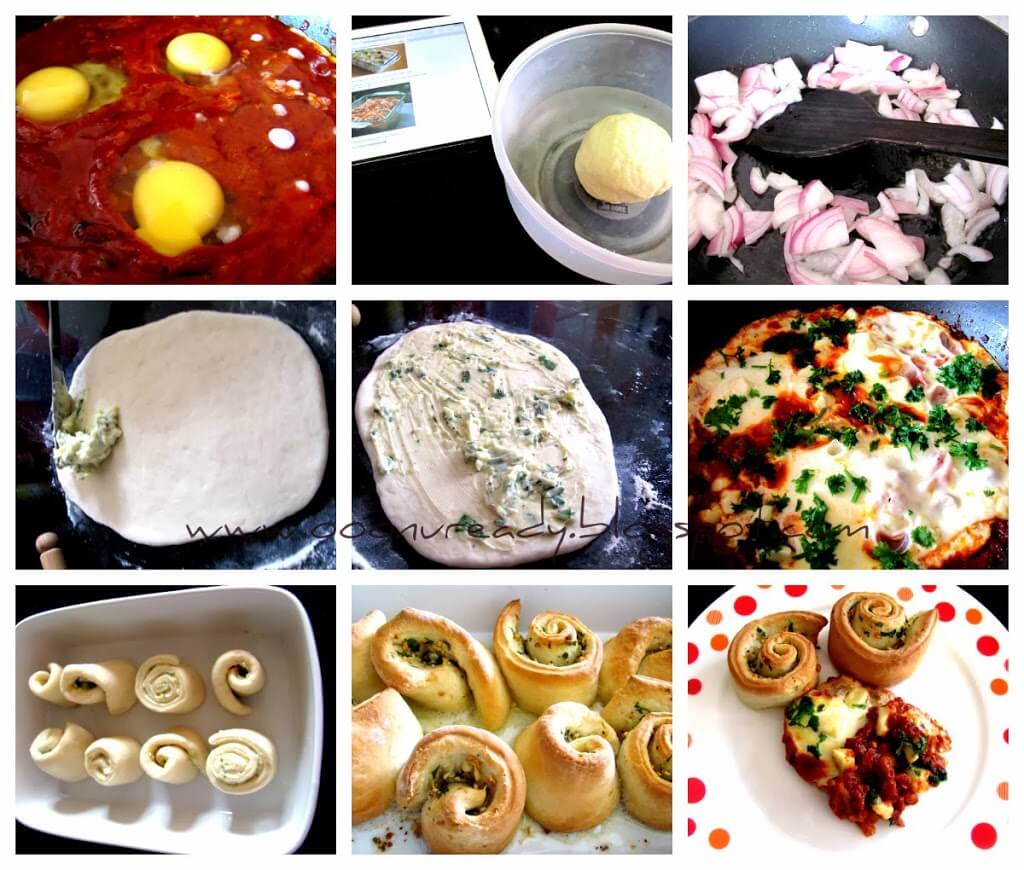 Bhai we missed you a lot, you would have loved the tanginess of the shakshouka but fear not we will try this again the next time you are here. I should also mention at this point that the pizza sauce was made by bhai when he was here a week ago :)
Ingredients for Shakshouka
Shakshouka is believed to have originated from Tunisia though this recipe is quite popular in Israel and other Middle eastern countries. Shakshouka means shaken up.
Pizza sauce- 250 ml ( If you need to make it from scratch saute minced garlic in olive oil and add 200 ml tomato puree along with 1 tsp salt and 1 tbsp sugar, that's your base).
Onion diced- 1
Eggs- 3
Mozarella cheese- 50 gm
Cumin powder- 1/2 tsp
Paprika- 1 tsp
Cayenne pepper- 1 tsp
Parsley chopped – 1 tsp
Salt- 1 tsp
Olive oil- 1 tbsp
Pepper- 1 tsp
Sugar- 2 tbsp
Directions
Heat olive oil in a pan and saute the onions till soft. Add the pizza sauce to this. Ideally I would make m own tomato base from scratch but since I had some leftover pizza sauce, so I used it this time. Add the cayenne, salt, pepper, paprika and cumin powder to the tomato base and let it simmer for few minutes before adding the sugar. I added sugar because my pizza sauce had store bought tomato puree and it was too tangy. If you make your own puree from fresh tomatoes they would not be this tangy so you need not add sugar. Once the sauce is thick and oil releases from the sides of the pan make three pockets and break the egg shells to drop the eggs. Cover the pan with a lid and let the eggs cook for 5 minutes. Once the eggs have cooked add the cheese and parsley and cover the lid for another 2 minutes. Shakshouka is done.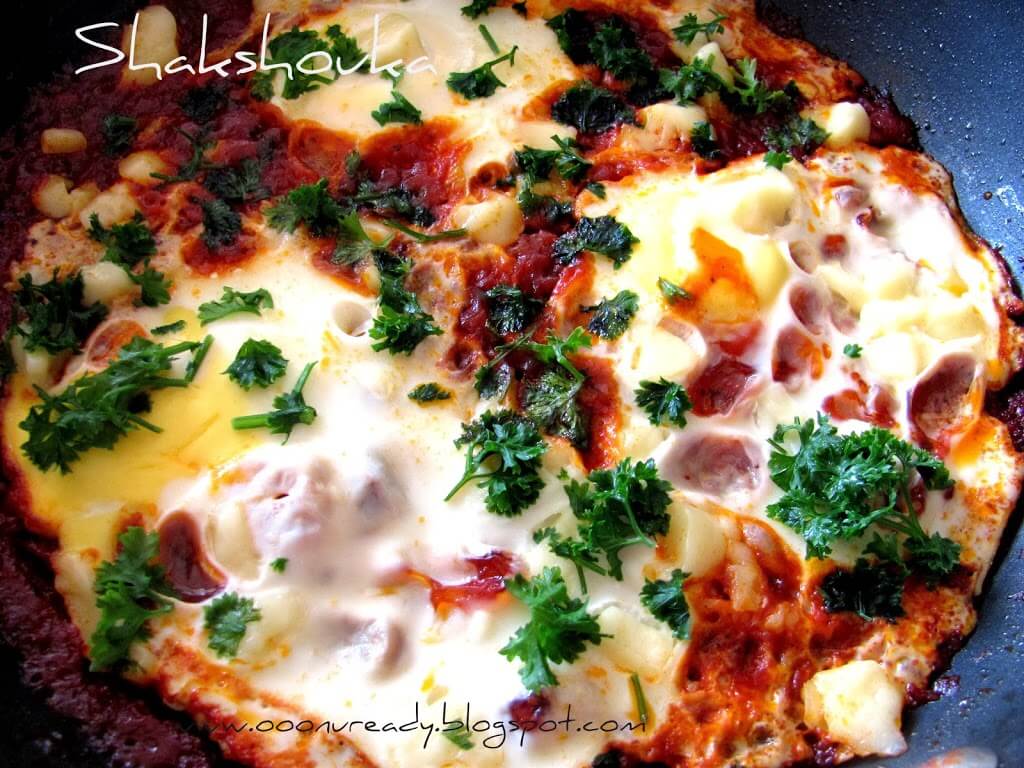 Ingredients for Basil Garlic Pull apart bread ( inspired from Edible garden)
Plain flour- 1.5 cups
Warm water- 1/2 cup + 1 tbsp
Yeast – 1/2 tbsp ( double the quantity if using wet yeast)
Salt- 1 tsp
Sugar- 1 tbsp
Olive oil- 1 tbsp + 1 tsp
For Basil garlic spread
Butter- 6 tbsp
Minced garlic- 2 tbsp
Chopped basil- 2 tbsp
Directions
Mix the flour, salt, sugar, yeast and warm water to get a sticky dough. Add oil and knead for 4-5 minutes till the dough spring back when you touch it. Keep the dough covered for 45 minutes in a warm place. For the basil garlic spread mix the ingredients listed above and your spread is ready. After 45 minutes knock down the air in the dough and divide them into two equal portions. Roll each half onto a floured surface with 1/2 inch thickness. Smear the butter spread on each halves and roll them from the longer end to the shorter. Divide the rolls into four and you will get eight pieces. Preheat the oven at 180 degrees and line the bread rolls onto a baking tray coated with oil. Bake for 30- 40 minutes till the top portion of the bread browns.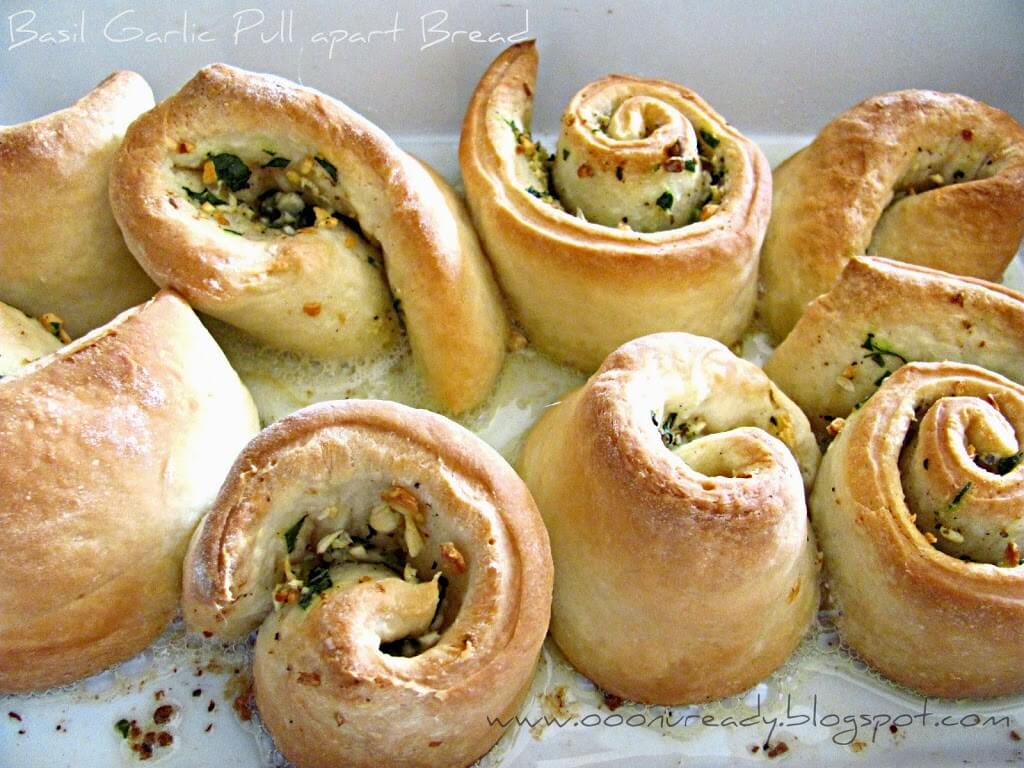 These rolls were very soft and buttery and I loved the garlic butter basil flavour. We have decided to never ever buy garlic bread from anywhere. And I was surprised to see how tasty egg less breads were so I am definitely gonna repeat this recipe with other herbs.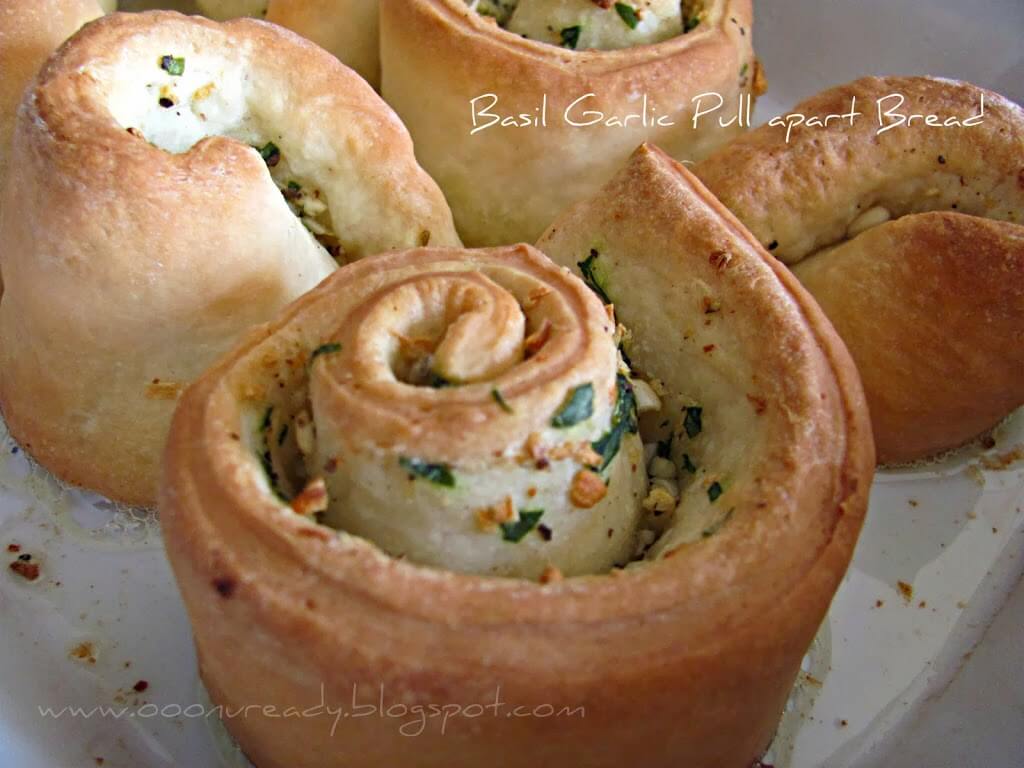 We had a horrible lunch in the afternoon and were quite disappointed. But in the evening we had some leftover breakfast and were happy to have made these beauties in the morning. I have decided to quit restaurant dining. Maybe I should stick to my palate and I guess I am getting to be a megalomaniac these days when it comes to cooking :)
Love you dear hubby for helping me plan this wonderful breakfast. You have matured a lot as a hubby but your skills at cooking is a bonus :)