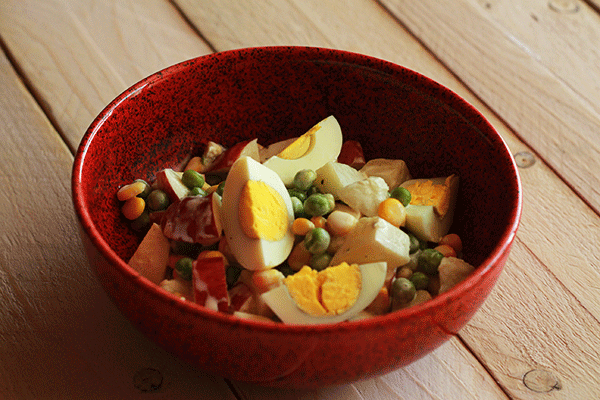 Oh what a bliss it is to have salads when they taste like this :) I am not a great lover of salads but lately I have been making a lot of salads. It all began with my daughter's fascination for this book of 303salads. Like most cookbooks I had in my library, this one too, was gathering a lot of dust. My kiddo right from the age of 3 months loved staring at my book shelf. She indicated through various signs and symbols that she wished to pause there in front of the book shelf in between our strolls in the living room. And 2 months ago she began pointing to the books there.Very soon, I realized if I could engage her with the pics in my cookbooks, that would give me sufficient time to do my chores at home. She loves the book of salads the most. I assume she loves this book the most for its large images and colour composition. Soon we began reading this book together and that's how my kiddo made me try out a couple of salads.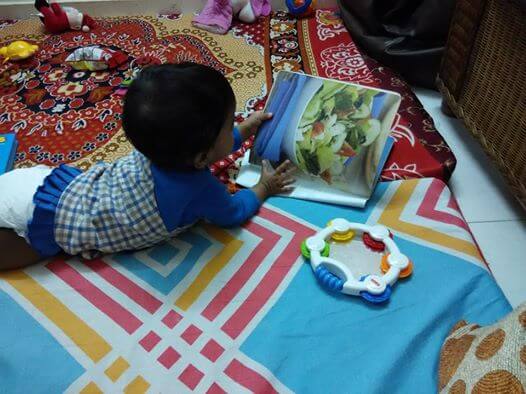 Russian salad is my aunt Rosy's specialty. She is a nun in a convent here in Bangalore. Each time we visited her after a feast day, Christmas or Easter and discussed the menu of their banquet table, she would tell us she made the Russian salad. I should get her recipe soon, that would be something to treasure but for now I have settled for this one. I have made few variations from the recipe book and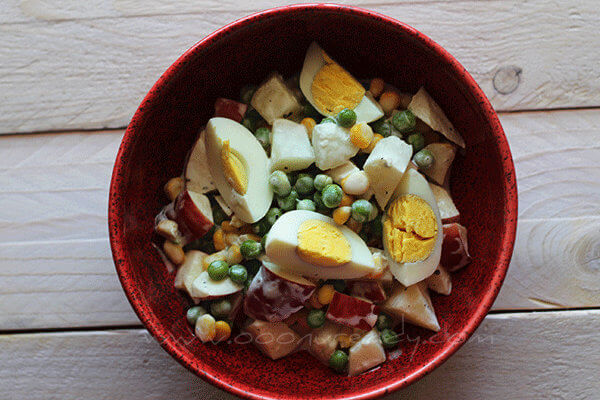 Ingredients for Russian Salad
Corn kernels- 55 g
Green Peas- 55 g
Boiled eggs- 2
Potatoes- 2
Carrots- 2
Apples – 1
Pepper- 1 tsp
Salt- to taste
Fresh cream- 100 ml
Directions
Peel the carrots and potatoes. Cube them and boil them till they are well cooked but they should not overcook. Boil the peas and corn separately. I started cooking the corn first and add the peas into the same boiling water after 10 minutes. Core and chop the apples into medium chunks. Boil the eggs . This part is very important over boiling the eggs will make the yolks look greenish. For perfectly hard boiled eggs with yellow yolks, boil some water in a sauce pan. Place the eggs when water starts to boil, lower the flame and cook the eggs for 12 minutes precise. Now discard the hot water and fill the same saucepan with cold water. This step ensures the egg does not over cook and give you that greenish yolk. Peel the eggs after 5 minutes for perfect yellow yolks.At least for salads like these , the presentation is very important.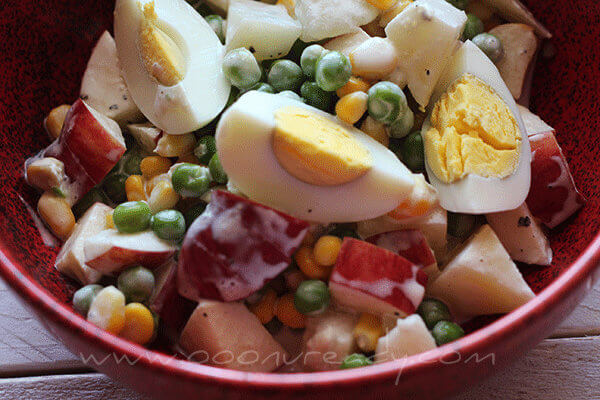 Once you have peeled the eggs slice them into quarters. In a large bowl add fresh cream, salt and pepper and whisk it using a hand whisk for a minute. Toss the apples, potatoes, carrots, corn and green peas in this bowl. See that the cream is just coated and not overly done on the ingredients. Decorate with sliced eggs and yummilicious Russian salad is ready to eat !

Check out the post on waldorf salad https://www.perucontact.com/how-to-make-waldorf-chicken-salad/ if you love salads with cream and mayo. Watch out for the next post on overnight oats, yep its not only lent but a season for health as well :)