The terrible two's have begun and Sarah is screaming all over the place. I am quite ill tempered just like my dad and so I am finding it hard to stay cool. She spits water all over the place and knows how to upset me. And her eating habits have become more erratic making her constipated a lot. So I cross my fingers when I prepare her something. Chances are that she won't have the same thing the second day. She also likes strong flavours these days and eats from our plates mostly. So I decided to give her some garlicky broth. She spat the spinach pulao last week so I thought garlic might take away the muddy flavor from the spinach. I made her some roasted garlic and spinach soup with some roux. The palak shorba is quite watery and she hates it but butter and garlic sort of did the trick. She had it for lunch and dinner. I got this bag of roasted garlic from Mumbai in December and I add it in powdered form to most of my soups these days. And as soon as the soup was ready it began to rain and maybe it was the change in weather, or the excitement of seeing rain and getting to play in the rain, Sarah had the soup without any fuss. Roasted garlic and spinach soup makes an awesome combo with some croutons and fresh cream but I did not have any and now that Sarah is done with her bowl, I am craving for some soup. But our portion of spinach went into our aaloo palak curry for dinner. And suddenly I feel like pureeing the curry and making a soup out of it. The weather in Bangalore has become cooler all of a sudden and though this is a temporary phase I was so smitten that I did make some potato fritters and Sarah and I munched on them silently enjoying the rains. I had this dejavu moment of enjoying the rains in my pregnancy, all alone with a cup of tea. You know that moment when you are all teary and emotional in pregnancy and everyone tells you, there's company within you and you don't understand it. And then sudden;y there comes that wondrous moment when your baby kicks from within and you realize you aren't alone. I could feel myself passing through that moment and then when I looked down there was Sarah having her fritters and smiling at me. Sometimes I scream at her for being naughty but I realise we have both traveled a long way in these 33 months from the womb till here………..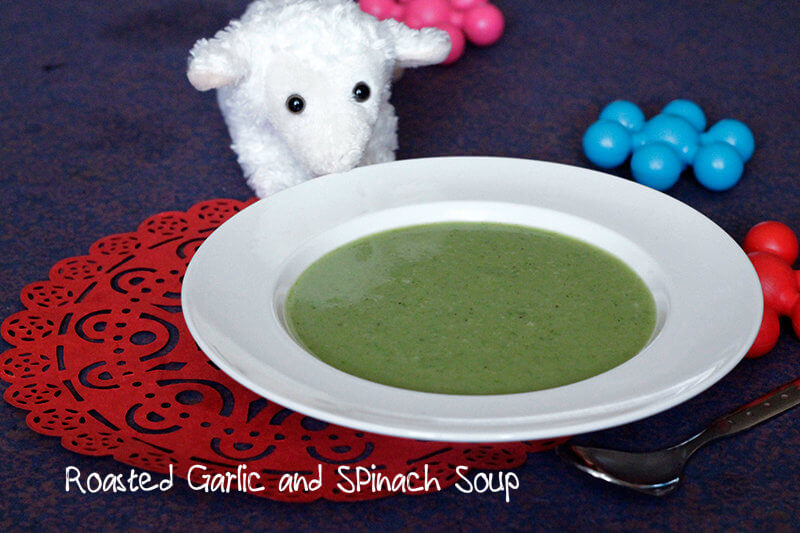 I am planning to do the toddler recipes one by one instead of two's. I have backlogs of recipes in this series that haven't been posted for months but I will continue till they reach 365th day. I am going to post the regular recipes on the same day too so there could be days when you will find more than one recipe on this space hope you will find time to read them all. And here's the recipe for roasted garlic and spinach soup.
Ingredients for Roasted Garlic and Spinach Soup
Roasted/Dried garlic- 4 cloves
Salt- to taste
All purpose flour- 2 tbsp
Butter- 3 tbsp
Milk- 3 tbsp
Pepper- 1/4 tsp
Directions
Blanch the spinach and puree to a fine paste. In a wok heat the butter and add the flour stirring continuously to avoid lumps. Add the milk gradually and stir well and you will soon have your roux or white sauce ready. Now to this roux add the stock left from blanching the spinach. This will dilute the roux and give it the spinach flavour. Add the spinach puree to the stock after it starts to boil. Let the soup simmer and add pepper, crushed roasted garlic powder and salt. Let the soup simmer for 4-5 minutes and the soup is ready. Serve with some cream and croutons.
Note: 1. If you dont have dried garlic, you can use fresh garlic and start the soup by roasting the garlic in some butter and adding the stock. You can prepare the roux separately and add it to the soup.
2. In case your roux gets lumpy don't worry, carry on with the soup and strain the soup in the end.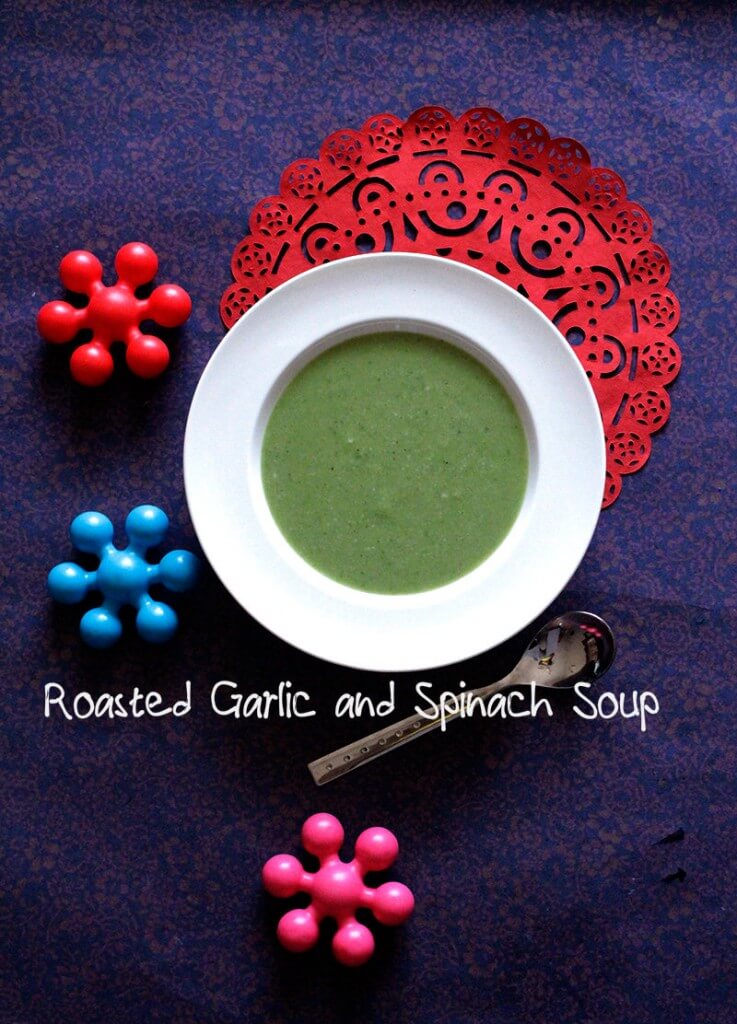 I have always wondered what could be the biggest treasure I could leave for my daughter when I am no more and today when I sat with her enjoying the rains, I realized maybe capturing those moments would be the greatest of treasures ever. And some day when I won't be able to express myself or if I ever forget these little moments, it will be etched here just as it is in my heart for her to read. And that she will treasure each of these recipes and my journey with her. Toddler meal series is not an attempt or challenge to keep me busy, it is my gift to my daughter, my challenges as a mother and I am happy to have completed 72 days with a lot of hiccups.