You see these how old are you quizzes and people feel elated when they are told their scores said 18 when they are actually well… you know… I am someone who gets excited when I am told I should have been born in the early 40's or 50's. I am old at heart. I love old classics, R.D Burman, Dev Anand and History as a subject. So I was intrigued when I first read upon colonial recipes. They are true legends and historical gems for foodies like me. I wrote my first article some time back but decided I was not going to publish them just like that. I wanted to recreate each of these gems to the best I could. Many of these classics are popularly known as Anglo-Indian recipes and most of them have a Bengali, Goan or South Indian touch. So chances are you will find two versions of each of these recipes.I have used the Bengali version for this railway mutton curry. This is my Sunday Special Series No.2. I have not been able to post this for a while. My carpal tunnel has reappeared making it difficult for me to cook as well as capture the images. I have a lot of back log but the best part is that I have collected quite a few recipes and planned few series in this period.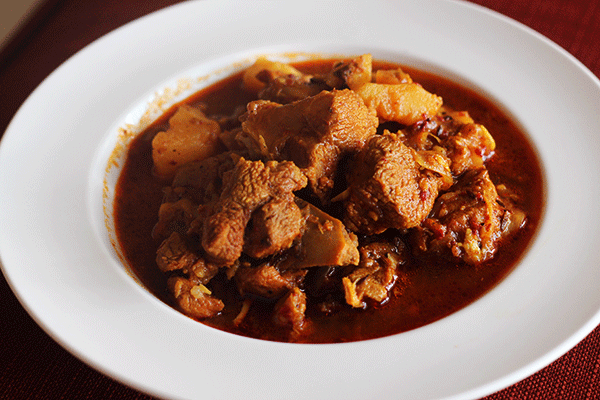 The Railway Mutton curry was created by chefs who travelled with their sahibs in the first class compartments on trains in British Indian. These curries accommodated the flavours of the British and in return introduced them to Indian flavours. Yogurt and milk was used to reduce the pungency and pepper was added and chilies controlled to accommodate the palates of the British. Because these journeys by British officers lasted up to months at times where they appraised projects, this gave the cooks who travelled with them limited resources to cook with. Many theorists believe these cooks could have been Anglo Indians from the South or Bengal therefore these curries mostly have hues from these regions.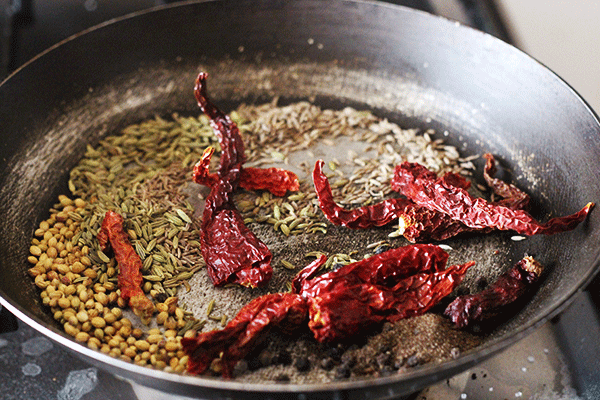 Today with access to various kinds of cuisines within India and abroad we might not enjoy or relish these delicacies as atypical but their status remains colonial in the eyes of food historians and foodies. Considering the times they were created in with the limited resources and information access at hands, they still remain gems to me. Amd so this Railway mutton curry stays with my family treasure of recipes for my kiddo.
Ingredients for Railway Mutton Curry (Recipe courtesy: Curries and Stories)
For the Masala Paste
Pepper corns- 5-6
Dry chilies- 6-8
Cumin seeds- 1 tsp
Coriander seeds- 1 tbsp
Garlic- 6 cloves
Ginger- 2 inch long piece
Sugar- to taste
Fennel seeds- 1 tsp
For the Marinade
Mutton- 1 1/2 kg
Curd- 1/2 cup
Ginger- garlic paste- 2 tbsp
Chili powder- 1 tsp
Turmeric Powder- 1/2 tsp
Salt- to taste
Mustard oil- 1 tsp
For the Gravy
Onions- 2
Potatoes- 3
Mustard oil- 2 tbsp
Whole spices (cardamoms-2, cloves- 4, Bay leaf- 4, Nutmeg powder- 1/4 tsp, Cinnamon- 1 inch long stick)
Curd- 1/2 cup
Ginger- garlic paste- 2 tbsp
Tomato puree (or 2 tomatoes)- 200 ml
Salt- to taste
Coriander leaves- for garnish
Directions
Marinate the mutton with the spices mentioned under marinade and refrigerate overnight. Roast the ingredients mentioned under masala paste (omit ginger and garlic) and grind them to a fine paste along with chopped ginger and garlic.Now heat oil in a pan and fry the cubed potatoes first. Take out the potatoes once fried and set aside in a plate. Now add the whole spices and roast them for 3-4 minutes. When they give away a roasted aroma add the sliced onions and minced ginger garlic paste. Saute them till they brown and add the tomato puree and salt. After 3-4 minutes add the ground spice mix and saute them so they blend together. Finally add the whisked curd and your gravy is done. Add a little water and bring the gravy to boil before you add the marinated mutton and fried potatoes. Pressure cook up to 4 whistles and garnish with chopped coriander leaves. Serve the railway mutton curry parathas, rotis or piping hot steamed rice.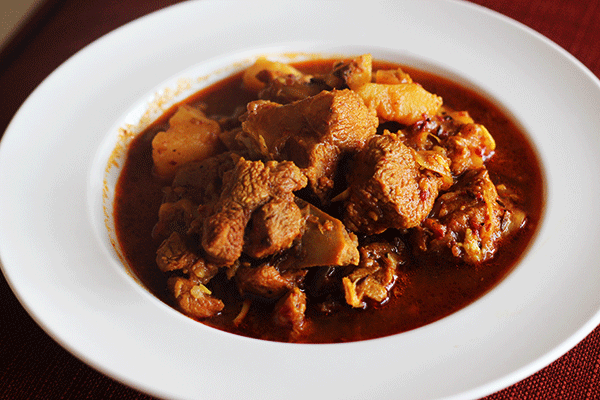 This curry is not spicy as I was preparing it for a friend and she was not supposed to have spicy food. You can top the chili powder in marinade or add 2 tsp chili powder while sauteing the ingredients for gravy to make it spicy.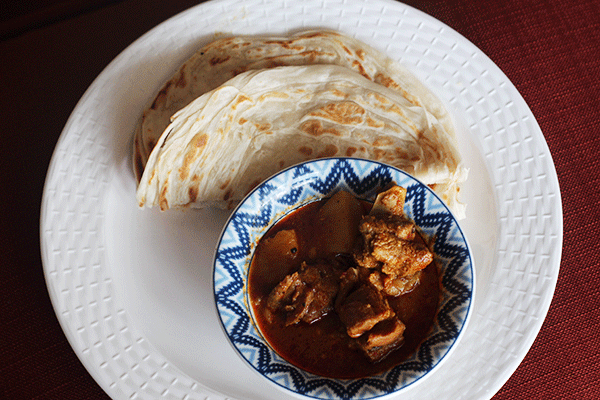 If this recipe has piqued your interest in colonial recipes try the Anglo Indian meatball curry https://www.perucontact.com/anglo-indian-meatball-curry/ and tune in for some new series of ours. We have a toddler food series and Friday pizza mania series coming up. Till then stay blessed, eat healthy !!!