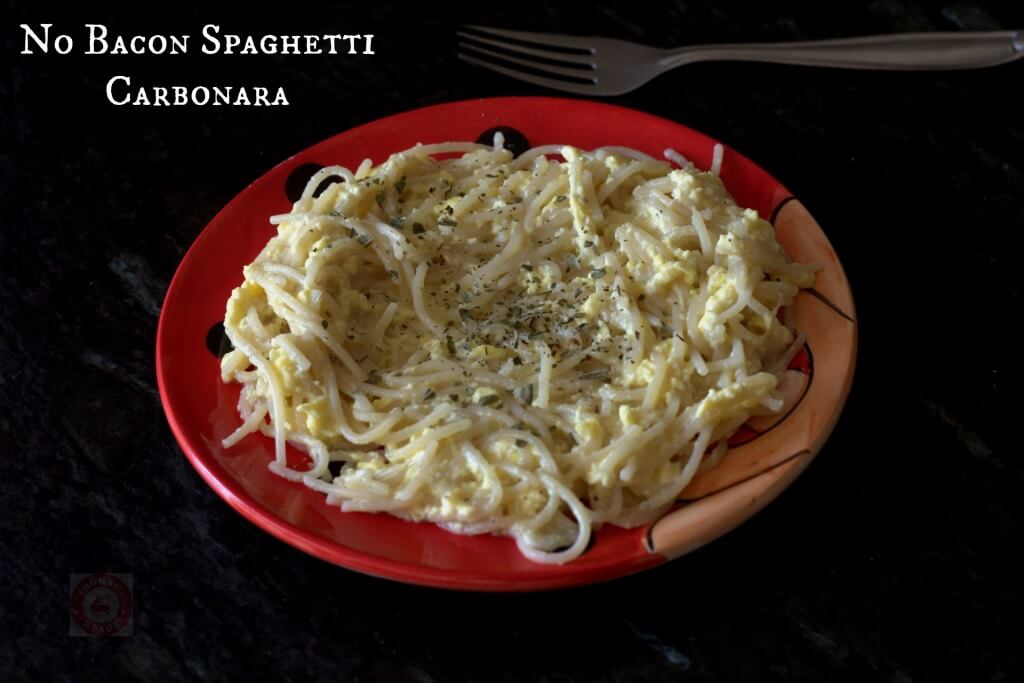 I have been toying with this idea of trying a no bacon spaghetti carbonara for Sarah for some weeks. I want her to have eggs which she is very choosy about. I am pretty sure she does not mind the taste but hates the sight of eggs. Because I have tricked her into eating eggs in fried rice or noodles, even egg pakoda for that matter. She also ate our omelette once but when we give her eggs in any direct form, targeted for her consumption alone, she chickens out :) and I decided it was time to trick her with some runny eggs. Now she love noodles and spaghetti and that's when this no bacon carbonara image came to my mind. I added some butter, cream and milk to tone down the eggy flavour and I seem to have hit jackpot again. Sarah did not mind the spaghetti though initially she did examine the eggy looking sauce. But she was too engrossed in her lego tower and TV watching, she gobbled down the entire thing. Now I need to keep my fingers crossed because it so happens Sarah rejects stuff when repeated except pancakes and french fries. She has also taken a liking for milk shakes. We had Sharjah shake, Saudi shake and Butterscotch shake for her post-evening walk meals and she is quite intrigued with the new flavoured milk shakes. She loves Cavin's flavoured milk and I thought I could do more flavours at home, rather buy her those. She is cooperating with the experiments but it is a challenge to get her to eat beyond few morsels every day. Do you have similar stories on your trysts with your toddler? Do share your tips and recipes and I would love to hear from you.
I think the no bacon spaghetti carbonara is a healthy version for adults too because my family needs to control their bacon intake after the bacon jam eating. I guess this could make an ideal breakfast option for the family. It's amazing how we work our menus around our kids at times. So stay tuned for more on toddler meal series. And till we meet again stay blessed and eat healthy.
Ingredients for No Bacon Spaghetti Carbonara
Whole wheat spaghetti cooked- 1/4 cup
Egg- 1
Milk- 6 tbsp
Salt- a pinch
Pepper- a pinch
Dried Basil- a pinch
Fresh cream- 3 tbsp
Butter- 2 tbsp
Garlic- 2 cloves
Directions
Cook the spaghetti as per package instructions. Reserve the stock after draining the spaghetti to prepare the sauce. In a bowl whisk the egg with salt.
Heat a skillet and pour add the butter. Add minced garlic cloves and saute till they brown. Discard the garlic and add the cooked spaghetti to the oil. Toss the spaghetti and add the egg along with the milk.
Do not scramble the egg but pour 3 tbsp of the stock from cooking pasta and twirl the pan around. The egg mixture will now be runny. Add pepper and basil and now slowly scramble the eggs but see that this is done on low flame else the eggs will dry up and not be a runny sauce.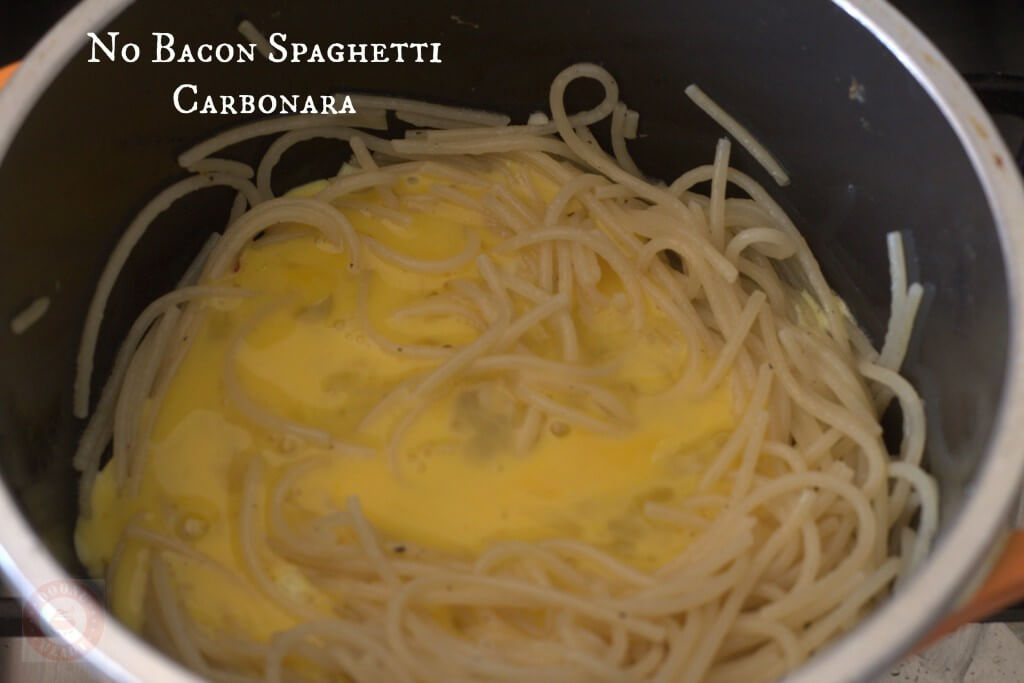 Add the cream and keep stirring to form a thick sauce. The eggs should look lighter unlike hard chunks in normal scrambled eggs. The whole process from adding the egg to preparing the sauce should happen in less than 8 minutes which means the eggs should cook but not be dry , it should be a runny sauce.
Serve immediately ideally for adults, but for kids, let it cool a bit. If the sauce dries up as you serve, add some milk and toss the spaghetti a bit with a fork. In case you refrigerate lefotvers, heat in a pan with some milk rather than microwaving to retain the saucy texture. Serve with some parmesan cheese if your kids love the flavour.