After a long debate on learning from one's amateurish experiments vis-a-vis learning from a baking academy, I enrolled for a baking class (petit fours) last month. The tarts posted before on this site is a result of this class. It is at this baking academy that I saw this multigrain bread. I must admit my hubby attended their bread class and has the recipe of this bread for over a year but we never tried it till date. While I sat having my lunch at the baking academy, I could not help gawking at how appealing the sandwiches being served around looked in these breads. And then without realizing after buying the basic supplies I needed, I got one loaf of bread. And the moment I got this bread I knew I was going to make a sandwich that would land here on this site.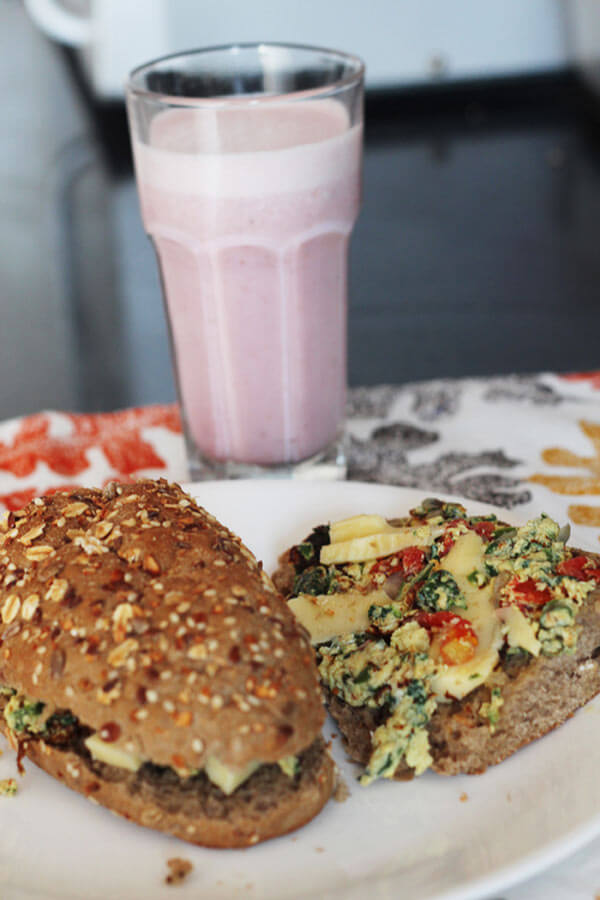 Despite buying the bread it so happened that in my enthusiasm I did not plan the ingredients for the filling. I must admit motherhood is tiring and I hate the fact that kids are more attached to their mommas than daddas at this stage. When I reached home after a long day of learning at the baking academy, I was in charge of my daughter again and so I forgot about the ingredients for the sandwich. The next day morning my hubby and I geared up with our tripod and camera, frantically began searching for ingredients that could go into this multigrain bread sandwich. And that is when I remembered my maid telling me to pluck the baby spinach in the garden because they were growing wild. I hard three eggs, cheese and some cherry tomatoes so I whipped them to make this omelet. I also added some Indian borage leaves (panikoorka) they are growing wild these days and I don't know any recipes except pakoras where these leaves are used. Since these leaves are known for their medicinal properties of curing common cold and cough, I decided to give the omelets a herbal makeover by adding these leaves. I must say the results were much satisfying than expected. All the last minute hunting for ingredients did help and I hope next time I can bake the bread as well. The Indian borage leaves was an accidental addition and is a totally optional ingredient but if you have access to this leaf you should try it out.
Ingredients for Spinach and Cheese Omelet Sandwich
Multigrain bread- 1 loaf
Eggs- 3
Onion- 1
Cherry tomatoes- 10
Baby spinach- 1 bunch
Indian borage leaves- 8
Green chilies- 3
Processed cheese- 50 g
Salt- to taste
Olive oil- 3 tbsp
Basil powder- 1 tsp
Pepper- 1 tsp
Directions
Whisk the eggs with salt in a bowl. Add chopped green chilies, cherry tomatoes, onion to the eggs and whisk them again. Wash and chop the baby spinach and Indian borage leaves finely. Heat the olive oil in a frying pan and first saute the baby spinach and Indian borage leaves for 3 minutes. The leaves will start to wilt at this point. Now pour the whisked eggs and see to it that the sauted leaves are evenly distributed in the egg mixture. Sprinkle the pepper, basil powder over the omelet and cover the pan with a lid. Cook over low flame till the bottom of the omelet is cooked and brown.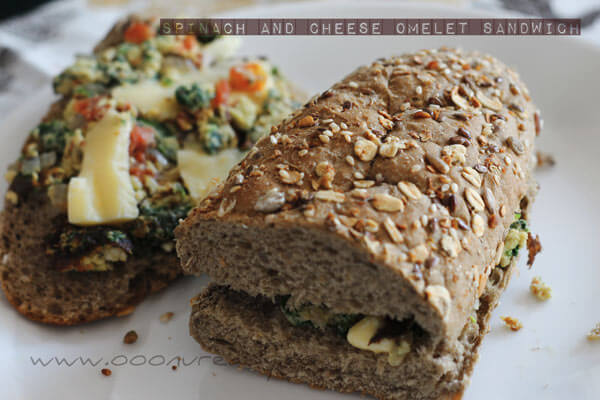 Now flip over to the other side and cook till the other side browns as well. Meanwhile, slice the multigrain loaf into half. Slit each halves and toast the inside of the bread on a pan. Arrange the sliced cheese on the warm bread and place the omelet cut into slices over the bread. Grill the sandwich over a sandwich toaster so that the cheese melts,If you do not want the cheese to melt you can omit this step. The cheese will melt a but from the heat of the toasted bread and warm omelet. Serve warm with some chips and a milk shake.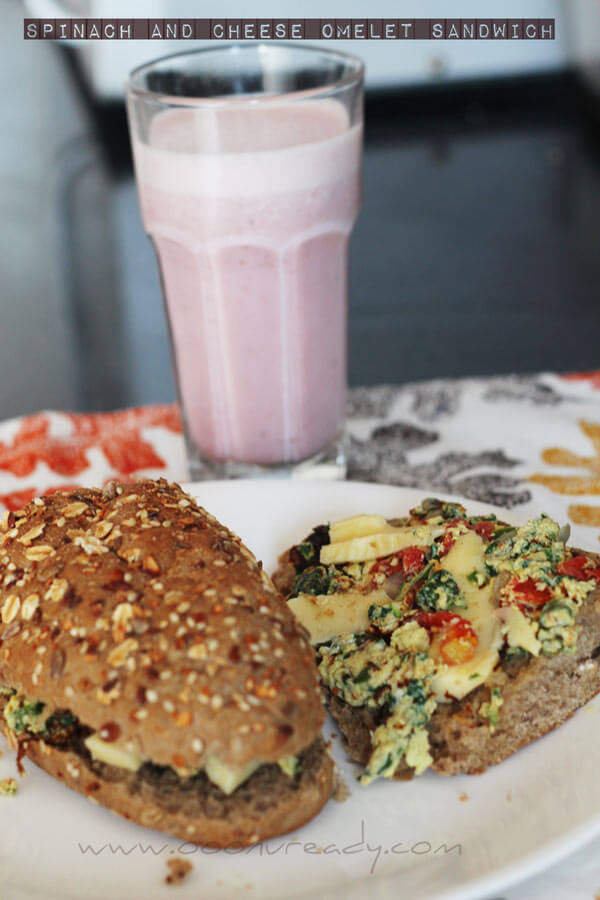 My posts are getting delayed a lot recently because my kiddo keeps me on my toes. A part of me wants to blog and post all that I cook and another part tells me the kiddo deserves my time and she will grow up soon. Some days the momma brain cells win over the blogger mamma cells so though I am cooking like before my posts do not land here. And its sad that you guys don't comment on any posts. But I guess I should be patient. So stay tuned for more posts, we have a barbecue party this afternoon. It is our Christmas- new year tradition to barbecue because I have two pyromaniacs at home – my hubby and his bro. I am sure our Pre- new year experiments would interest some of you. Till we meet again stay blessed and chomp chomp :)