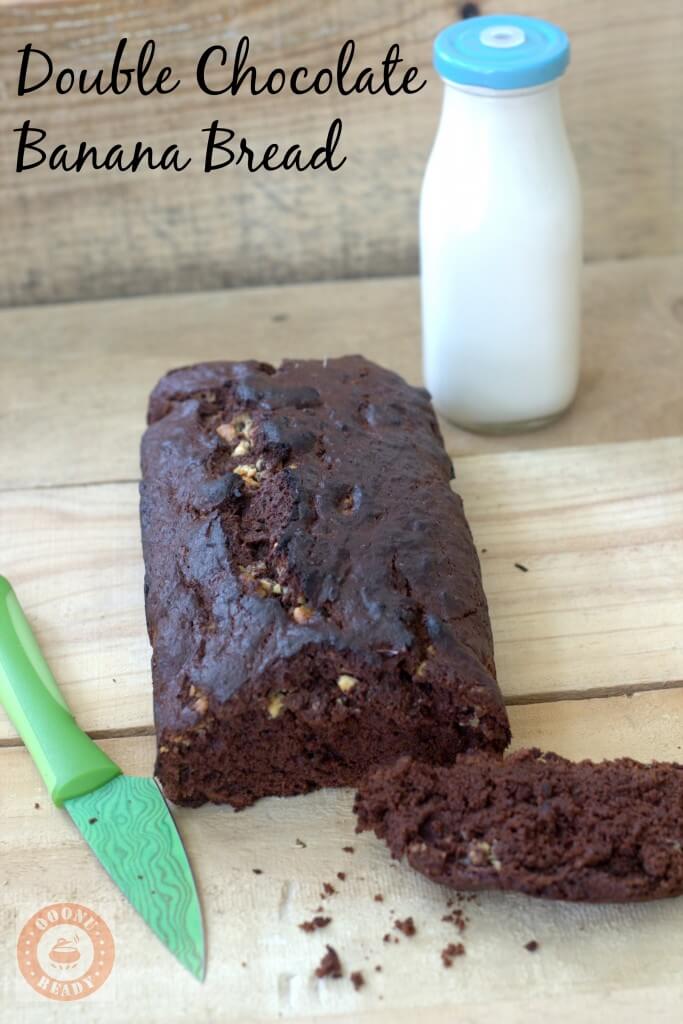 The toddler challenge has been off for quite some days. The prime reason being the toddler herself. Sarah was refusing meals and acting super cranky. I guess it is the heat and some deworming helped too. We often procastinate stuff like vaccination and deworming and don't realise how it affects kids. And it is an irony because this is a series focused on toddler meals. I know a double chocolate banana bread is not the right stuff for a dewormed kid, but she was on a strict diet for so long, I thought she deserved a treat. Sarah has started head banging vigorously and the moment she is refused something resorts to banging her head. This had us worried for weeks and we are trying to sort it out with her. Now cake is a great source of reinforcement for her and so I thought I should bake her a cake today. I was short of eggs and that's when I decided to do a chocolate bread and this recipe is a respite when you are short of eggs and don't have time to thaw the butter. I love cakes and breads with banana, they make me feel, this one's gonna turn out perfect.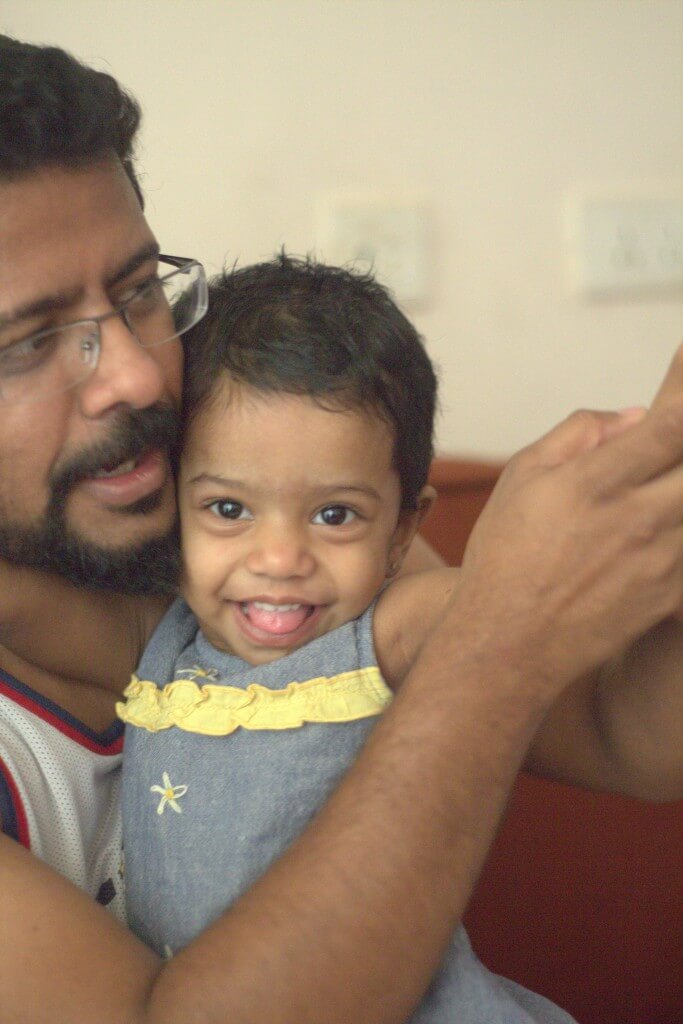 This is one way I can get her to eat bananas as well, with the goodness of double chocolate :) And I was craving for some chocolate too. Sarah was sleeping during the baking so I did the shoot and packed off the cake. I gave her some curd rice when she woke up but she kept whining for the biscuit tin. When I offered her biscuits, she kept asking for something else that was not on the pantry. I realised she could smell the cake but could not figure out where it was. And her cake hunt continued till I offered her a slice. Kids, I tell you! I am quite happy with the double chocolate banana bread with its white chocolate chips and hersheys cocoa powder. The recipe I referred to from smittenkitchen mentioned double chocolate requirements, but I thought just cocoa powder was fine as well. Nevertheless, I got to use the choco chips lying unused. I have some recipes in store to continue the toddler challenge, though technically it's no challenge after the number of days I missed.
But you readers are kind and patient and I hope you will love this recipe. I am not much of a baker but it seems like this double chocolate banana bread, is gonna be a frequent visitor.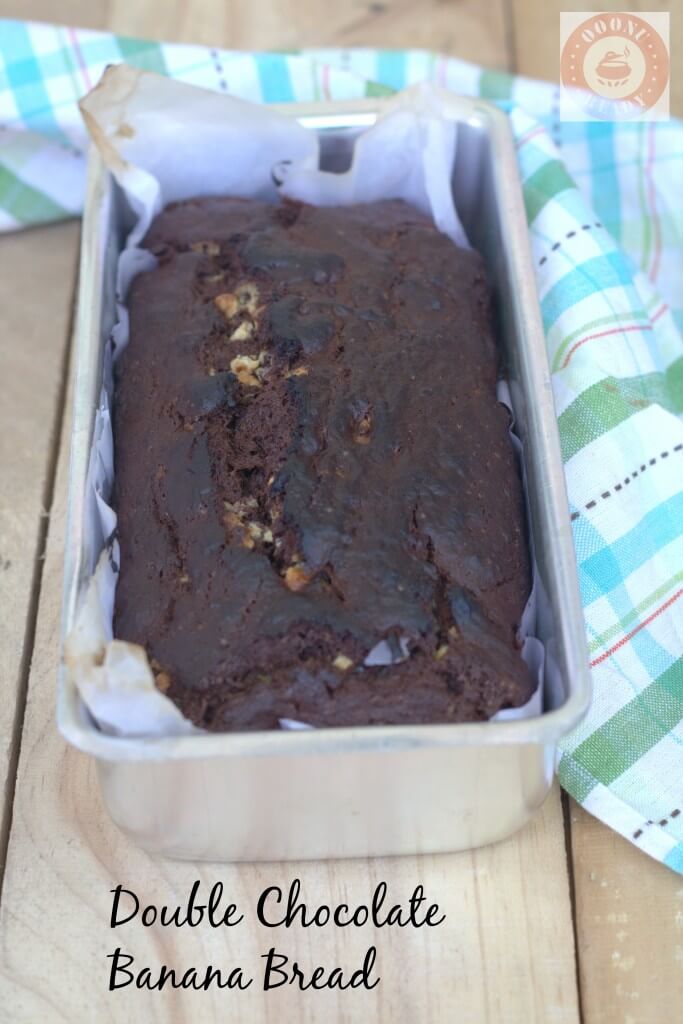 Ingredients for Double Chocolate Banana Bread (Recipe Courtesy: Smitten Kitchen)
Bananas- 3 medium
Butter melted- 115 g
Sugar- (brown/white)- 145 g
Egg- 1
Salt- 1/4 tsp
Vanilla extract- 1 tsp
Baking Soda- 1 tsp
Cocoa powder- 1/2 cup
All purpose flour- 125 g
Choco chips- 170g ( I used 75 g)
Direction
Sieve the dry ingredients in a bowl (flour, salt. cocoa powder and baking soda).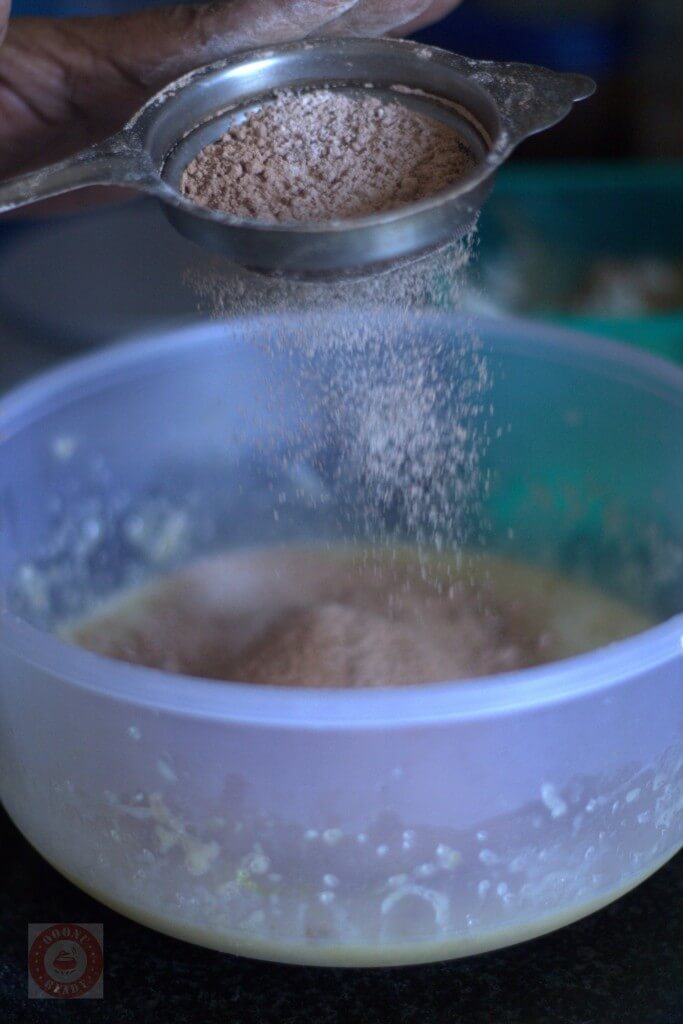 Mash the bananas in a bowl and pour in the melted butter. To this, add the sugar and egg and beat well using a whisk or thermomix.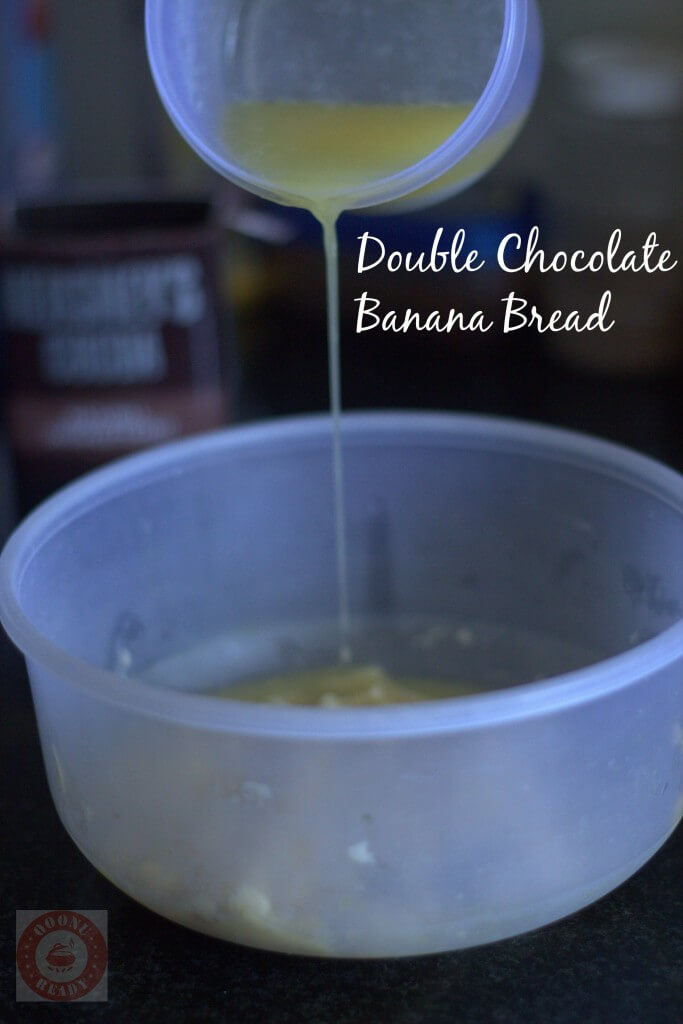 Add vanilla essence and your wet ingredients are ready. Preheat the oven to 350 degrees and line a loaf tin of 9×5 inch with parchment paper. Add the dry ingredients that is sieved already, in 3 parts to the wet ingredients. Using a spatula fold in the dry ingredients thoroughly. Transfer the batter into the loaf tin and bake for 45- 50 minutes till a tooth pick inserted comes out neat and clean. Let the double chocolate banana bread cool on the wire rack for 15 minutes before taking it out. Serve with freshly sliced bananas on top and some ice cream or sour cream.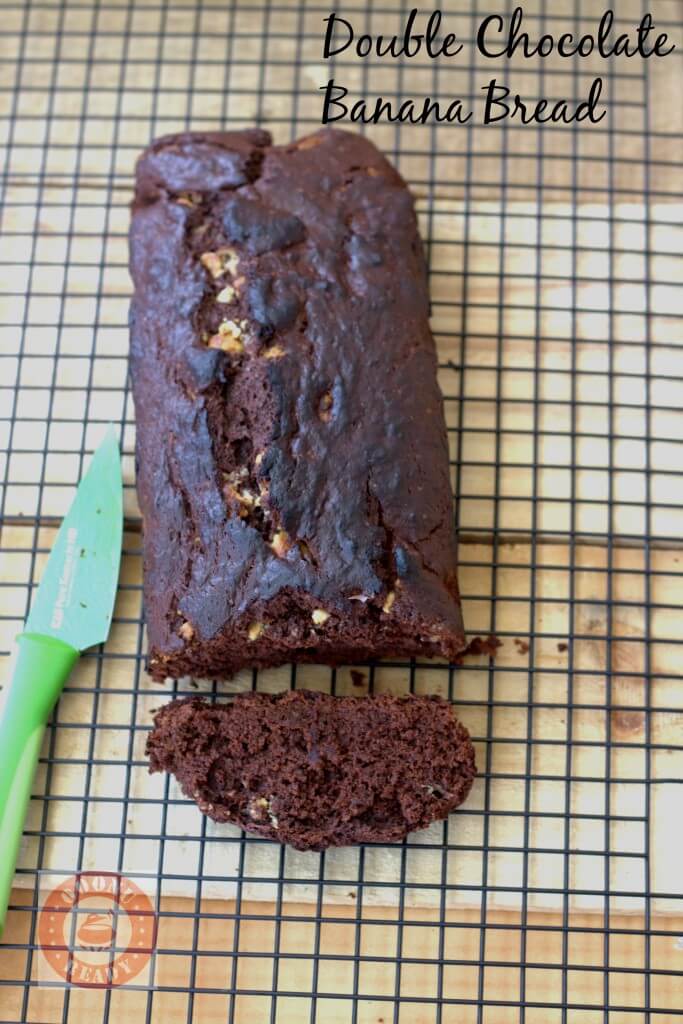 Stay tuned for more posts and meanwhile if you are on pinterest follow the ooonuready board by clicking on this link https://in.pinterest.com/teenaaugustine1/ooonureadycom/
Goodnight and see you soon with a new post!