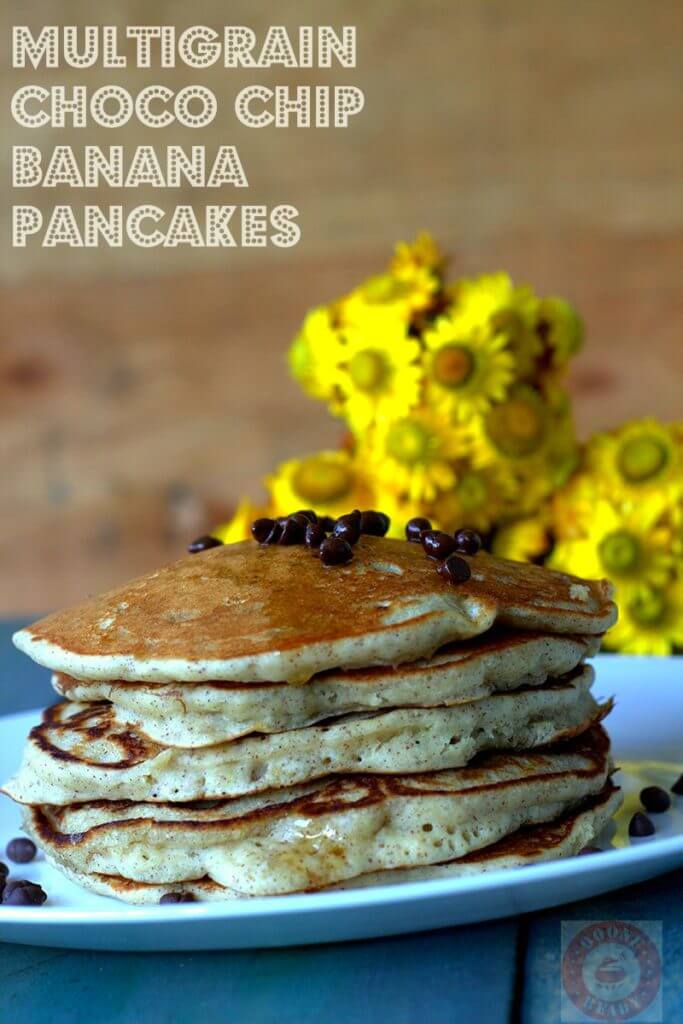 I am so excited to see the weather change in Bangalore all of a sudden but this has put me in a very difficult situation again when it comes to blogging. We had no power and internet connectivity the last 2 days and so my posts were getting held up. Now that makes me jittery because it takes from me the joy of writing to you people when I want to. I know we are almost done with mother's day but I would still wish you all a very hearty mother's day. Frankly I don't believe in days dedicated for special ones in our life, I believe every day is mothers day and as a mother I am quite qualified to say this today. Mother's day with a 2 year old is just like any normal day. The same running behind to feed your little one, pick up the stuff she throws around, remind her firmly what she ought to and ought not to. So it was just another day with my ninja turtle. But we did manage some multigrain choco chip banana pancakes amidst all the running around. I decided to use Sarah's multigrain cereal powder in my pancakes (homemade by me https://www.perucontact.com/home-made-multi-grain-baby-cereal-powder-toddler-meal-challenge-day-21/https://www.perucontact.com/home-made-multi-grain-baby-cereal-powder-toddler-meal-challenge-day-21/) which she did not prefer having these days. Now this powder is a powerhouse of proteins with every possible lentils in them. And that makes them very special from the dietary angle. These fluffy pancakes have buttermilk, eggs, multigrain powder and bananas in them, making them quite heavy. I have not used any sugar and so these pancakes get their sweetness from the bananas.
We have reached day 82 of our toddler meal challenge today with a break of 90 plus days in between. I know I have missed a lot of days, sometimes I have not even posted the recipes that I clicked and I have failed miserably to keep up with this challenge. But that's how massive a 365 day challenge is actually. I won't make promises and disappoint you, but I hope to complete this challenge.
Pancakes guarantee me 100% success with Sarah and so I have done quite a few in this challenge. But this one was surprised me because I never thought I could use up her baby cereal powder. And we have made a family pact to try and have more pancakes as a family meal. Hope we succeed with our pact. So here's my recipe for the multigrain choco chips banana pancakes. And if you love pancakes these might interest you https://www.perucontact.com/strawberry-milk-shake-and-banana-pancakes-toddler-meal-challenge-day-46-47/
https://www.perucontact.com/mixed-herbs-savoury-pancakes-toddler-meal-challenge-day-20/
https://www.perucontact.com/pumpkin-pancakes-the-365-days-toddler-meal-challenge/
https://www.perucontact.com/zucchin-bread-pancakes/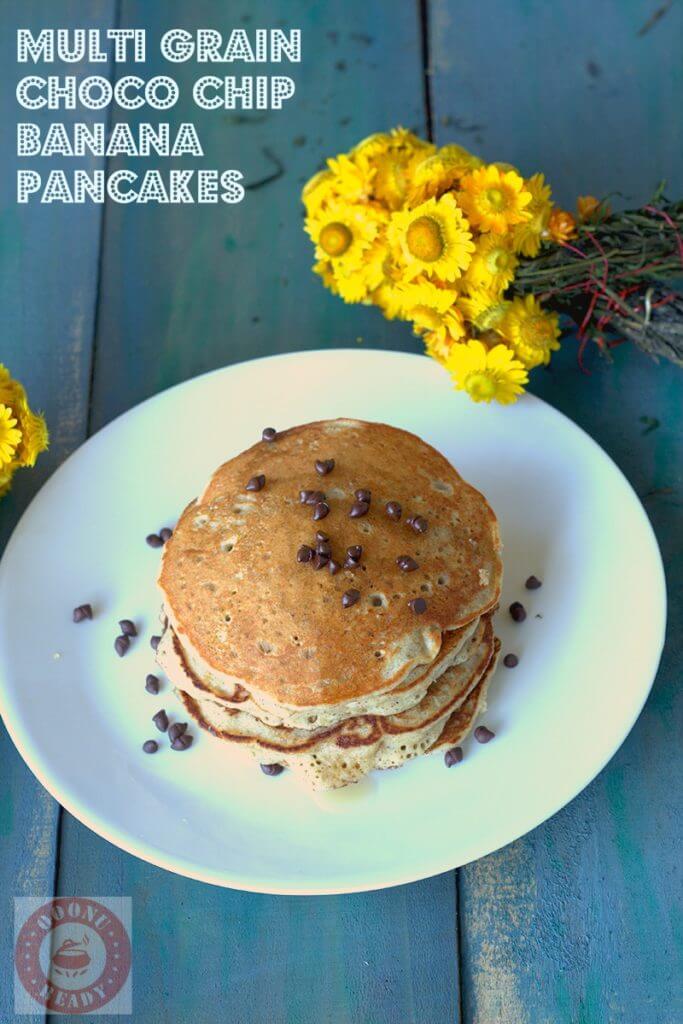 Ingredients for Multigrain Choco chips Banana Pancakes
Mulitgrain powder- 2 cups (You can try Mannas or any other store bought brand or check out my recipe above)
All purpose flour- 1 cup
Eggs- 2
Buttermilk- 3 cups
Melted butter- 50 g
Baking powder- 2 tsp
Baking soda- 1 tsp
Salt- a pinch
Banana- 2
Choco chips- 50 g
Oil- for greasing the pan
Directions
Mix the flours in a bowl along with salt, baking powder and baking soda. Prepare the buttermilk by adding 1 tsp vinegar to 3 cups of milk. Let it stand for 15 minutes. Mashed the bananas and add it to the flour meanwhile. Add whisked eggs and melted butter to the flour and mix them thoroughly. Add the buttermilk and whisk the batter to avoid lumps. Heat a pan and grease the pan with some melted butter/oil. Pour in a ladle of batter and sprinkle some choco chips. Cook the pancakes on both sides over low flame till the brown evenly on both sides. Serve with honey or pancake syrup.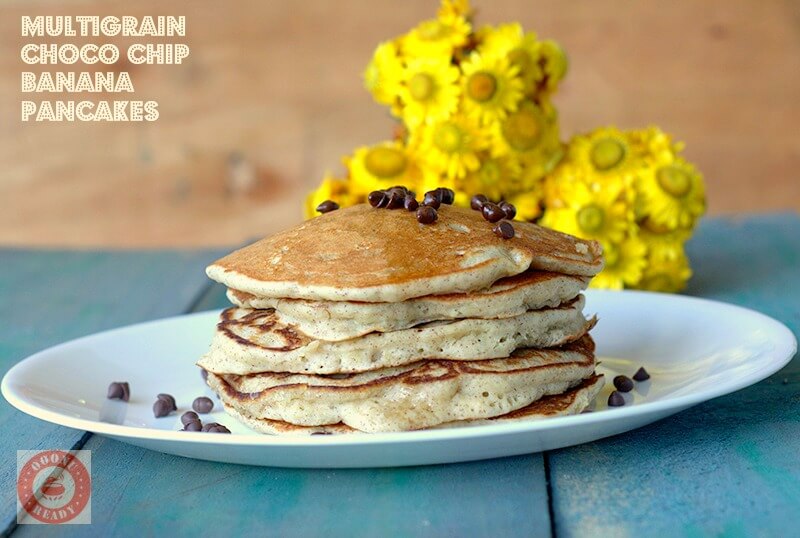 Stay tuned for some healthy breakfast posts here on this space. And come back tomorrow for my toddler post. Till then eat healthy, stay blessed.