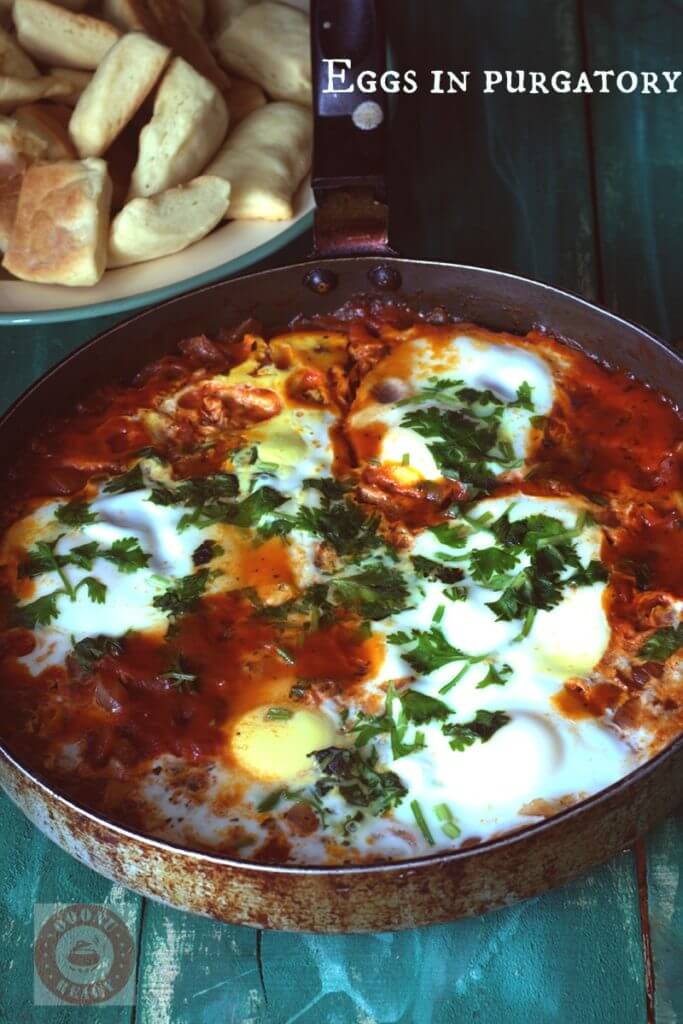 Hey lovely people how have you been? It's been kinda hectic at home since Monday. I am starting my new job tomorrow, so I was busy organising, cleaning, stocking supplies, batch cooking and spending time with Sarah. We also had guests over so I have missed posting the recipes here. But I am back with something interesting and eggy. I have a toddler who refuses eggs in the boiled and fried form but, with a gravy she is fine with them. I decided to try the eggs in purgatory because she loves tangy sauces lately and I hoped they would camouflage the eggs. I also had a dear family friend whom I was meeting after 15 long years. She is my dad's friend's daughter and the last time I saw her she was in grade 3. She is now an architect and I was excited to meet her after the long years. She is a foodie and I thought the eggs in purgatory would impress her. But I could not spice these up as planned because Sarah can't handle spices and its around her taste buds that our lives rule. Sarah gets excited if she's served food with guests and she makes an attempt to eat to impress them. She ate bits and pieces the first round and had them again after some time when she had settled down after her excitement to meet our friend.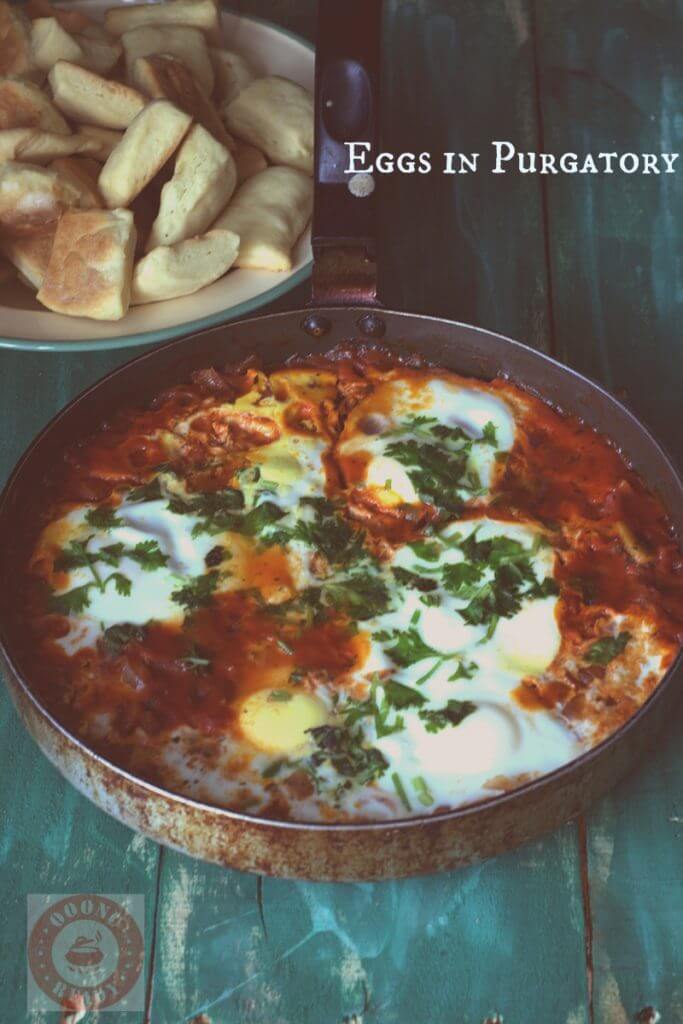 Eggs in purgatory gets the name from the idea that the eggs in this dish resemble souls burning in the heat of fiery red sauce that represents the purgatory. Purgatory for the catholics is a place between hell and heaven where the souls expiates the sins before moving to heaven. So the eggs do their expiation in the red sauce and end up in our plates that's heaven actually :) This dish is quite similar to the Israeli shakshouka and Mexican huevos rancheros. I am not sure where they actually originated from but I love the name and the dish. We had them with buttermilk biscuits. You can find the recipe for the buttermilk biscuits here https://www.perucontact.com/buttermilk-biscuits-baked-eggs/ and if you would like to try my shakshouka recipe check them out here https://www.perucontact.com/basil-garlic-pull-apart-bread-shakshouka-on-fourth-wedding-anniversary/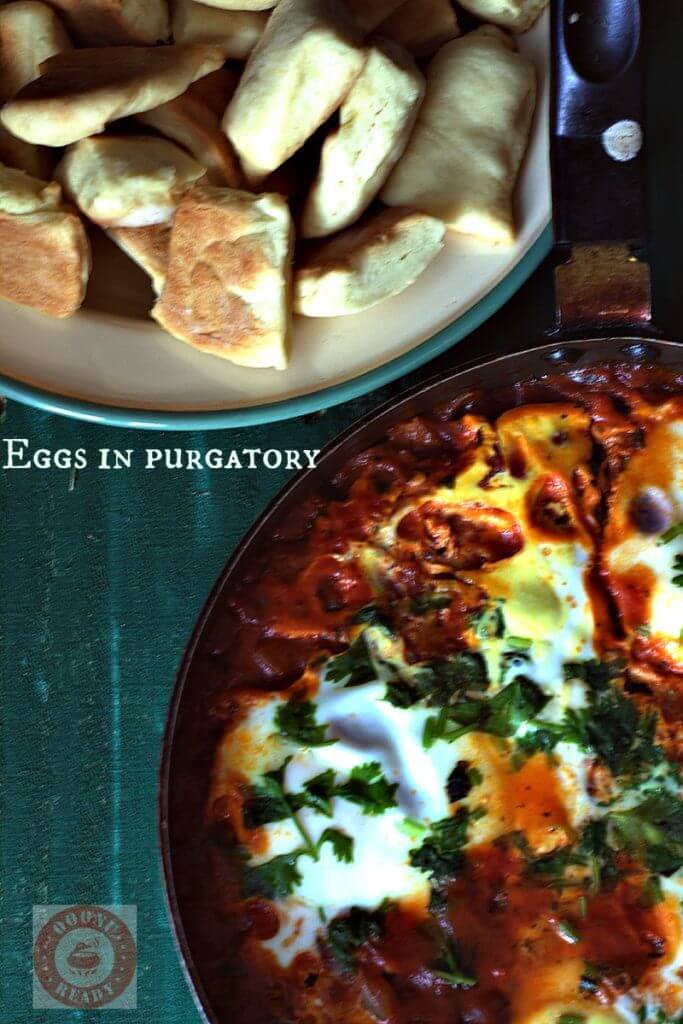 I am not a fan of poached eggs but cooking them this way makes them a wonderful meal for kids and adults. If you have some pizza sauce tucked in your refrigerator, grab them and get some eggs, you have eggs in purgatory in 10 minutes ain't it a classy, impressive breakfast to wake upto and when your kids love them, what more could you ask for. They go with toast, pitas, piadinas and rotis too. So go on make an extra special meal even on a weekday. Try the eggs in purgatory and give your kids a healthy meal.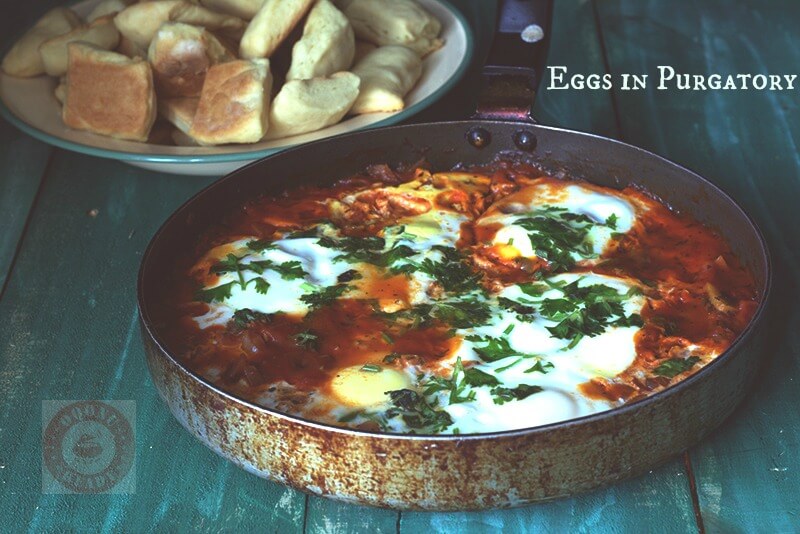 Ingredients for Eggs in Purgatory
Eggs- 6
Tomato Puree- 200 ml
Onions- 2
Tomatoes-3
Bell pepper- 2 (optional)
Olives- 4 tbsp
Potatoes- 2
Garlic- 6 cloves
Parsley chopped- 3 tsp
Olive oil- 3 tbsp
Cheese (mozarella/pecorino)- 50 g
Salt- as required
Sugar- 1- 2 tsp
Paprika- a pinch
Directions
Heat the oil in a skillet and add the crushed garlic cloves first. Saute for 2-3 minutes and then add chopped onions and potatoes. Sprinkled the salt and cook the potatoes till they are done. Cover and cook if required. After the potatoes are done, add the chopped olives, bell peppers and tomatoes. Saute till the tomatoes wilt completely. Add the tomato puree, sugar and paprika. Let the gravy simmer for 3-4 minutes. Break the eggs into this gravy after this. Break them carefully to keep the yolks intact. Drop them from very close to the gravy to keep the yolks intact. Cover and cook the eggs till they start to solidify/harden. You can undercook them if you like runny yolks. Sprinkle the grated cheese and chopped parsely on top of the eggs after dropping them into the gravy so that they cook with the eggs, infusing their flavours. Take the eggs off the flame when the eggs have cooked. Try to keep the gravy runny so add a little water if your gravy dries up. Serve with bread/toast.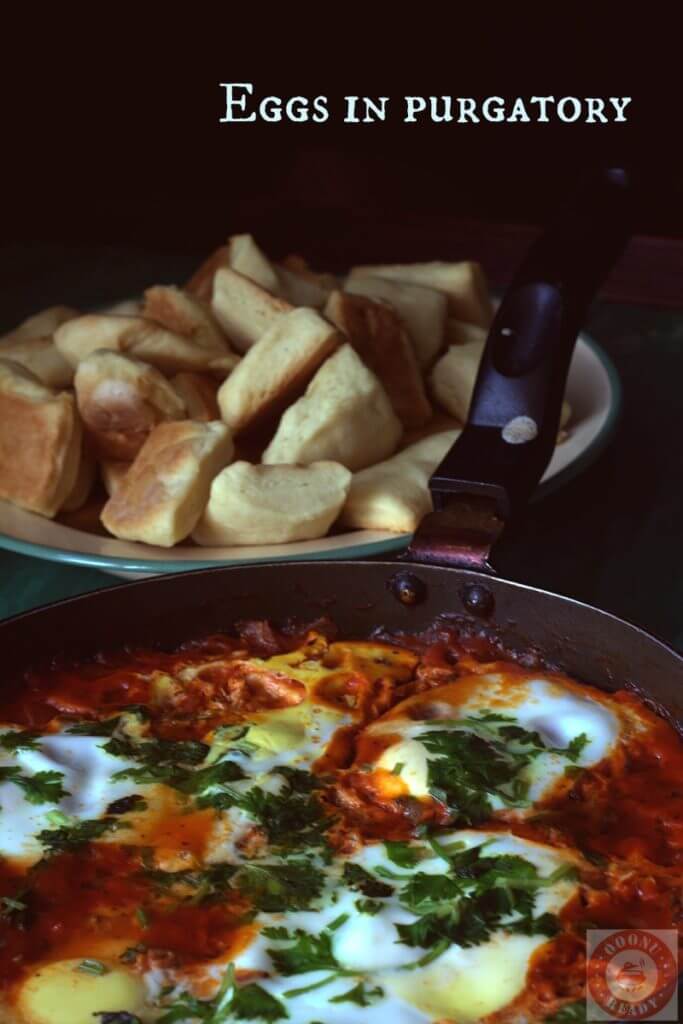 I am quite excited to join my new workplace and I am not allowed to disclose my work related information so I can only say its academic and publishing related. This is gonna changes our lives because my hubby and I plan to leave for work together by 8ish to get back by 7ish and Sarah will have to spend some time at the day care which means I have a lot of meals to pack off. This will again delay the posts here though we will continue with the challenge. I am also in the process of migrating my blog so this might slow things down a bit. Please bear with me in this period and I assure you I will be back no matter what. Till then stay blessed and eat healthy.