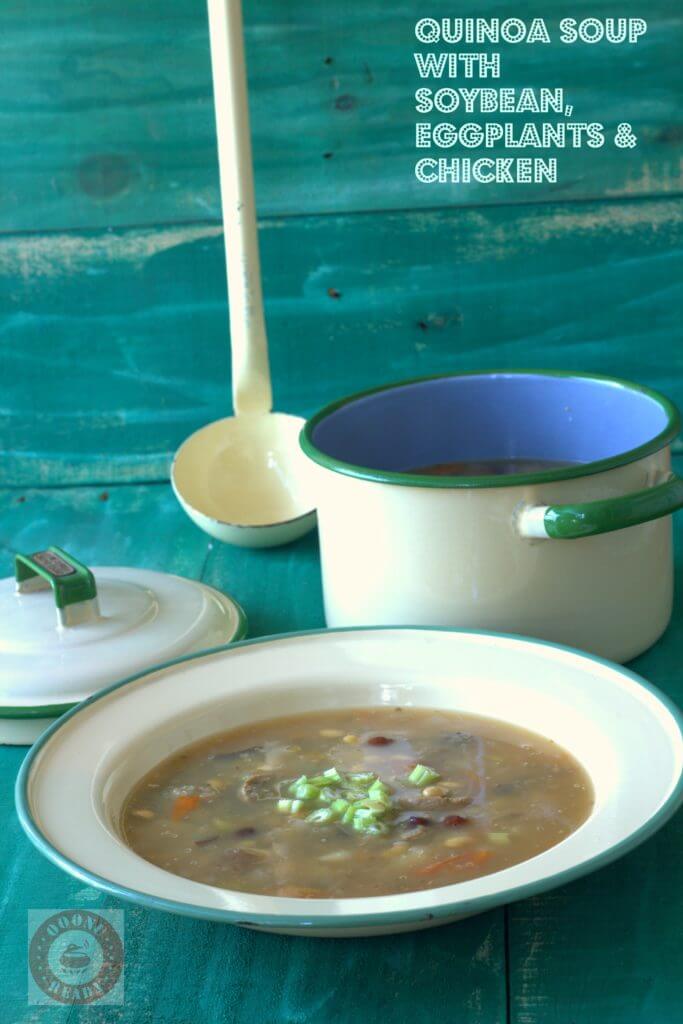 Summer vacation for us kids back in school days in the Middle east, meant holiday homework, watching TV, eating junk and playing board games. Yes that's how boring the vacations were for the middle class in the middle east back then in the early 90's (way before internet and malls). Something we looked forward to during vacations, was the annual trip to the Souk- al mirah in Kuwait city- a wholesale super market like the Metro superstore in India. We hoarded stuff like the world was ending when we visited this place and we were excited when we planned this trip for 3 reasons. Firstly, anything you bought came in a dozen ( a dozen tomato puree can. a dozen glasses, a dozen pencils, a dozen sketch pens …) Secondly, this trip lasted the whole day with breaks where you had snacks because if you drove this long once a year, you ought to hoard was dad's norm. What excited me the most was the third reason, the lunch from the Arabic restaurant behind this soup that served majboos and fasoulia. Majboos is the Arabic style biriyani with rice cooked with spices in mutton stock. And fasoulia was red kidney beans stewed in minimal spices and mutton broth. Both these dishes had no spices unlike the typical South Indian meals and in the initial visits I hated them. But over the years, you sort of get addicted to this dish, its aromas, spices and you crave for this one opportunity, once in a year ritual of having this meal with your family, in a shady restaurant that's filthier than a slum. But we loved it and I remember a soup similar to this with frugal ingredients served to us before the meal. My dad and I loved this soup though it was voted down by the rest of my family. My mom even complained the broth stunk and she thought they never washed the mutton or the plates. But nothing stopped dad and me from having this soup. With a dash of lemon we loved this soup and this was no winter, it was 43 degrees without an air conditioner in an open air restaurant. Your sweat trickled down all the way as you completed your meal but I so wish I could time travel back to those days, with my whole family silent and calm around a table bickering about the service and food. But I know what to cook next time this feeling overcomes me- it's this Quinoa soup with soybean, eggplants and chicken.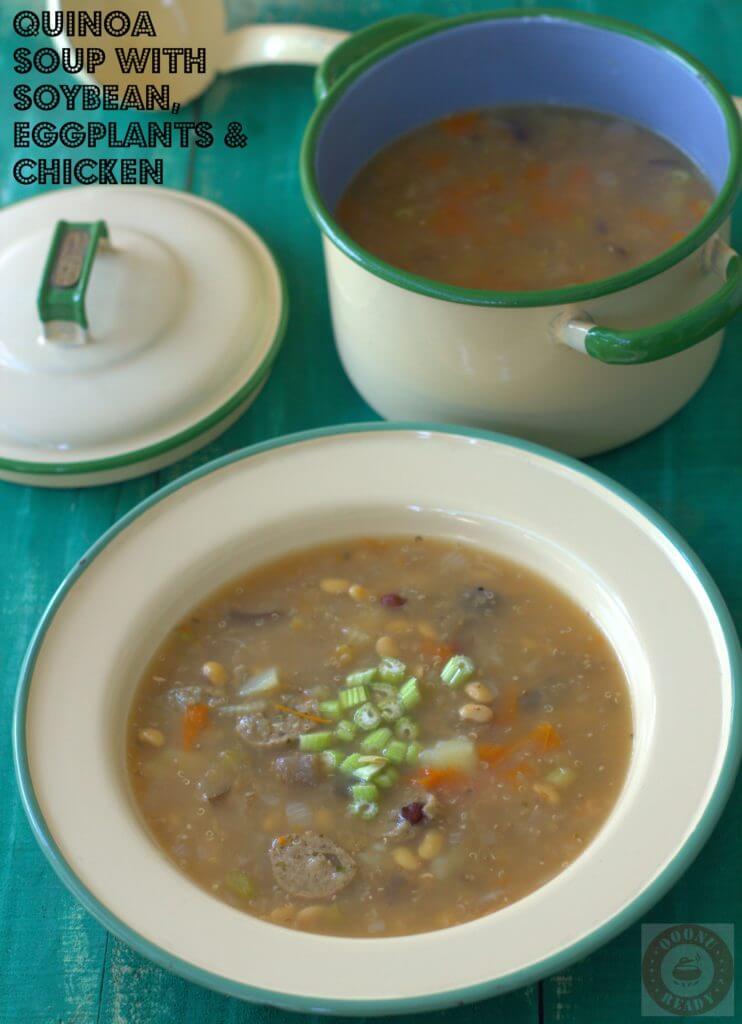 So last evening I had this craving for fasoulia and this Arabic soup and sometimes my cravings go crazy and I start to hallucinate. I could actually taste fasoulia in my mouth. And that's when I decided to prepare this soup with flavours resembling the fasoulia. I knew soybean could resemble the fava beans or red kidney beans and I had black chickpeas, instead of white one. I sued seekh kebabs for some Arabic flavour. Tomatoes gave this soup the fasoulia taste. Potatoes and eggplants make them royally Arabic. I had some quinoa that needed to be used up and with some celery in place of parsley and bayleaf, I had my pseudo majboos and fasoulia in a healthy avatar. I wish I had carrots and that's an ingredient that's missing in this soup.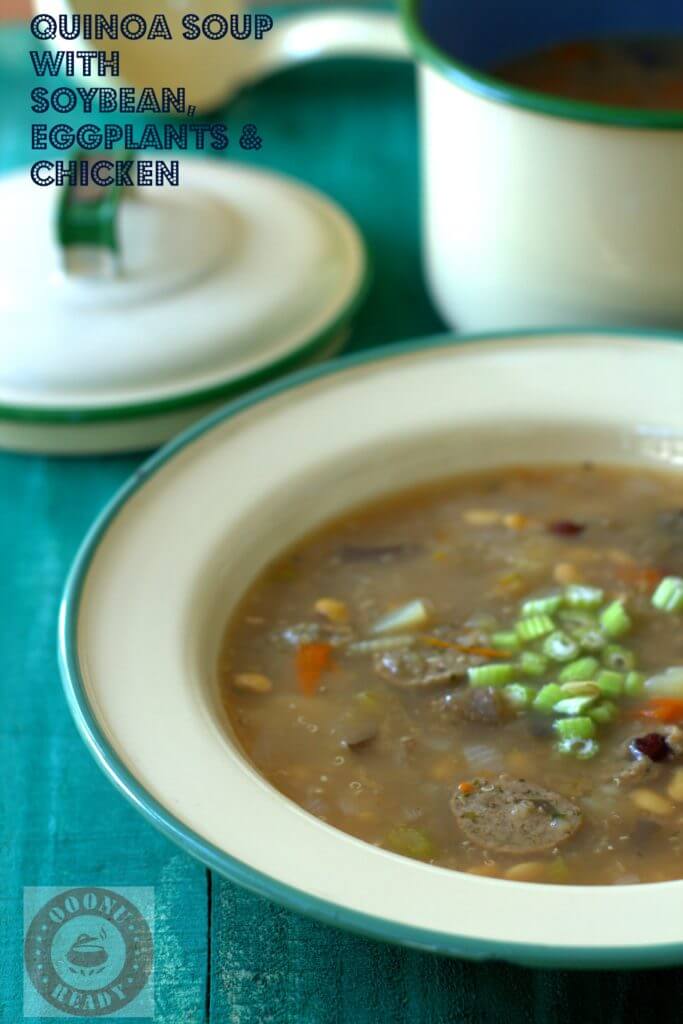 Ingredients for Quinoa Soup with Soybean, Eggplants & Chicken
Quinoa- 1/2 cup
Soybean- 50 g
Chickpeas/Black gram- 50 g
Eggplants- 2 small round ones
Potato- 1
Onions- 2
Tomatoes- 3
Garlic- 2 cloves
Chicken stock- 3 cups
Chicken seekh kebab- 3 (or 1 chicken breast)
Celery- 1 stalk
Bay leaf- 2 leaves
Salt- to taste
Pepper- 1 tsp
Olive oil- 3 tbsp
Directions
Prepare the chicken stock by pressure-cooking 500 g of chicken soup bones with 2 cups of water, salt, pepper and 2 cloves of garlic. You can also add carrots and leeks if you have them. And if you don't wish to prepare chicken stock, use a clear chicken soup packet. Since this soup was done in a hurry, I did not soak the beans and therefore I have prepared this soup in a pressure cooker. Alternatively you can use a crock pot if you soak your beans overnight. The method I followed, pressure cooked the soup first and slow cooked it later.
Heat oil in a pressure cooker, and add minced cloves of garlic first. After sauteing the garlic for 2-3 minutes, add the bay leaf and onions. Saute for 2-3 minutes to soften the onions. Now add the washed quinoa, soybean, chickpeas, peeled and cubes potatoes, chopped tomatoes and sliced eggplants to the onions. Saute for 2-3 minutes and add salt and pepper with 2 cups of water and chicken stock. Pressure cook the beans up to 5 whistles. After the pressure settles, add the sliced seek kebab and celery. Let the soup simmer for 30- 45 minutes over low flame. Serve warm with pita chips.
Note: 1. Add channa/chickpeas instead of the black gram used by me.
2. In case you decide to use chicken, chop them and add them to the soup when you pressure cook the other ingredients.
3. I used celery in the absence of parsley.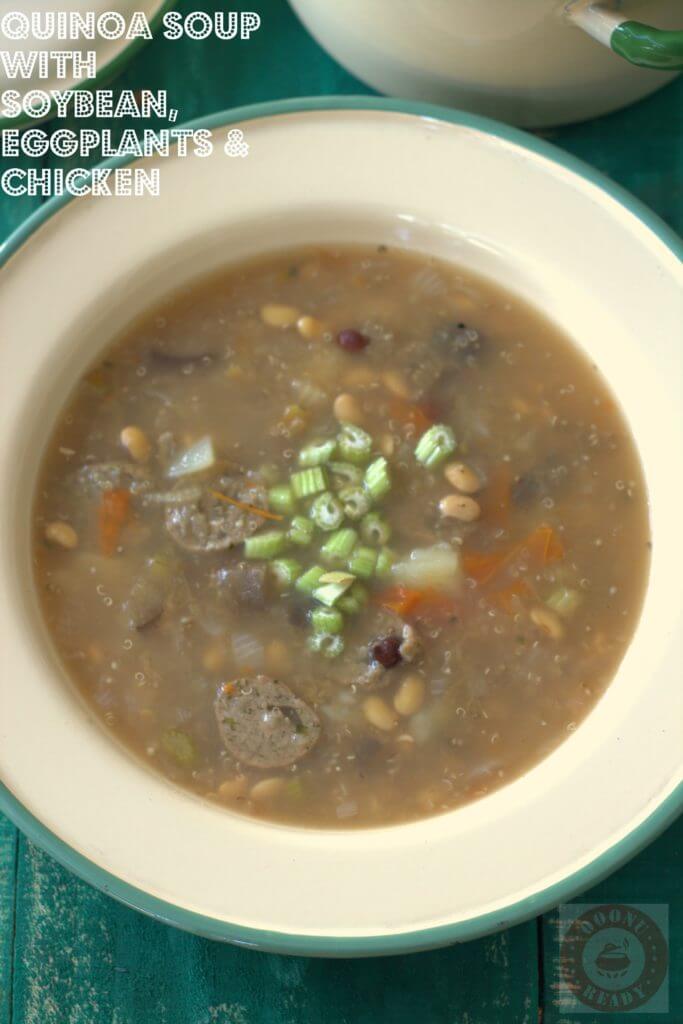 If you are eyeing my enamel ware, I have a travelogue pending to explain where I sourced it from, but that can wait. Let's pack up for tonight. Stay tuned for more posts on this space. And till we meet again, stay blessed, eat healthy.