I am often asked why this blog is called ooonuready. Isn't it cutting out traffic because this isn't an English word? Shouldn't I have gone for something global? Well though I am aware of the limitations of the SEO's, my hubby and I wanted the blog to be true to our roots and we wanted a name that we could relate to- hence ooonuready was born. Ooonuready means -'Meals Ready" but I never posted a meal series from my native cuisine out here. I always thought those recipes were out there already. My style of cooking was never traditional, so I did not feel motivated to write them out. And also familiarity breeds contempt goes the saying so I dedicated my time to explore the exotic.
Having said that, I am a true malayalee in my taste for food. I could binge on pizzas and bakes for a week but if you give me a bowl of kanji or some tapioca and fish curry, I will throw away the pizza. That's me ! It amazes a lot of my friends that having grown up in the middle east, I still am a loyal fan of the 'kanji club' I guess its a trait passed on to me by my mom.
My mom was a kanji fan and dad a kappa fan. Dad hated kanji because where he came from people ate kappa (tapioca) as a staple. And from where mom came from people ate tapioca for snack time and those who had money could afford to cook rice. And to end this war I adopted both the kappa and kanji and made them call for truce.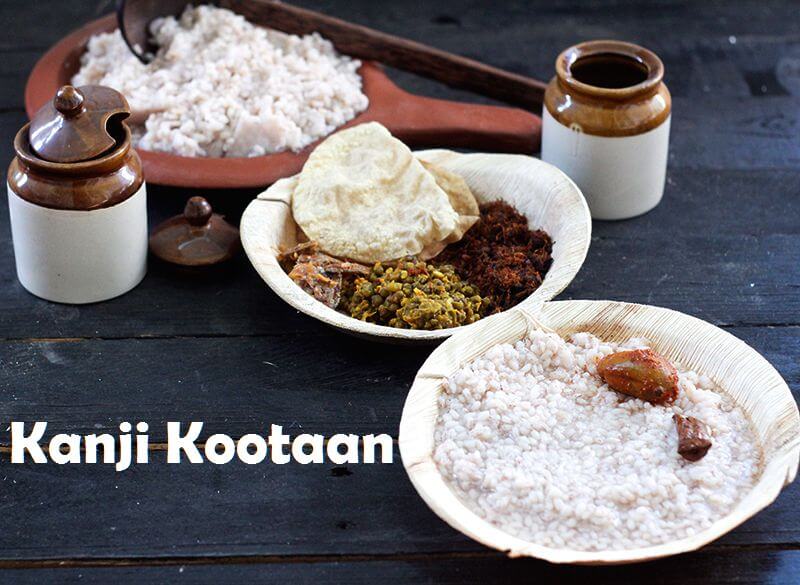 In my recent trip to Kerala, I was amazed to see a lot of small street side shops that served kanji with the board 'kanji kada' (kanji shop).
For those of you who aren't familiar with this meal- kanji is a rice gruel prepared by cooking rice with salt and water. The water is not drained off in the kanji but instead it is had like a porridge in the liquid form. Often the water of the gruel is had as kanji vellam (gruel water) and this is considered rich in starch content. Kanji paired with chutneys popularly called 'Chamandi' or 'chamanthi'- which is a coconut based chutney. Kanji often has a stir fry or mashed curry that is popularly called kootan, mezhukupuratti or uperi depending on which part of Kerala you belong to. What qualifies as a kootan is a long list of curries the most popular being green gram (cherupayar), cowpea (vanpayar), Raw banana (kaya ularthiyathu), tubers like chinese potato, yam, tapioca (koorka, chenna,kappa), or coconut based stir fries with any vegetable (thorans). Some like me need curd with kanji and as bonus you have papad, dried fish, dried prawns, dried meat, pickles, salted goodies and dried wafers like chilies, bitter gourd and ivy gourd (kondattam). So having kanji is a celebration of flavours because they come with a lot of accompaniments to try out. My platter has dried meat and dried fish (onakka erachi and onakka meen) to accompaniments that is rare with kanji. The dried meat is a family special, we dry our share and save them for a year. My stock is as old as my daughter and might run for a year more. But you don't need the same set of accompaniments with curry. Any stir fry, papad and pickle is sufficient to enjoy kanji. But we had a kanji party last night and hence my plate looks rich. If you are enticed to try kanji and need the recipe, its your day so go ahead and read!!!
Ingredients for Kanji Kootan
Matta rice (Kerala Red Rice)- 1 cup
Water- 3 cups
Salt- 1 tsp
Directions
Wash the rice thoroughly. Boil water in a pressure cooker with salt. Once the water srtarts to boil add the rice and pressure cook up to three whistles. When the pressure settles, open the cooker. Add more water and let the kanji simmer for 10 minutes till it is soft and switch off the flame. If the kanji absorbs all the water and looks thick, add some warm water before serving for a loose consistency.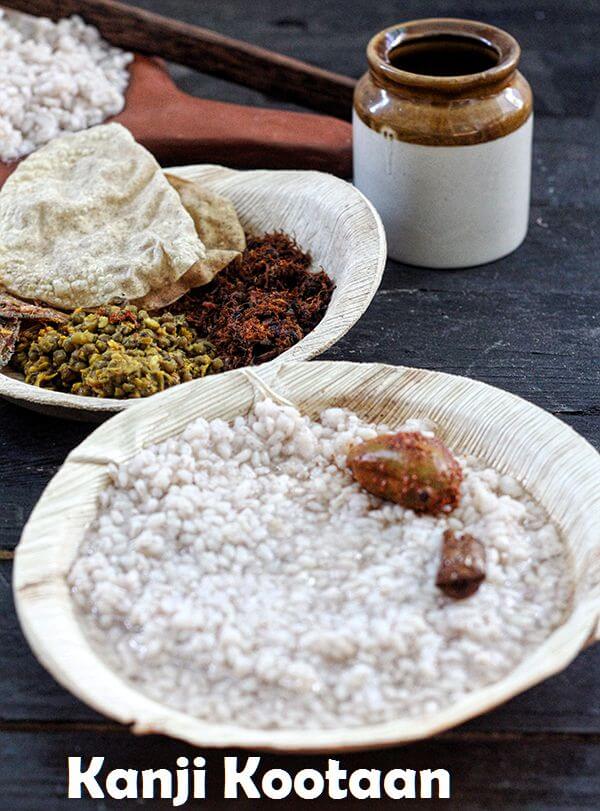 Ingredients for Cheru payar Kootan
Green gram- 150 g
Shallots- 10
Garlic cloves- 10
Curry leaves- 8 leaves
Crushed chili flakes- 1 tsp
Turmeric powder- 1/2 tsp
Salt- to taste
Coconut oil- 2 tsp
Directions
Pressure cook the green gram with salt and 1.5 cups of water up to two whistles. Heat the pressure cooker and add oil. When the oil is hot add curry leaves followed by minced shallots and garlic and saute till they are brown. Add turmeric powder and crushed chili flakes and saute for a minute or two. Now add the cooked gram and let the gram cook with the spices for 5 minutes. Switch off the flame after the water in cherupayar curry has evaporated completely, giving a thick gooey cherupayar curry.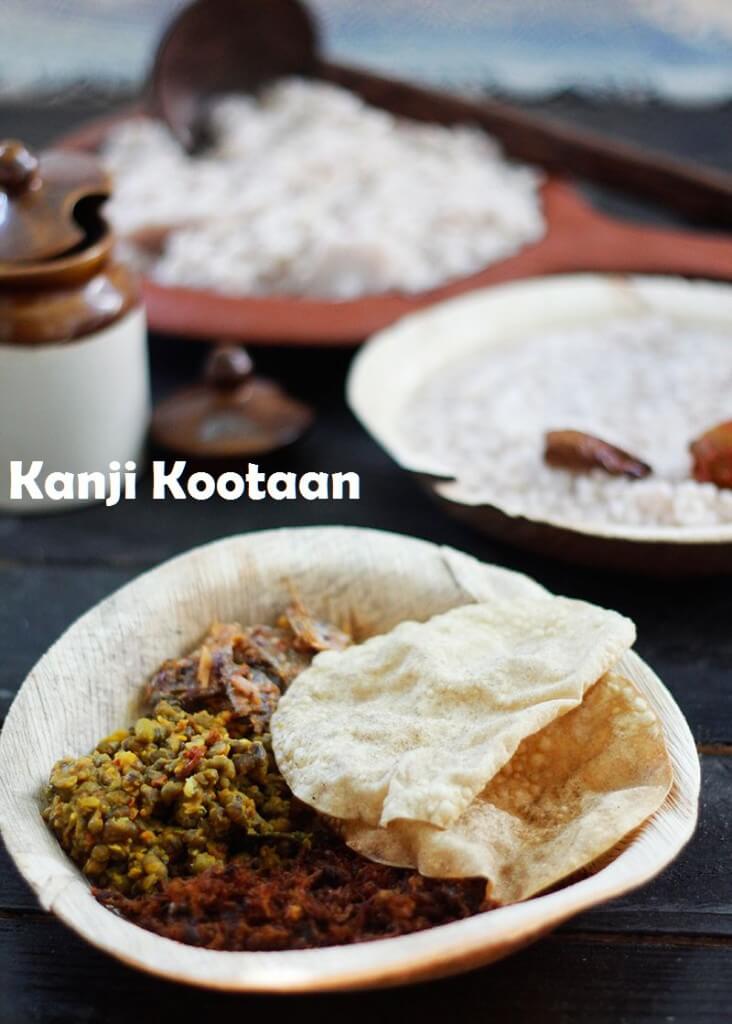 Ingredients for Onakka irachi (Dried Meat)
Dried beef strips- 100 g
Shallots- 10
Garlic cloves- 1 5
Turmeric powder- a pinch
Chili flakes- 2 tsp
Garam masala- 1 tsp
Curry leaves- 10 leaves
Coconut oil- 2 tsp
Directions
Soak the beef strips for 4 hours and dry them using a paper towel. Now grill them over fire till they are roasted well.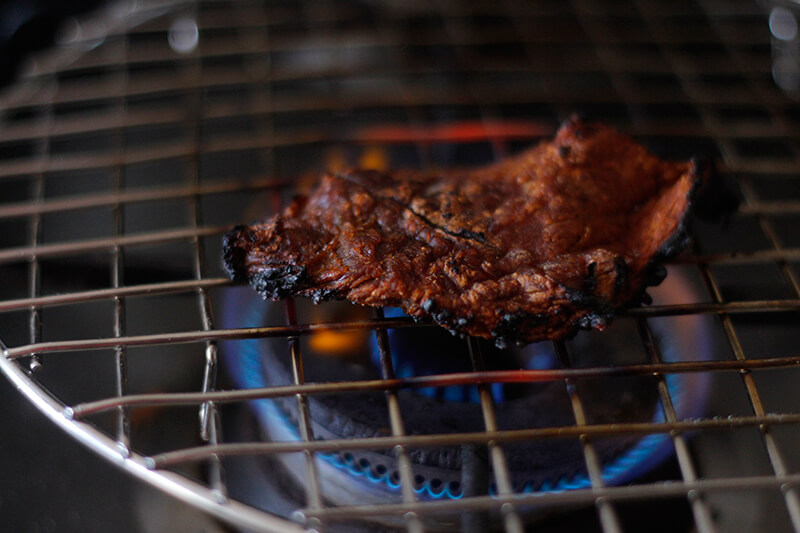 This might take 2-3 minutes per piece. Using a mortar and pestle now pound the meat in a mortar and pestle. This could take some time because the meat is tough. Once you are done you can break the meat with your fingers into shreds. You can do this in a grinder too but the meat is tough and can damage your grinder at times.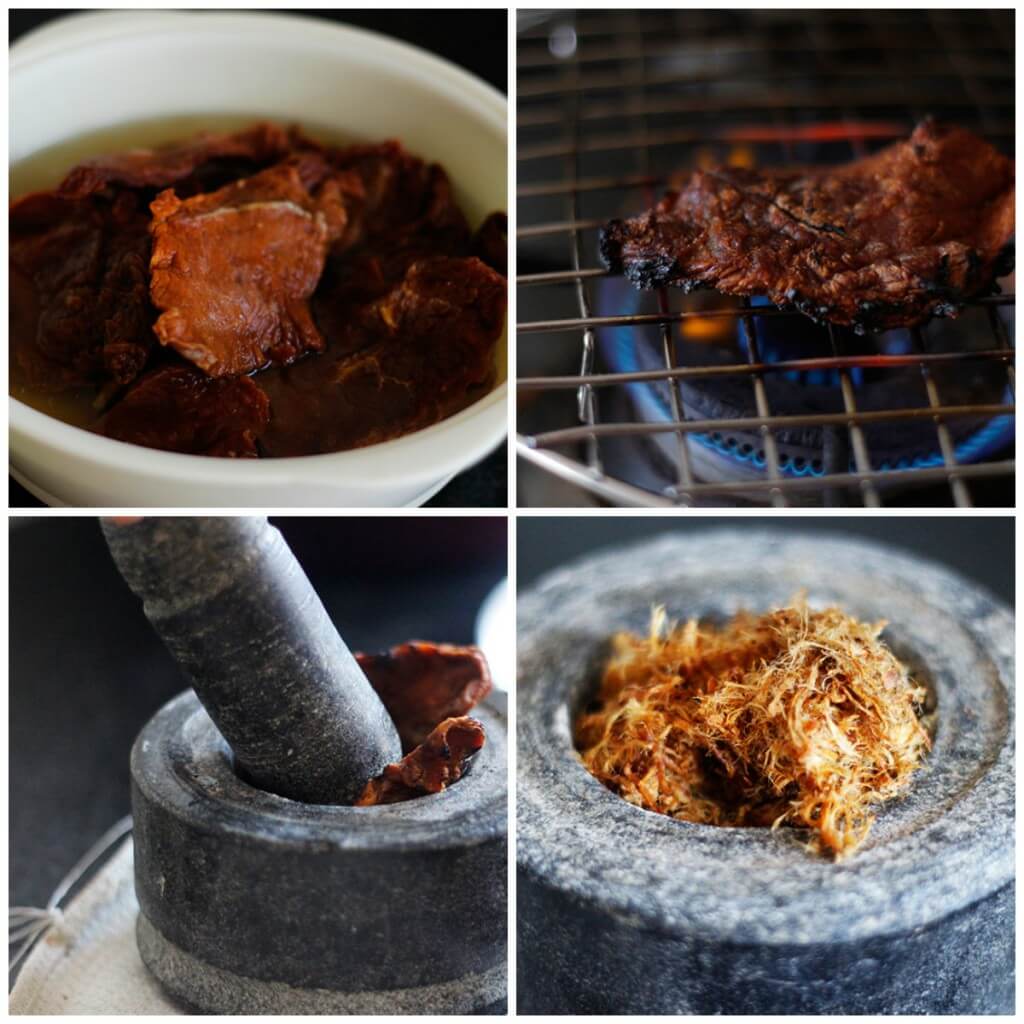 Heat the oil in a pan and add the curry leaves first. When the curry leaves are crisp,add minced garlic and shallots. Saute till they brown. Add the spice powders and saute for a minute or two. Now add the shredded meat and cook over low flame for 30-45 minutes. I sprinkle some water at intervals to expedite the cooking process. The meat needs through cooking so you need to do it till it is done and that depends on the quality of your meat. If stored in an airtight container, this dried meat stays up to a month or even more.
Ingredients for Onakka meen (Dry Fish)
Dried fish( small mullet) – 200 g
Crushed chili flakes- 2 tsp
Shallots- 15
Garlic cloves- 12
Coconut oil- 5 tsp
Directions
Soak the fish in water to take away the dirt and saltiness. Dry the fish on a paper and fry it in 2 tsp coconut oil till crisp. Drain the dry fish and prepare the masala.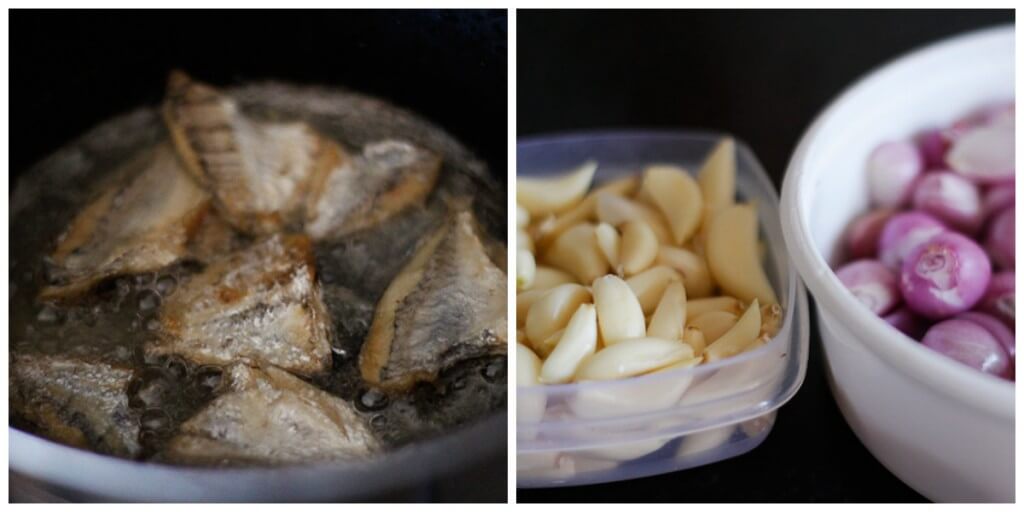 Heat the remaining oil in the same pan and saute the minced garlic and shallots. Add the crushed chili flakes when the onions start to brown. Now add the fish and toss them gently in the masala to coat them evenly without breaking them. Switch off the flame once you are done with this.
Serve the kanji with these accompaniments, some curd, papad and pickle. Hope you enjoyed this read and stay tuned for more. Watch out for some exciting posts scheduled for the week. Till then stay blessed and eat healthy.