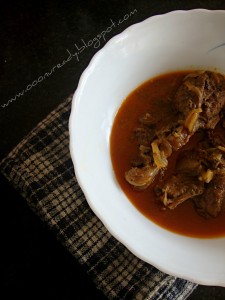 I have never cooked a duck by myself. Mom always had two recipes for duck either a coconut roasted gravy or a duck roast with lots of onion and some fried potatoes to decorate the dish. I wanted to try a Kuttanadan recipe for Easter because I had heard people raving about the Kuttanadan duck curry. I have been following Sarah's Vazhayila.com for quite some time. She happens to be from the Kuttanad region and has a lot of local recipes on her blog. I found this duck recipe on her blog and so decided to experiment with duck for Easter. I was nervous of the success because none of us liked duck except my father in law. My hubby though duck was just bones and no flesh and he wanted something fleshy to bite on to. I assured him the American duck we got in Bangalore would be fleshy enough to satisfy his expectations and so we visited the butcher. To my dismay they gave me a duck uncut and with skin. I wasn't used to uncut fowl for quite some time. And the deboning of duck wasn't as easy as I had expected chunks of meat kept coming off till I learned the right way to do it. Nevertheless with the help of my hubby I managed to dissect my duck. All throughout I remembered Meryl Streep in Julie & Julia teaching people to debone a duck :).
I am not a duck person and I won't pretend I enjoyed this dish. But my in laws and family members were quite happy with the curry and so I guess it was worth the effort.I loved the gravy so much that I am planning to make chicken the same way so for those of you who dislike duck you can follow the same recipe using chicken.
Ingredients for Duck Curry – Kuttanadan style
Duck- 1 kg
For Marination
Black pepper- 1 tbsp
Green chillies- 3-4
Ginger- a small piece
Garlic- 3-4 pods
Fennel seeds- 1/2 tsp
Salt to taste
Vinegar- 1 tbsp
For the gravy

Oil- 2 tbsp
Cloves- 3-4
Cardamom- 2-3
Star anise-1
Onions- 2
Curry leaves- 2 -3 sprigs
Green chillies- 6-7
Ginger- 1 inch long piece
Garlic- 3-5 pods
Turmeric powder- 1/2 tsp
Chilli powder- 2 tbsp
Garam masala- 1 tsp
Thin coconut milk- 1 cup
Crushed pepper corns- 1 tsp
Thick coconut milk- 1 cup
Salt to taste
Directions
Wash and clean the duck and cut into medium pieces. Marinate the duck with the above mentioned ingredients and refrigerate for 2 hours.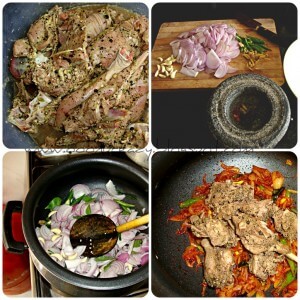 After two hours pressure cook the duck I just needed 2 whistles and the duck was well cooked. Pound the star anise, cardamom and cloves using a mortar and pestle. In a pan heat some oil saute the onions followed by green chillies, ginger and garlic till soft. Now add the pounded spices. After 3 minutes add the turmeric, chilli and garam masala powder and salt. The original recipe avoided chilli powder and hence had a yellow shade. I wanted it super spicy so I added chilli powder which also gave the fiery look despite the coconut milk.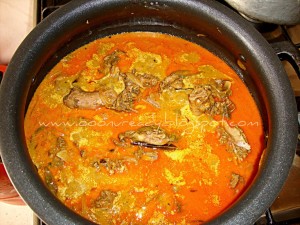 Now add duck pieces and a little water from the pressure cooker followed by thin coconut milk and let the curry simmer for 10 minutes.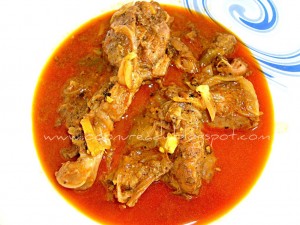 Add crushed pepper corns and thick coconut milk and let it stand for ten more minutes. Take the curry off the flame and serve with rice, chapathi or appams.