I had a fabulous week at Jammu and Kashmir 3 weeks back. Though I have been trying to write about it, I was caught up with work and these pics got buried under my pile of unfinished posts. So before I lost track of my memories of Jammu amidst research, I thought I should put this up after all I struggled a lot with my weak batteries and tired camera trying to capture J&K in 7 days. Since I was on a conference at the University of Jammu, I spent 4 out of my 7 days in J&K at Jammu.
Jammu also known as the city of temples is a hot spot for pilgrims touring Vaishno Devi and Amarnath caves. I would call it a sleeper town, a very hot and arid one mostly located with dhams and a couple of small markets.But having lived in metro cities in the past 6 years, Jammu and it's silence was a warm welcome.I should admit at the outset I thought Jammu and Kashmir were twin cities and I was unaware of their cultural and geographical diversity. I landed Jammu Airport dreaming Kashmiri Wazwan and cold weather though I was well informed by then that Jammu was quite distinct from Kashmir. But then every city has it's charm and I did my best to unveil it through my gastronomical interest. Luckily I had a friend who was a Kashmiri pandit and from his mom I learnt some Kashmiri recipes. She was superexcited at our visit and prepared a banquet with all the popular Kashmiri dishes which I actually did not get to sample when I reached Kashmir. So thanks to Vikas and family I got first hand experience of Kahwa, Pink tea and many more delicacies right in Jammu which made my trip even special.
If there's something that excites me when it comes to shopping it's the sight of fresh vegetables. I think I inherited this interest from my mom. She ends up shopping more than we need for the week because she can't resist fresh veggies.I grew up in the Middle East- a desert basically. But the biggest joys of my childhood days was always connected to our weekly trips to the Fish market. I loved the sight of veggies and fruits even then. On my return back to India, I was disappointed at the sight of markets I visited. Vegetables always looked tired and asphyxiated. So I got used to the notion of munching on inferior quality veggies when the fresh ones were exported to far away lands like the one where I grew up for instance. So to the surprise of Vikas my friend I was in love with the vegetable market in Jammu and the vegetables looked so fresh, I thought I could eat them raw there.These pictures were captured in the dark and my batteries were really weak so maybe they can't give you a view of what I would want you all to see. But I found some fascninating veggies I hadn't seen elsewhere. The pic above ( starting from left) shows Gilki, Saag, Nadru and Shalgam. Gilki belongs to the Tinda, Lauki family. The saag has a pungent flavour something similar to leaves of Radish. Nadru is lotus stem and a delicacy the people of Jammu and Kashmir hold very dear. Shalgam or turnips are used in pickles, salads and curries.We visited this market for my friend who wanted to buy apples. We were told the apples come from Kashmir and is cheaper there but we were still happy to buy apples for Rs 40 per kg and pears for Rs 20 per kg. My friend had 8 kgs packed for her whole family while I managed to learn the local vegetables.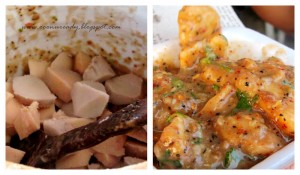 The prime attraction in Jammu city is Baagh- Bahu and Bahu fort with a garden and an aquarium which people boast is the largest aquarium in India. Both the garden and fort is named after the Raja Bahulochan who built this fort 3000 years ago. The fort is a religious place and has a temple dedicated to goddess Kali.It is here that Vikas introduced us to a popular snack popularly known as 'Kachaloo'. Kachaloo is a tuber similar to yam and mixed with a couple of spices it is a very spicy snack that could make you cry or worry your tummy. I just loved the ceramic bowl the hawker had in which he mixed his condiments.The aquarium was small and did not have the variety of fishes they promised us at the ticket counter and the gardens had very few flowers that wooed us but Kachaloo was worth the trip to the garden.
Though Jammu does not produce almonds and walnuts and they come from Kashmir, this was the first time my friend and I got to see nuts and pulses heaped like a mountain. Almonds, Walnuts and Razma ( not Rajma) is a treat for pilgrims who visit the city who might not make it to Srinagar thereafter.Though the nuts are overpriced than Srinagar it's way cheaper than any other part of the country. According to the experts a good quality almond when crushed between fingers produces oil. A decent quality of Walnut costs Rs 160 per kg with shells. Walnuts and Almonds are used very generously in the Dongri and Kashmiri cuisines. Kahwa uses almonds and Walnut paste is added in chutneys.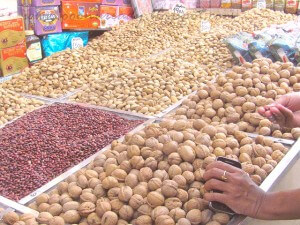 The Razma grown in this region is smaller than the Rajma we usually get in the market. And way it is cooked is different too, from the Punjabi or any other North Indian versions of Rajma.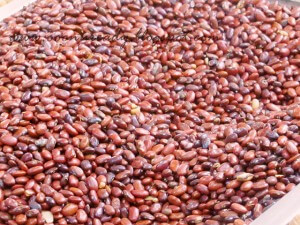 A very popular snack in Jammu is kulcha. This is nothing but a bun stuffed with tomatoes, onions, chillies and cheese or any other stuffing. Kalari kulcha is the most popular kulcha which is bun stuffed with cheese. I love the pot the hawkers carry with the stuffing which is placed slanting on top of another plate with the other veggies for the kulcha.
The conference we attended did not offer us non vegetarian food and since we stayed at a dham we had no access to non vegetarian food there either. I had lured my friend with pictures of Kashmiri Wazwan on the flight and since she was not joining me on my trip to Srinagar we decided to taste Mutton rogan josh from a restaurant. Now since Vikas my friend was a Kashmiri pandit settled in Jammu, he took us to a famous restaurant in Jammu that was run by Kashmiris. Though Vikas did not pass the rogan josh in flying colours and I realised his displeasure when I tasted his mother's rogan josh later, my friend and I had a wonderful time with Rogan josh after days of razmah chawal. On my trip to Kashmir later I realised the rogan josh served to me was similar to this curry that I had at the restaurant in Jammu. Which makes me wonder if there are different versions of Rogan josh in Kashmir. This one I tasted in restaurant was similar to the curries I had in the middle eastern restaurants in my childhood. Rogan josh has two meanings- Hot oil or Passioante red . I guess it gets this name from the red fiery Kashmiri chillies and the way of cooking it with a passionate heat.
Vikas's mom had a spread for us which she began cooking a day ahead.We were so stuffed with nuts and tea that when we sat for dinner we found it hard to finish one round of dishes served to us. My hubby said we would regret this later when we would wish we had atleast one of these gravies to savour. The picture below shows Mutton pulao, Mutton Yakhni ( curd based gravy), Kheemia ( minced meat with spices), Dum aloo and Mutton rogan josh.
I have developed a fondness for yakhni and did try it in Bangalore once. I will update the recipe soon. Nadru or lotus stem was cooked in yakhni style too the pic of which you can see below. Nadru is also fried as chips for snacks.
I loved the way aunty made Kahwa. There are two versions of Kahwa and I will share both the recipes. Mughal tea is used for making Kahwa with tea leaves. A handful of almonds, cardamom and a piece of cinnamon is crushed. 2 tsp of tea leaves is boiled with 3 cups of water. When the tea has boiled sufficiently to the desired strength, the crushed condiments are added. Sugar can be added or avoided according to one's preference and the sieved tea is served as Kahwa. I found this version quite strong with flavour of cinnamon so I prefer the non tea- leaf version of Kahwa.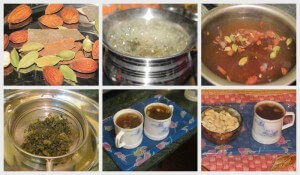 This version boils water with just one cardamom and three strands of saffron. And the result is a yellow coloured liquid which again can be taken with or without sugar. The pink tea however is a salty tea. The pink colour comes out when milk is mixed with the red coloured tea. But it was too salty for me and I had tough time associating salt to tea which prevented me from gulping copiously. I would go for the saffron version of Kahwa especially on cold wintery morning.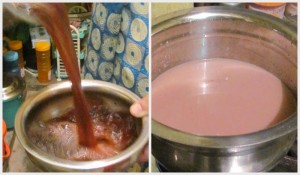 And it would be sinful to omit Vikas' favourite lacha kulfi. It was indeed the best kulfi I ever had minus the laccha which is just boiled vermicelli. Lali shah kulfi wala has the best kulfi in Jammu and if you ever happen to be there don't miss it.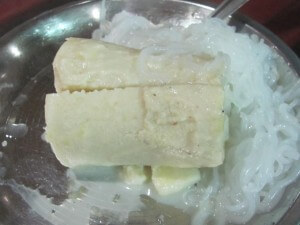 Looks can be deceptive they do taste way better than the pics and I loved them. My friend however had lot of salt on hers which she did not tell us till the end making us wonder why she was tempting us poking around with her kulfi when Vikas and I were done and could easily go for another round. The kulfi wala was so sweet, he gave us a discount on the bill for this mishap and we had a wonderful time after a tightly packed day at shopping :)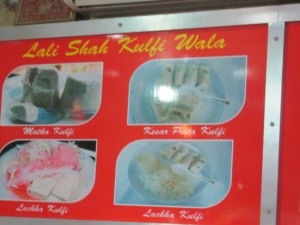 The gastronmic journey of Jammu ends here and that means Kashmir is round the corner. Hope you loved this post as much as I did writing and researching on it. People tease me saying J&K is famous for their scenic beauty and cuisine comes later well but I disagree perhaps it depends on the eyes of the beholder :)