Have you ever felt this way- that you muse over a recipe on your own and surf the net to find if there exists something remotely close to what you conjured up and then you hit upon a recipe from a faraway land- a recipe you have never heard of but is close to what you had thought of? I wish they had a single word for this feeling that's how I felt when I read about the Irish coddle. I had some Goan pork sausages and I did not want to make a curry with it and I was in mood for some bread and soup. I also had some caraway seeds and a packet of mushroom soup. I added a couple of other ingredients and whipped up a soup in my mind. And when I surfed, soup with potato, sausages and caraway seeds I hit upon this recipe at gluten-free goddess. I tweaked it a lot for my hubby's palate but I was so satisfied with the final version. Coddle is actually an Irish dish made with leftovers but one of the ingredients is actually pork sausages. There isn't a strict recipe for a coddle but veggies and sausage with a simmering broth qualifies as a coddle. Coddle is a name taken from the verb coddle which means to cook food in water below boiling ( sourced from wikipedia).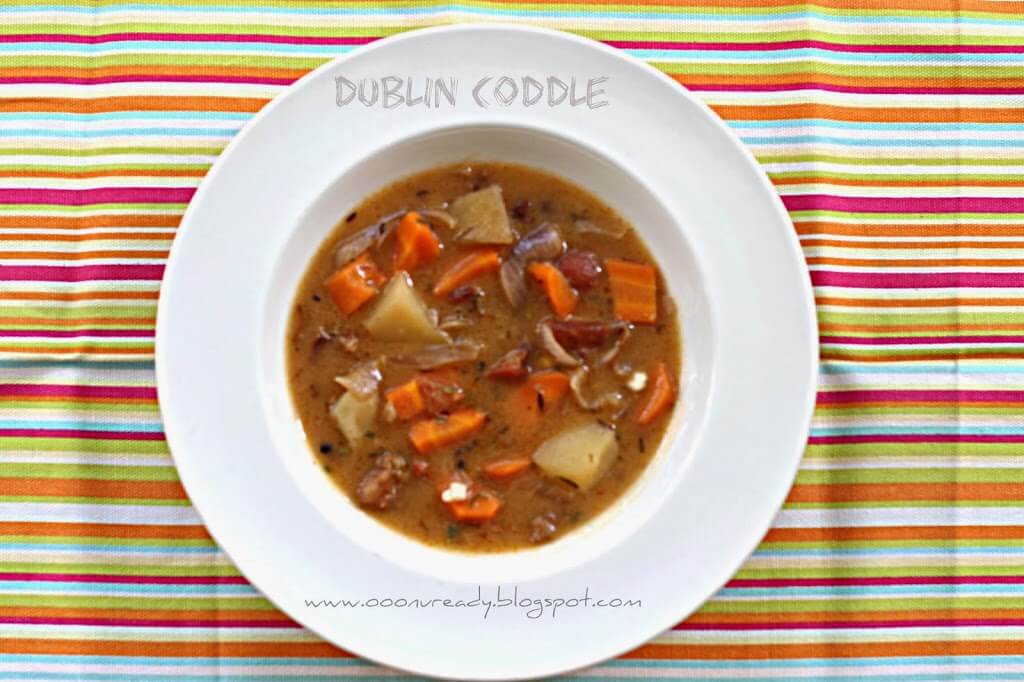 We had it with egg less garlic rolls another recipe that never fails (courtesy: edible garden) link here http://ooonuready.blogspot.in/2014/01/basil-garlic-pull-apart-bread.html. The soup tasted awesome the next day when we had it for breakfast. And contrary to what people think of leftovers I think leftovers tastes great and for this reason I cook all my specials a day ahead and convert them to leftovers :)
Ingredients for Dublin Coddle- Indian Style
Pork Sausages ( 4-5) I used Goan sausages around 150 gms
Potatoes- 2
Carrots- 2
Onion- 1
Caraway seeds- 1 tsp
Mushroom soup – 500 ml
Salt- to taste
Apple cider vinegar- 1 tsp
Pepper crushed- 1 tsp
Worcestershire sauce- 2 tsp
Paprika- 1 tsp
Dried basil- 1 tsp
Olive oil- 3 tbsp
Flour- 1 tbsp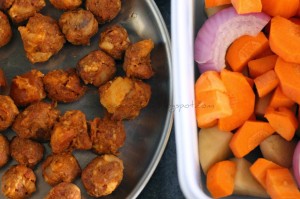 Directions
If you use Goan sausages take them off the casing make small balls and coat them with the flour. Heat 2 tbsp oil in a pot and fry the sausages till they are half cooked. If you are not using Goan sausages start by frying 2 strips of bacon and chop 3-4 sausages and set them aside.
The fried sausages will release some fat, drain the fried Goan sausages (or bacon) and to this fat add the caraway seeds followed by diced onion. Saute till the onion softens and add the diced potatoes and carrots. Let the veggies cook for a while on low flame. Meanwhile prepare the mushroom soup. You can use broth, stock or bouillion cubes (soup cubes) instead of mushroom soup, I wanted to cut down on the fat content and so I chose the soup.
I have used ready made soup packet here. Prepare the soup as per package instructions. Once the veggies have cooked add the Worcestershire sauce, pepper and salt followed by paprika and the fried sausages. Mix the ingredients for 2-3 minutes before pouring the soup and bring it to a boil. Add the apple cider vinegar and basil and let the soup simmer for 5-10 minutes and your soup is ready.
I am starting a weekly series dedicated to soups. Since Monday is a day when I feel lazy and we have a lot of leftovers from the weekend I thought I should convert them to something fruitful. And after an overdose of heavy meals over the weekend, Mondays are lean days for my family so I begin my series of Soupy Mondays with this post. Watch out this space for more recipes of soups. Till then stay hungry, eat healthy :)