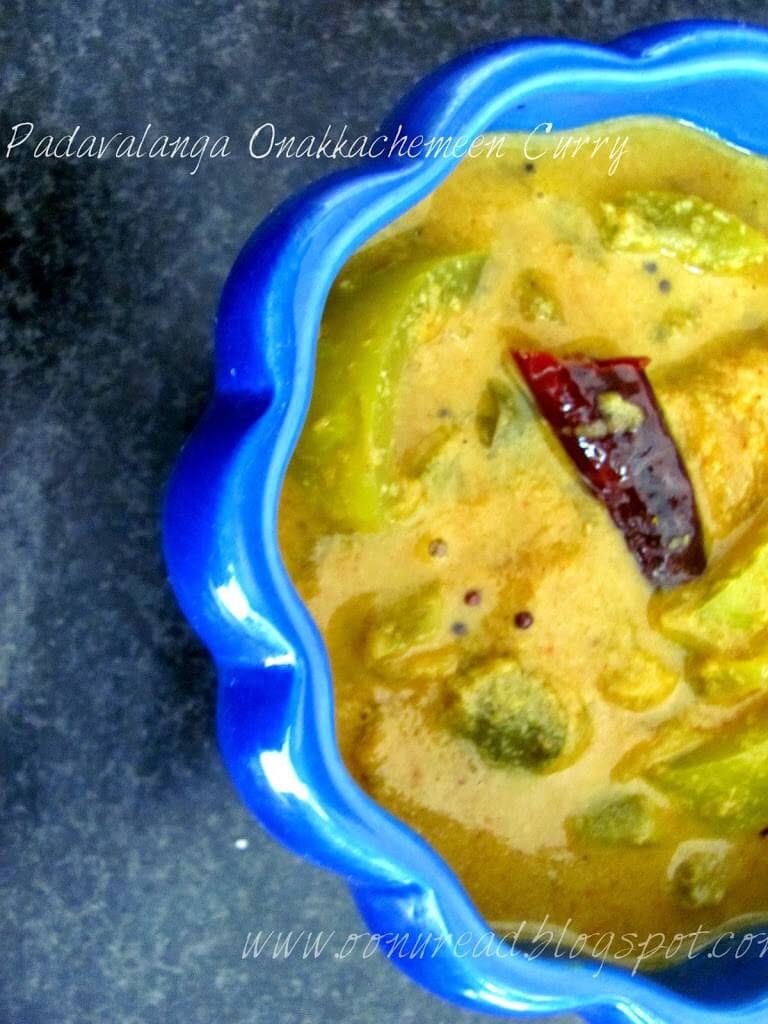 This post has been due since eternity. I was lazy to post this because I found it too easy a curry. But recent stats tell me, people out there who visit this space are interested in typical Kerala dishes (like vendaka thengapal, chakkakuru chemmeen, koorka irachi) so I thought this would interest some of you. When I buy snake gourd I know its fate. It either ends up in a simple stir fry with some grated coconut, or if I am in the mood to grind coconut it ends up in this curry form. Though I am a self-proclaimed coconut hater this is one curry that I don't mind grating coconuts for. I made this on different occasions to take better pics but I ended up voting them down for these. It's a very simple recipe hope you"ll enjoy it.
Ingredients for

Padavalanga Onakkachemmeen Curry
Padavalanga ( snake gourd)- 1 (250g)
Onakkachemmeeen ( dry prawns) – 1 cup ( 50 g)
Green chilies- 3
Onion- 1
Ginger- 1 inch piece
Curry leaves- 1 sprig
Mustard seeds- 1 tbsp
Dry chilies- 3
Coconut- 1
Turmeric powder- 1/2 tsp
Coriander powder- 1 tbsp
Chili powder- 1 tsp
Tamarind – size of a lemon
Salt- to taste
Coconut oil- 4 tbsp
Directions
Slice the snake gourd after scraping the outer skins. Grind the grated coconut into a fine paste and set aside. In a pan heat 2 tbsp of oil and saute the onions, ginger, chilies and curry leaves. Meanwhile dry roast 1/2 of the prawns and set it aside to cool. Now when the onions and other spices in the other pan is translucent add turmeric, chili and coriander powder and saute it for 2 minutes.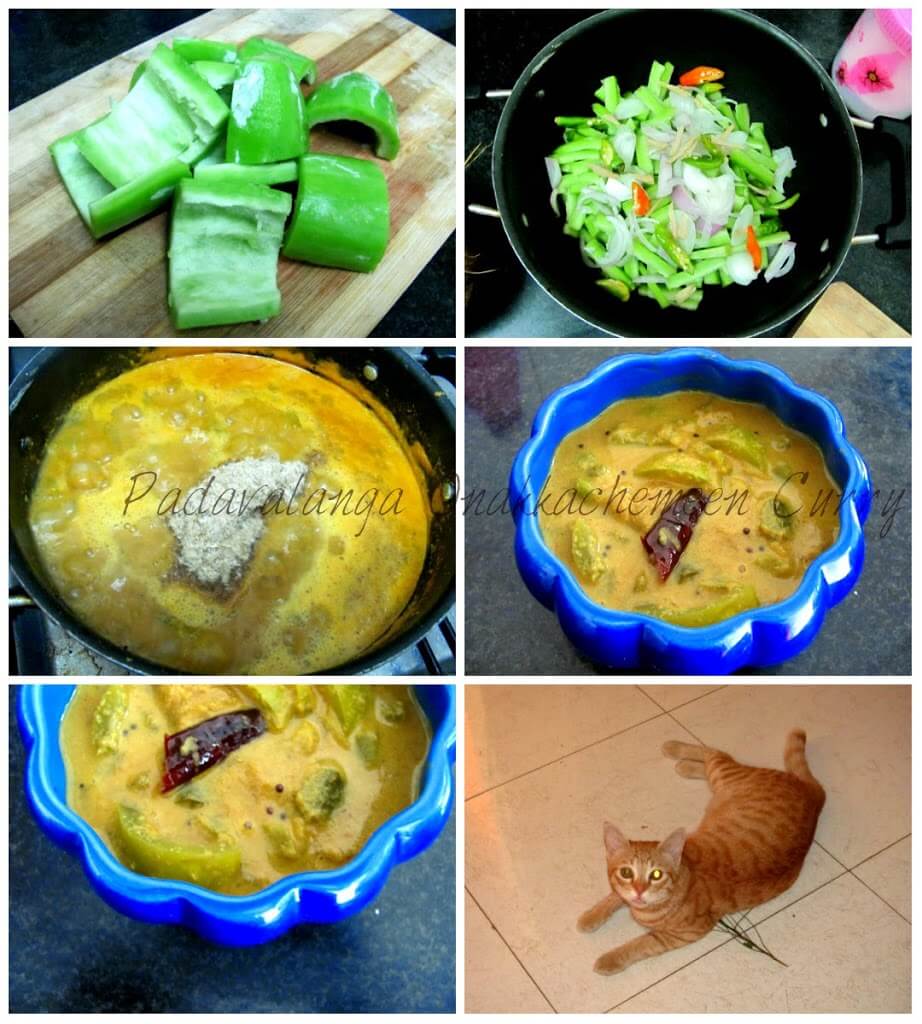 Now add the snake gourd pieces followed by salt. Pour 1/4 cup water and let the curry simmer. Powder the dry roasted prawns and set aside. Soak the tamarind in 1/4 cup of warm water. When the snake gourd has cooked add the ground coconut paste and let the curry cook for 5-8 minutes. Add the tamarind paste after this and let the curry simmer. Add the powdered dry prawns to the curry and take it off the flame. In a small pan heat the remaining 2 tbsp of oil and add the mustard seeds followed by the dry chilies. When the mustard seeds have spluttered and chilies puff up add it to the curry. In the same pan heat 1 tsp oil and fry the remaining dry prawns and add to the curry. And here's another naadan curry from my kitchen. Have a great week ahead folks!
Note: 1.Adding tamarind is optional
2.Adding fried prawns in the end is optional, but powdered prawns gives the flavour and aroma so it should be added.
3.Coconut milk can be added instead of ground coconut.