Hello people! I haven't heard from you guys after the post on kinds of food bloggers. And I am sorry I have some issues with my toddler meal plans with my toddler going on a hunger strike. But things are back in shape and so I decided to share this favourite recipe of bacon sausage jam. Ever since I read about the bacon jam, I have been planning to make it with hubby. I did a trial once but it was too sweet for us and to think of I had all the right ingredients then. But this time I had half the stuff and I went ahead and did my version of a bacon sausage jam. The addition of pork sausages was just to add volume to the jam that would otherwise limit to one small bottle. I have tweaked a lot with the ingredients and haven't followed the regular recipes but I am happy I got the perfect bacon sausage jam for my family and its spicy! Slather them on your toast or some crackers, make some crostinis and this bacon sausage jam is gonna be your favourite spread for parties and daily meals. It is a bit of indulgence but you can once in a while provided you workout and burn down those extra calories. So happy weekend and stay tuned to the next post.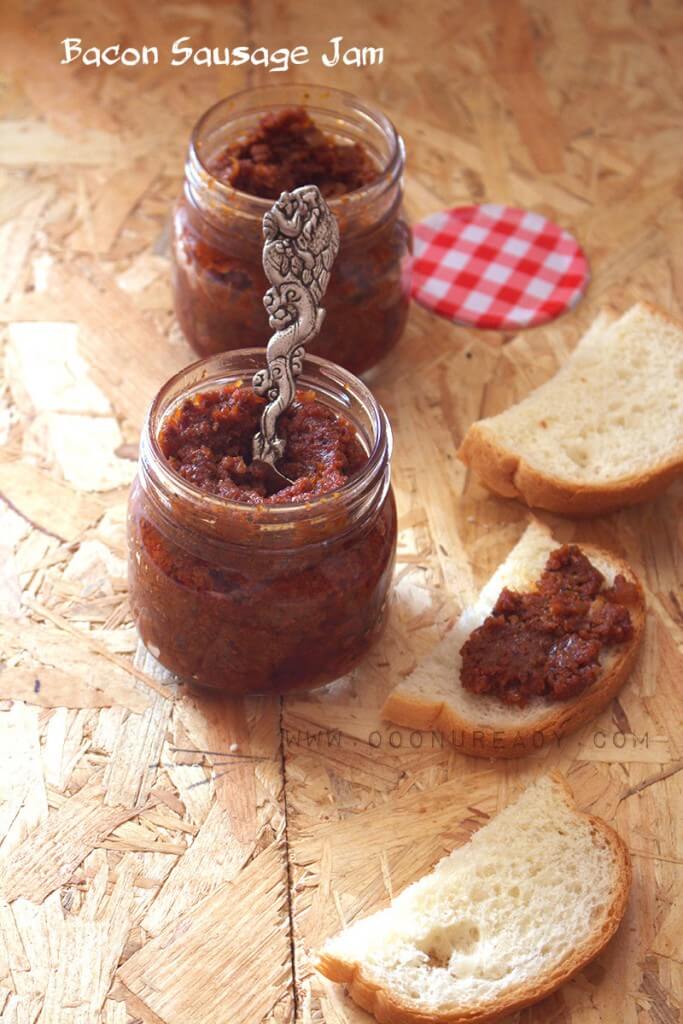 Ingredients for Bacon Sausage jam
Pork sausages- 200 g
Bacon- 200 g
Onions- 5 medium ones
Garlic- 6 cloves
Chili flakes- 2 tsp (bhut jhalokia 1 tsp would d0 or even 1/2)
Apple cider vinegar- 4 tsp
Brown sugar- 1/4 cup
Strawberry wine- 1/4 cup (or Bourbon)
Pepper powder- 2 tsp
Salt- 1/2 tsp
Strong coffee (espresso preferable)- 100 ml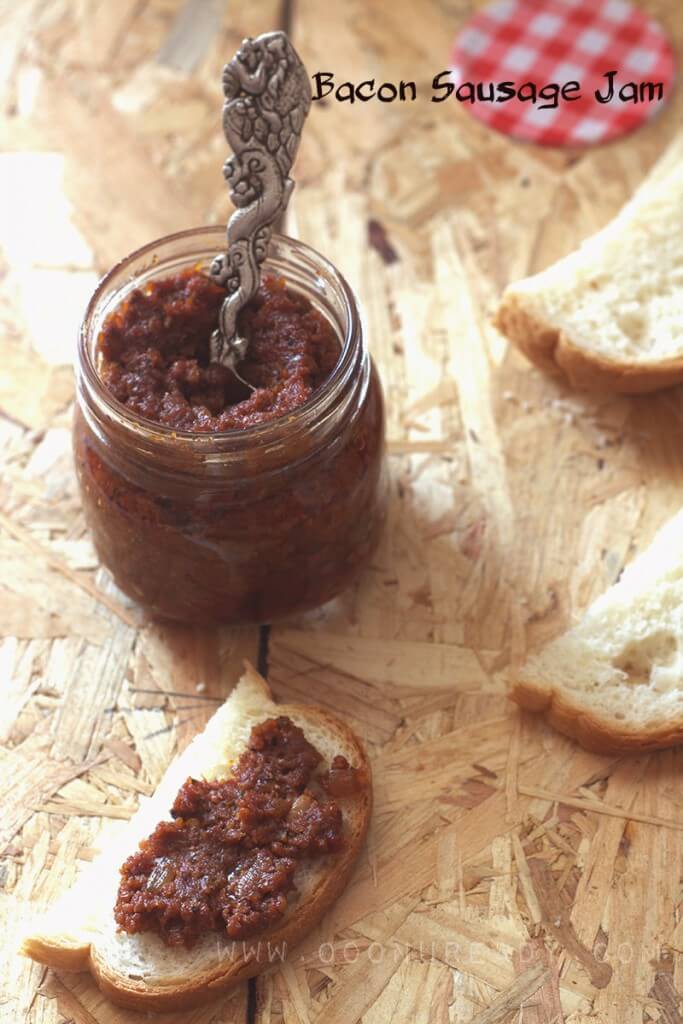 Directions
In a pan fry the bacon first till it browns, it need not be crisp. Drain the bacon on a napkin and fry the sausages in the bacon fat. Drain the sausages on the napkin when they brown. In the same bacon fat left from frying the sausages, saute the onions and garlic with salt. Saute the onions till they brown and add the chili flakes, pepper, brown sugar,coffee, vinegar and wine. Let the stock simmer for 5- 10 minutes. Add the fried bacon and chopped sausages to this sauce and cook them in this sauce for 2 hours over slow flame. Once the bacon and sausage chunks cool down , process the entire contents in the pan to the desired consistency. If you like it chunky do not over do while processing. If you want it like a paste run the sausages and bacon finely. I did not let it be too chunky, neither did I go for a fine paste. Mine is a bit runny. Store in an airtight jar in the refrigerator and this jam lasts 3-4 weeks. Serve with some crackers , biscuits or bread.