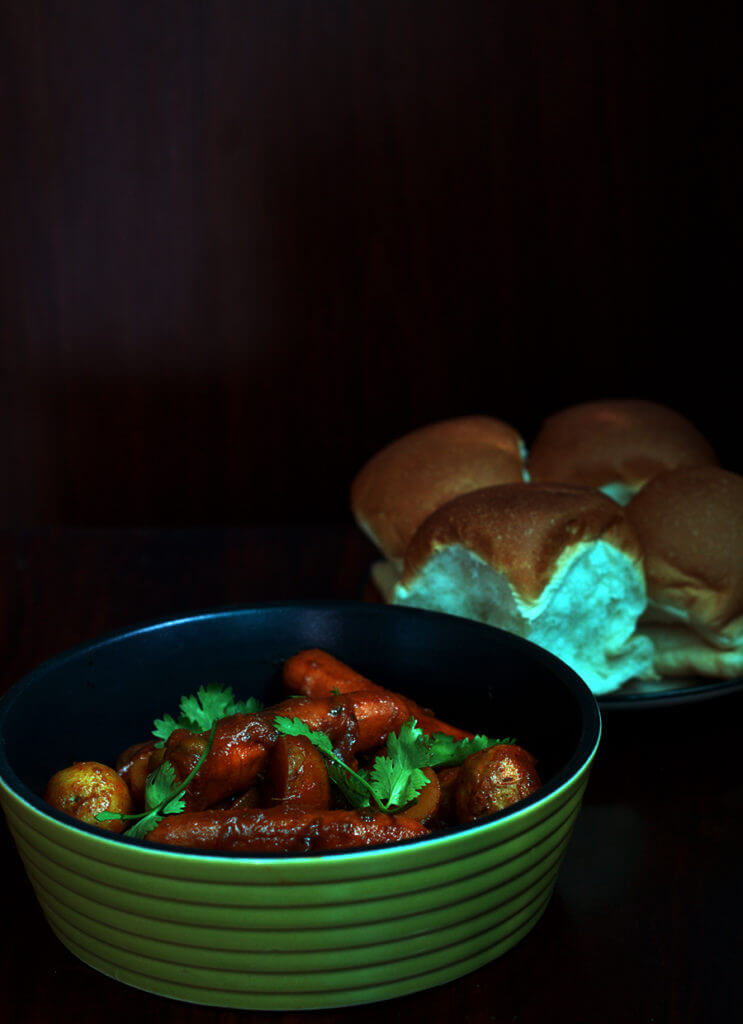 This recipe is quite dear to the Indian Diaspora, homegrown in the US, UK or Middle East. Sausage curry with baby potatoes was the easiest dish that my mom pulled off when dad brought his friends home unexpectedly. Mom made a chili garlic dry version, a skewered cocktail snack version, piggy blankets, puffs, and many versions of curry with sausages. But this sausage curry with baby potatoes is my version for my toddler who loves potatoes and sausages with the same gusto. This is a very easy recipe to make and I have added some green peas too. You can modify this curry in many ways, which I will add in my notes. We had this for breakfast today with pav. Having this sausage curry with pav satisfies my yearning for Goan food. I know this version is miles away from the authentic Goan recipe and if not for Sarah I would have definitely done this in a vindaloo style but I am happy she liked it. So here's my recipe for a lip smacking sausage curry with baby potatoes.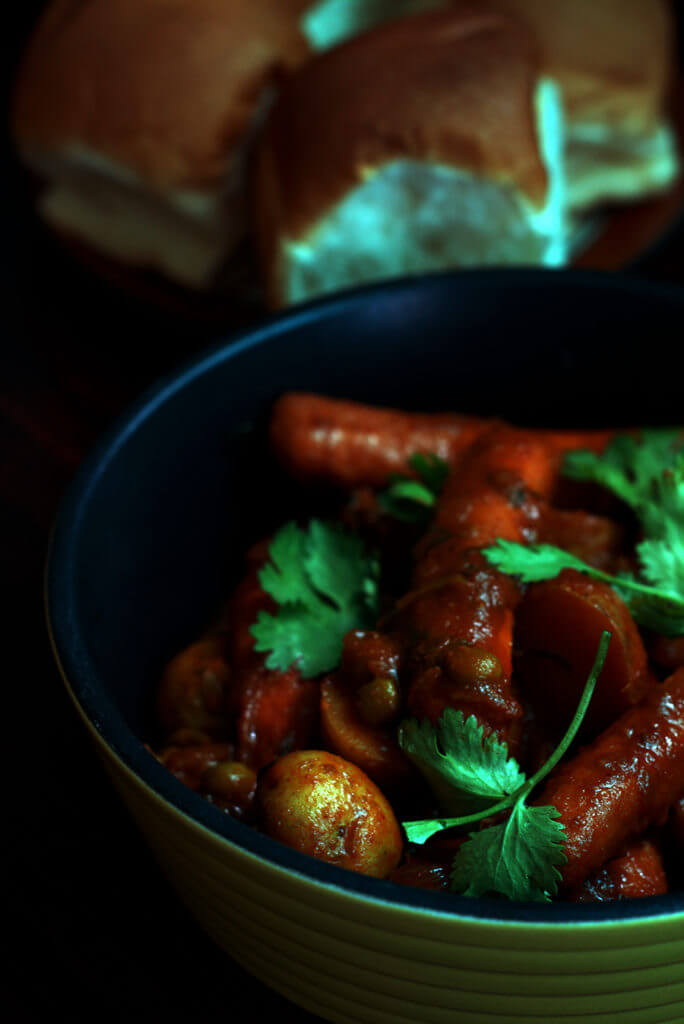 Ingredients for Sausage Curry with Baby Potatoes
Sausages(chicken/beef/lamb)- 400g (9 pieces)
Baby potatoes- 7-9
Green peas- 50 g
Onions- 2
Ginger garlic paste- 2 tsp
Tomato puree- 100 ml
Soy sauce- 1 tsp
Bay leaf- 1
Cinnamon- 1/2 inch stick
Star anise- 1
Cardamom – 2
Pepper- 2-3 whole corns
Turmeric powder- 1/2 tsp
Chili powder- 1/2 tsp
Salt- to taste
Oil- 2 tbsp
Cilantro- 6-8 stalks
Directions
Heat 1 tbsp oil and shallow fry the sausages. Drain and keep them aside. Now to the same pan with sausage grease, add the remaining oil. Throw in the whole spices ( bay leaf, pepper, star anise,cardamom and star anise). Saute them for a minute to infuse the whole spice flavour into the oil. Add the chopped onions after this and saute till they are translucent after this add the ginger garlic paste and saute till it browns. Add the spice powders and roast them for a minute before adding the tomato puree, soy sauce and salt. Let this gravy simmer, do not add water at this point. Scrub the baby potatoes and cut them into halves. Add them to this gravy and cook them with the lid on. After 5 minutes you will see some water has released into the gravy from the potatoes. You can cook the potatoes in this gravy till they have cooked sufficiently. Add the sausages and green peas when the potatoes are done. Cook the sausages and peas in the gravy for 5 minutes. The peas will release some water and that should be sufficient gravy. If you want more gravy, add 1/2 cup warm water at this stage and let it simmer the last 5 minutes. Garnish with cilantro and the sausage curry with baby potatoes is ready to take off. Serve them with Pav or dinner rolls.
We have some leftovers that can pull off two meals so I am so happy to kickstart a new week with some yummy sausage curry and they taste better the next day :) And this is so easy a recipe you can do it in 30 minutes on a working day. Now about those variations I promised here they are.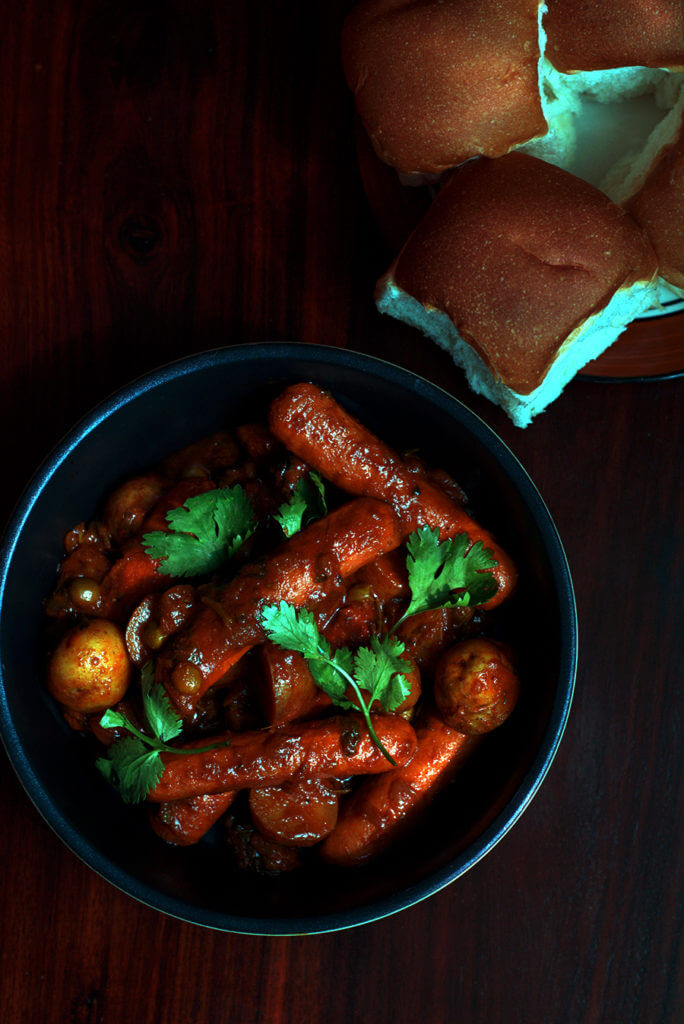 Notes:
Add 1/2 cup coconut milk to this gravy for a different twist.
Adding some cream and a pinch of kasoori methi will make this curry a bit creamy like butter chicken.
You can also try this curry with mushroom, aubergines, squashes, bell peppers, corn and broccoli, in a thai green curry form it tastes yum.
I use Vindaloo masala too and this tastes yum after a day or two.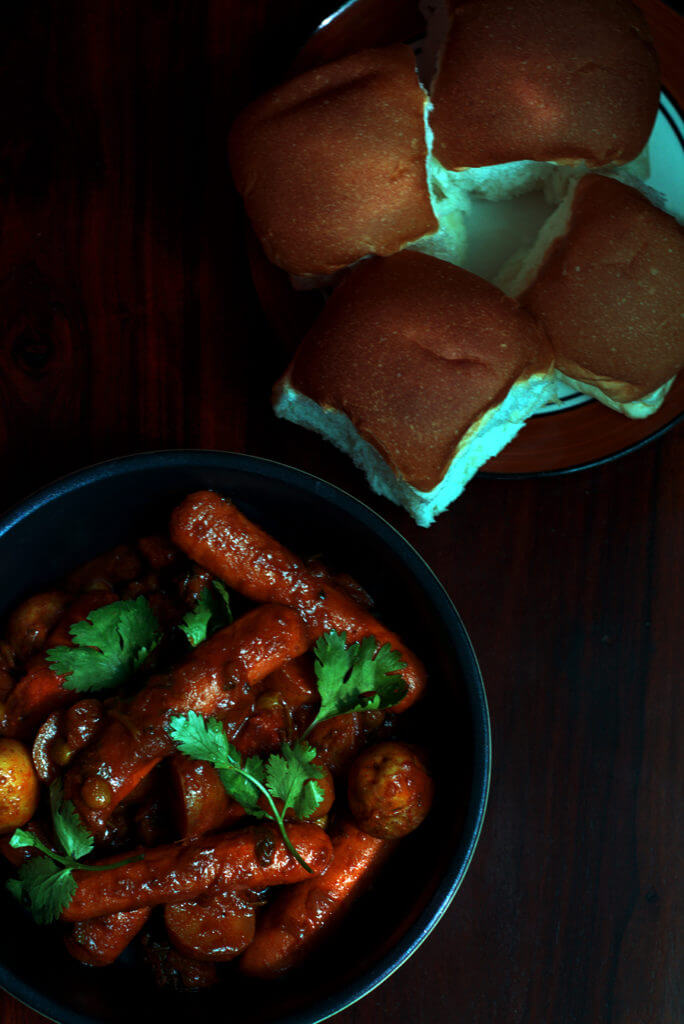 So now that you have various versions to try this recipe out, why not try one of them? I promise I will try sharing the detailed version of each of these in due course. Till we meet again, stay blessed, eat healthy!