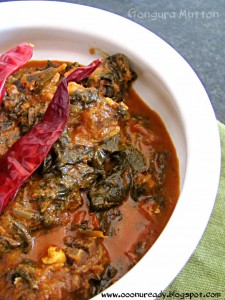 People tell me pregnancy makes you crave for tangy, sweet or spicy stuff. I don't crave for anything in specific. I was always a lover of pickles and spicy food but I am avoiding them these days because they cause a lot of discomfort if consumed in large quantities ( which was how I ideally consumed pickles-a minimum of 250 g like a snack) during pregnancy. But for some strange reason I have become an ardent fan of Andhra cuisine. I guess it all began from the day I conceived. Yes I am very sure that was the day I conceived, We were in Chennai bearing the sultry weather when we felt like having something very spicy. There was new restaurant just around the corner that served Andhra food. We loved gongura pickle so when we so gongura mutton on the menu we wanted to try it. Till then I thought gongura (also known as sorrel leaves ) was a leafy veg like spinach and the pickle tasted awesome because of the tamarind and chilies added to it. To my surprise this curry was quite tangy too. I asked the manager if this dish was spicy and he said it was mildly spiced. I should have then known that 'the average' in Andhra cuisine was definitely over the top for me. But I modestly asked him to make it really spicy and so when we started our lunch we were forced to order for curd to tone the heat. My hubby is allergic to mutton or so he believes. He has a stomach upset every time he eats mutton and mutton was not cooked quite often at his home. So I was dead sure we were heading for a catastrophe with this spicy mutton in the Chennai heat. But to my surprise nothing happened. We ordered gongura chicken the same evening and this time asked them to make it less spicy. Back in Bangalore we decided to hit every Andhra restaurant in our locality in search of this delicacy and were betrayed each time. Even the colour of this dish for that matter was different in each restaurant. Some ,ground the leaves making it look like palak paneer, some added too much of coriander powder and some others I believe gave us some greens making us believe it was gongura. By then I was an expert on gongura and could sniff and taste and confirm if it was gongura indeed.
And then one evening, I saw a bunch of wine leaf kind of greens with a red stem at the local vegetable shop and asked the guy selling it what it was. He told me it was a 'khatta saag' ( tangy spinach), when I pestered him for the real word just to confirm my suspicion ( I had no idea how fresh gongura looked) he said "GONGURA'. I grabbed all the bunches he had and came home. I decided to confirm if it was gongura indeed and stopped at my neighbour Rupa's house. She is from Hyderabad and makes awesome Andhra food. She told me it was gongura indeed but gongura produced too much heat in the body and hence pregnant women should avoid it in their first trimester. I felt cheated. I had bought all the bunches the vendor had. But my hubby was all excited so he had a fun week savouring gongura dal, gongura chutney and gongura mutton.
I found this recipe online at Rina's recipes and it looked and felt closer to what I had tasted in Chennai so I decided to go ahead with this recipe and my instinct helped me. So if you can manage to get Sorrel leaves please try this recipe it's awesome!!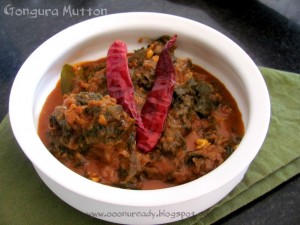 Ingredients for Gongura Mutton
Mutton- 1kg chopped into medium size pieces
Onions- 4 diced
Green chillies – 4 slit
Curry leaves- 6-8
Tomatoes- 2 diced
Ginger- garlic paste- 2 tbsp
Chilli powder- 2 tsp
Turmeric powder- 1/2 tsp
Coriander powder- 1 tsp
Garam masala powder- 1 tsp
Salt- to taste
For the Gongura leaves
Gongura leaves- 1 bunch
Green chillies- 2 slit
Garlic- 2-4 pods
Onion- 1/2 an onion diced
Chilli powder- 1 tsp ( I used Ashirvad's Red and Hot which gives color and is spicy)
Salt- 1 tsp
Water- to boil the leaves
Directions
Separate the gongura leaves from the stalks. If there are pods add them too and cook them with the rest of the ingredients mentioned above in the section for gongura leaves. When the leaves are cooked completely let the cool for a bit and mash them. For the mutton heat oil in a pressure cooker and fry then onions and curry leaves followed by the ginger garlic paste and green chillies. Add the chopped tomatoes and spice powders now and saute for few minutes . Add the mutton once the masala emanates a cooked flavour and the oil separates from the gravy. Add 1 cup water and pressure cook the mutton for 2-3 whistles. Add the mashed leaves to the mutton once the pressure settles down and let the curry simmer for 10 minutes so that the gongura leaves get infused into the mutton curry. Serve with rice and you won't need a pickle because this curry is quite tangy and spicy.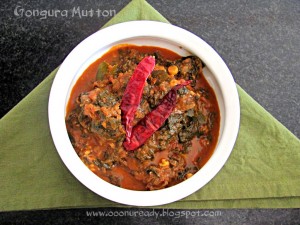 Now that I have posted this I guess I am gonna visit the nearest Andhra restaurant for some gongura mutton because I can't find these leaves anymore in our local market.