All my life I denied the fact that my dad favoured me over me siblings. He took pride in my achievements and we shared few rare moments when he told me stuff he never told mom. Though we had our differences, now that he is no more, I realize how much I resemble him. His candid reflections, snide remarks, caustic humours, take on social and political issues, love for music and movies, passion for food and the zeal for business, they are all traits, I inherited from him. It's sad that I never spoke to him on this, I never spoke to him at all in his last years. His death haunts me and that is one part of my life I don't wish revisiting. But his death taught me quite a few lessons and they made me the person I am today. His death taught me to be cautious of people and their intentions and to always be open to one's family lest you be buried with a lot of secrets you wish you had shared with your loved ones. His death taught me to never procrastinate plans, dreams, revenge (not in the same order though). Dad actually turned me into a misanthrope, I cannot, never- ever trust a person or his comments without doubting their intentions :) And the greatest lesson he taught me is to be brutally assertive and aggressive else you might end up in a coffin some day.
I wish dad could read this, he would have loved pork (another trait I inherited from him) sharing the pork dishes I have blogged so far as a tribute to dad. Some of these 11 pork recipes have been published on other sites and so I am going to share the links from there. Some are yet to be migrated from my old domain. Few of my personal favourites (Kerala Pork fry, Pandi curry, Sorpotel and Chinese chili pork) is not here because I never had the patience to click pics with the tempting pork curries in front of me but I hope to have them here soon. Till then enjoy these 11 pork dishes and write to me.
1. Bbq Pork Chops with Appy Fizz
This is one of the first experiments we did with our bbq grill. We were so excited that we dropped a bottle of appy fizz into the marinated pork but we are happy that we did this. The pork chops came out perfect sweet, spicy and melted in our mouth. For the recipe please check this link http://sunojteena.cucumbertown.com/bbq-pork-chops-with-appy-recipe-dish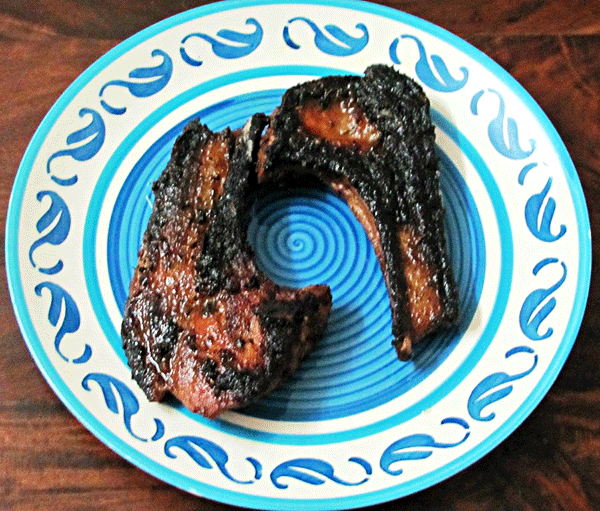 2. Carribean Slow Cooked Pork Chops
This was our New year treat. Whenever bhai visits us, we do a lot of bbq, baking and grilling. I have not been able to post this recipe so far but the recipe is inspired by Jamie Oliver's roast beef. We marinated the pork in cayenne pepper, pineapple juice and some red wine with thyme, salt and pepper powder. The pork was scoured and a clove was inserted at every opening. Loved the flavours and we slow cooked for 6 hours in the oven. Towards the end added some veggies and roasted them in the gravy for 45 minutes.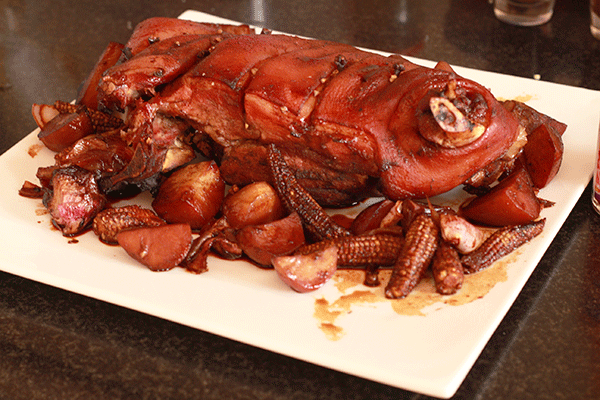 3. Dublin Coddle
My soupy Mondays came to a standstill after this but I loved this soup. It is inspired by the Irish recipe of Dublin coddle but used goan chorizo, cake seeds and chicken broth. The combination brought in new flavours and I was mighty please with the creation. Do try it if you love Goan chorizo like me.
http://ooonuready.blogspot.in/2014/10/dublin-coddle-indian-style-soupy-monday.html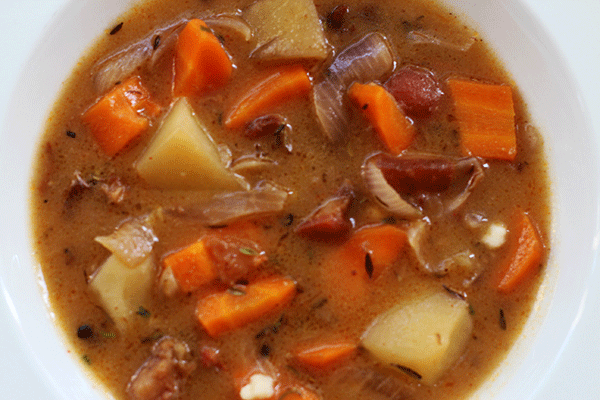 4. Dukra Maas
This was one dish that made me and my hubby consume half a kg of cooked pork at a stretch. It also happens to be one of the oldest recipes I blogged and I love this pic. I had sannas the first time at my aunt's convent for my birthday. I never thought I would do it myself and that too with dukra maas. I gained a few pounds because I fell in love with this dish. It is a must try for every pork lover. https://www.perucontact.com/how-to-make-dukra-maas-mangalorean-pork-with-sannas/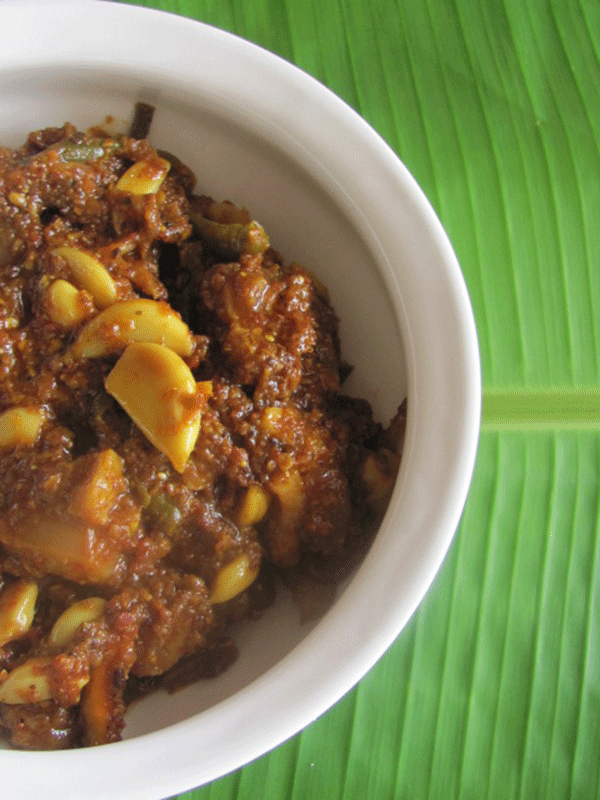 5. Gahori Laihaak
If there is a community that loves their pork after Keralites, Mangaloreans, Coorgis and Goans it's people from North-East. This is an awesome recipe I love how pork is cooked with mustard greens. I added some sorrel leaves for tangy flavour, you can add other greens too, though it might not taste as authentic as the greens from the North-East. I did not like the pic, maybe I should do a new shoot. http://secretindianrecipe.com/recipe/gahori-laihaak-pork-mustard-greens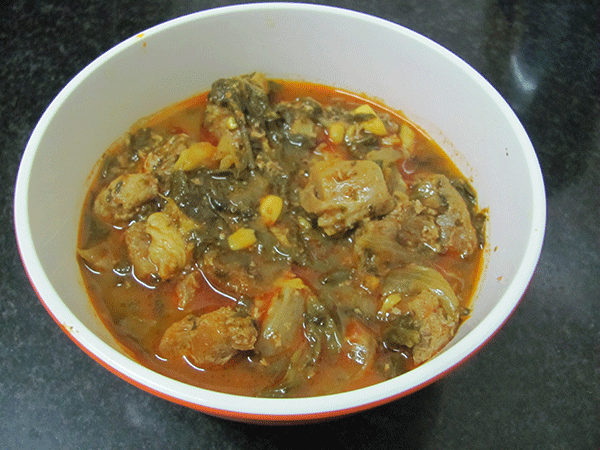 6. Green Chili Pork
I was so smitten by the Andhra chilli chicken and I decided to try the same recipe for pork so it actually is Andhra style green chilli pork though I doubt you would find the recipe in Andhra cook books. I think the best part about recipes without garam masala is that it brings out the flavour of the real meat. Loved the curry and here's the recipe http://secretindianrecipe.com/recipe/pachamulaku-aracha-panni-curry-green-chily-pork-curry
7. Manipuri Pork Curry
Fiery and full of flavours, the first curry for which I used mustard oil. And though I was skeptical watching my friend prepare this curry the first time, I must admit mustard oil goes well with pork. I have prepared this curry quite a few times. The use of bhoot jhalokia chilies, garlic and ginger is the highlight of this curry. You can get the recipe by clicking this link http://ooonuready.blogspot.in/2012/06/pork-curry-manipuri-style.html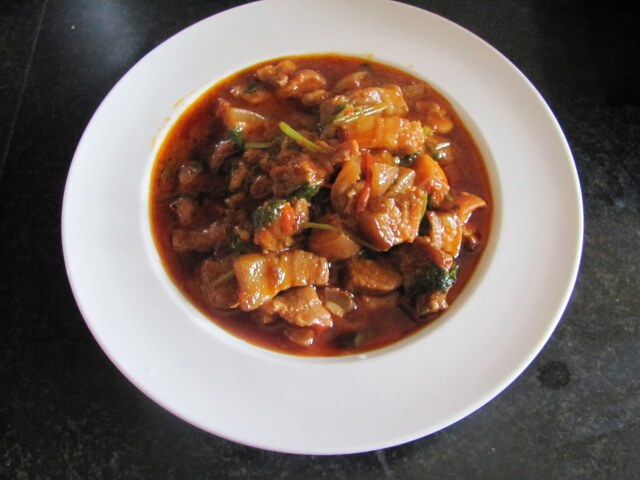 8. Pork Sausage stuffed Jalapenos
I never thought I had patience to do something like this. I saw this recipe on a Sanjeev Kapoor show and he used chicken sausages. The next day I got some German pork sausages and Jalapenos at the supermarket. So I thought the universe was inviting me to accept these messages and this dish was born. I am amazed at how many people loved this recipe though while preparing it I was clueless as to why I was doing this. The effort put in might look minimal when compared to the speed at which this will get consumed :) but its worth it so here's the link.
http://ooonuready.blogspot.in/2013/09/sausage-stuffed-jalapenos.html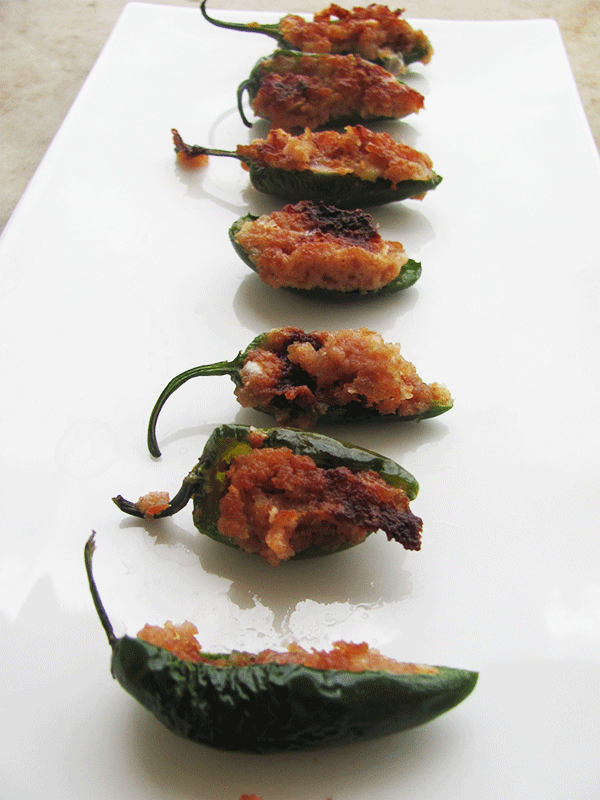 9. Pork Vindaloo
One of my first posts on the blog and my first attempt to do pork the Non-Kerala style. I was not happy with the colour and was equally surprised to learn that Kerala and Goa had different styles of doing a vindaloo though both the places have influences of Portuguese style of cooking. I find the Goan style quite aunthentic from what I have read from culinary history books. And the colour, I think I need to do a reshoot. HEre's the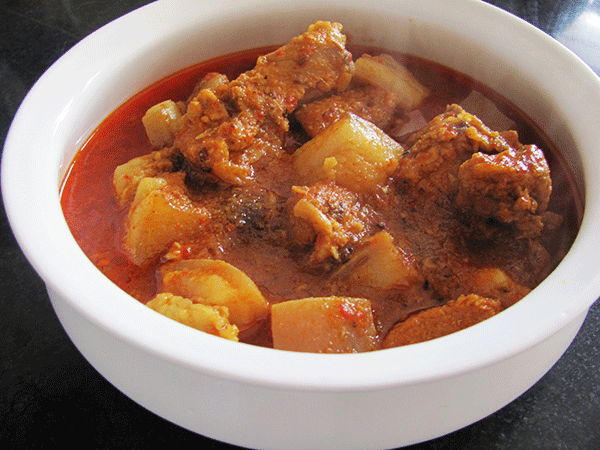 10. Schezwan Pork
If you have ever ordered schezwan at a restaurant you might find something fiery red in your plate sometimes this redolence is from artificial colouring. While discussing this with a Chinese friend (who happens to be an Italian citizen now) his mom told me Schezwan is a region and while this preparation fiery it has lots of soy sauce, fish sauce and does not look fiery red in appearance. This recipe is closest to what she taught me and I love this version of schezwan pork. https://www.perucontact.com/schezwan-pork-2/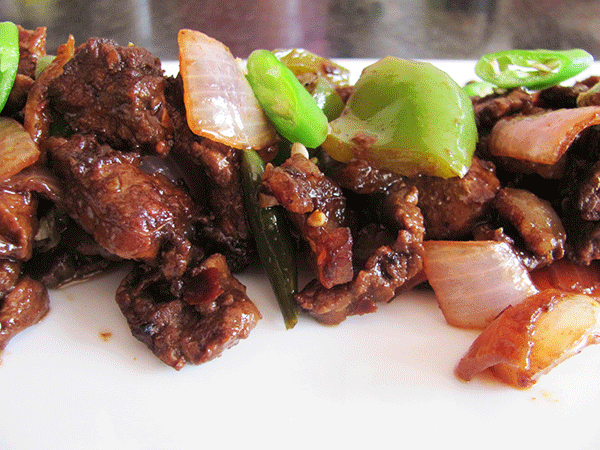 11. Tandoori Pork
I am a great fan of tandoori chicken and like the transfer of flavours from Andhra green chili chicken to pork, this recipe took the same route. This is pork marinated overnight with some curd, ginger- garlic paste and tandoori masala cooked over bbq. I am not done with my write up so stay tuned if you need the accurate recipe.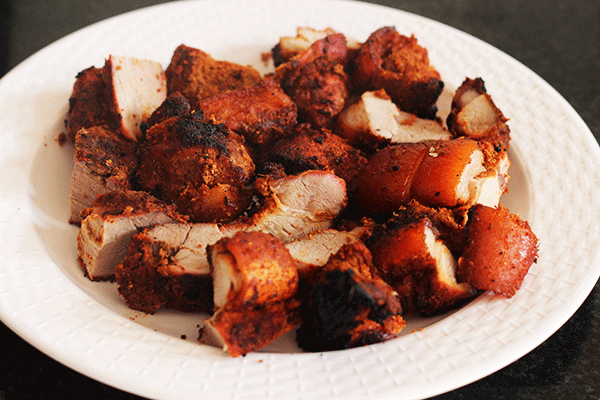 If you have read this post till here you are definitely a pork lover, so go ahead and have a pork festival back home for your loved ones and write to me about your experience. As for me, I will continue posting the recipes I have missed out here and I hope to do 100 pork dishes soon :) I need your motivation so do write to me.