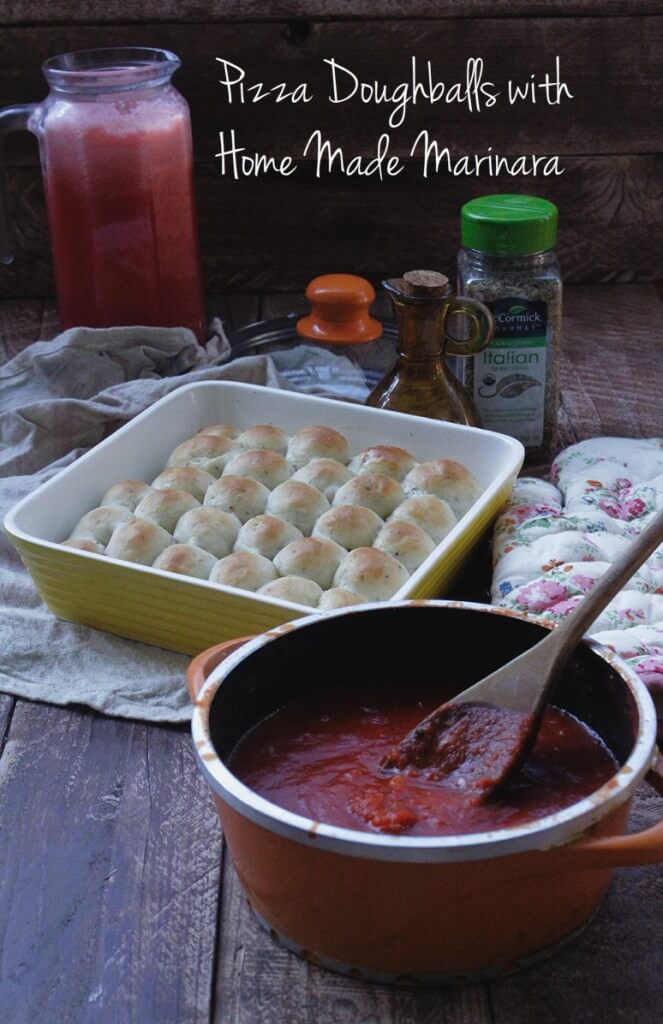 Pizza doughballs or pizza bites as they are known popularly is the coolest thing one could bake and serve with some home made marinara. I have been dreaming about baking these pizza dough balls quite a lot recently. And today seemed the right occasion because we are visiting our dear friends Monisha and Delin to watch the epic match between India and Pakistan. And Sarah just adores Pizza doughballs with the home made marinara sauce (yes she loves the sauce too). These doughballs are soft, fluffy and cute. And Sarah loves small bites and its no wonder considering her age. And she has started associating food with photo shoots so as soon as she got the aroma of these doughballs she came to the kitchen and waited patiently for the baking to end. I tried explaining to her that the doughballs are hot to touch but she continued protesting. And then she saw the camera. Maybe she realized I was going to shoot this and so she was silent for sometime. But as soon as the shoot was over, she pointed at the doughballs and blabbered something which roughly translated meant 'gimme'. And hubby dear got his plates out saying he could not trust me take these to his friends unless he approved of it. And so this batch ended up becoming our breakfast and Sarah's lunch too.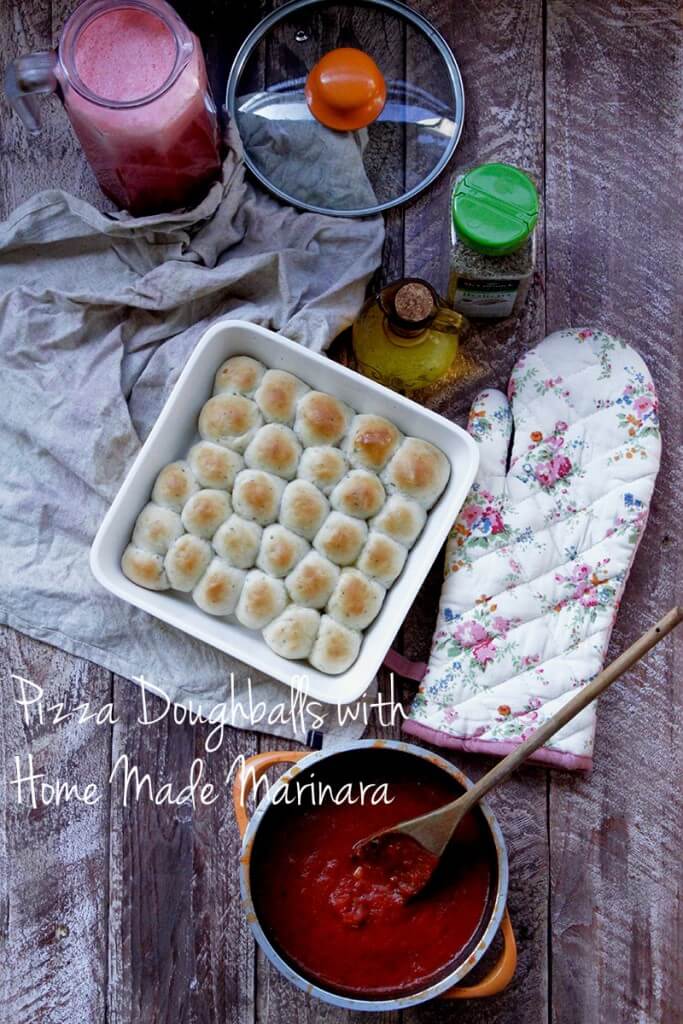 I am baking a new lot with some minced meat and cheese stuffing. And I am so much in love with the aroma of these herbed pizza doughballs. You can try different herbs in the dough or serve it plain with the stuffing of your choice. I have tried stuffing these doughballs with salami, sausages, minced meat, cheese, marinara sauce and cheese, pesto sauce and even chocolate as stuffing. But when it comes to serving you can serve it with a herbed butter or garlic butter, and these pizza doughballs taste divine. I have also served them with chocolate sauce, cheese sauce, alfredo sauce and marinara sauce. At times I pour the sauce over and grate some cheese on top before serving and bake for 2-3 minutes after adding the cheese. The possibilities with this recipe is unlimited, so get creative and if you plan on baking this before the match, you still have loads of time.
Ingredients for Pizza Doughballs
Flour- 2 1/2 cups
Lukewarm water- 1 cup
Salt- 1 tsp
Sugar- 1 tsp
Active Yeast- 2 1/4 tsp
Olive oil- 1 tbsp
Mixed herbs- 1 tbsp
Directions
Add sugar and yeast to the mixing bowl and add the lukewarm water. Let the yeast activate for 10 minutes. After 10 minutes, add half the flour, salt and olive oil and start kneading the dough. When kneading is half-way, add the remaining flour and mixed herbs. Knead the dough to a perfect ball. Transfer the dough onto your work station and knead for 5 more minutes till the dough is bouncy. Oil a bowl and transfer the dough to the bowl. Cover the bowl with a damp cloth and let the dough prove for 30 minutes. After 30 minutes, shape the dough into balls of 12g each. Preheat the oven to 220 degrees and oil a baking tray of 9×9 and line the rolled pizza doughballs. You can keep them spaced apart or as I have done, stack them closer for a pull apart feel. They bake evenly in both ways. let them prove for another 15 minutes. Bake for 10-15 minutes and you will have soft, pillowy pizza doughballs with a golden upper crust by now. Dunk them in some herbed butter or marinara sauce and enjoy!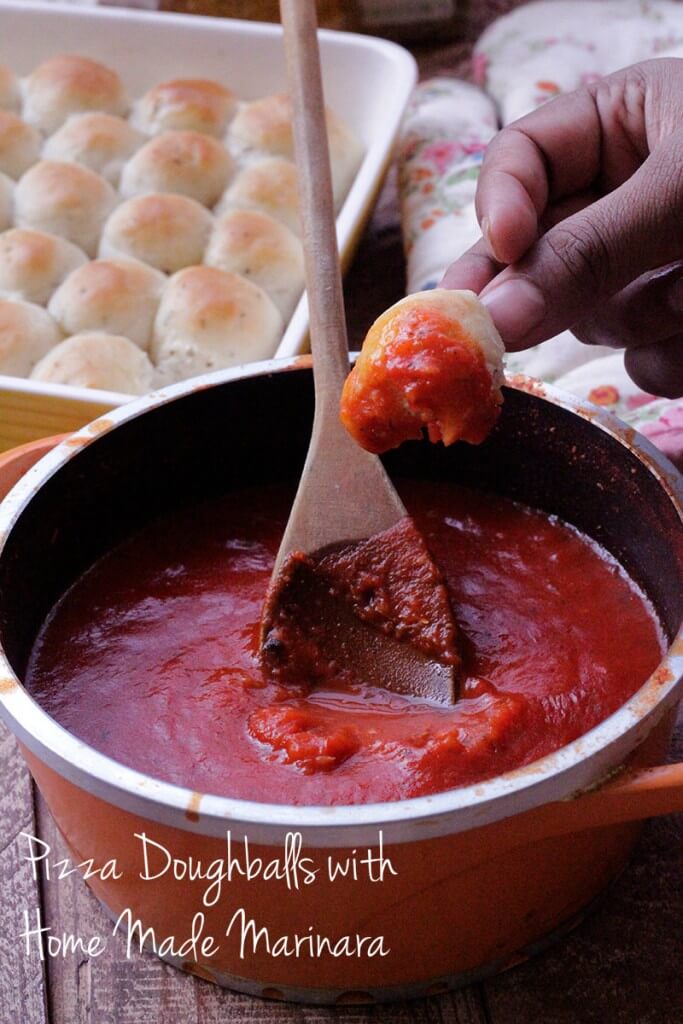 Ingredients for Marinara Sauce
Tomatoes- 600 g
Garlic- 7 cloves
Fresh basil- 10 leaves
Chili flakes- 1/2 tsp
Salt- to taste
Olive oil- 2 tbsp
Dried oregano/ Mixed italian herbs- 1/2 tsp
Directions
Blanch the tomatoes and de-seed them. Puree the tomatoes after this and set the puree aside. In a large skillet heat the oil over medium flame. Add the crushed garlic cloves and saute till they are golden. Add the tomato puree followed by chopped basil, chili flakes and dried oregano. Simmer the sauce till it thickens this will take 10-15 minutes over medium flame.
Note: I add sugar at times, when the tomatoes are tangy. I don't use tomato puree or canned tomatoes but if the sauce does not look bright enough, I add some Kashmiri chili powder to give it some redolence.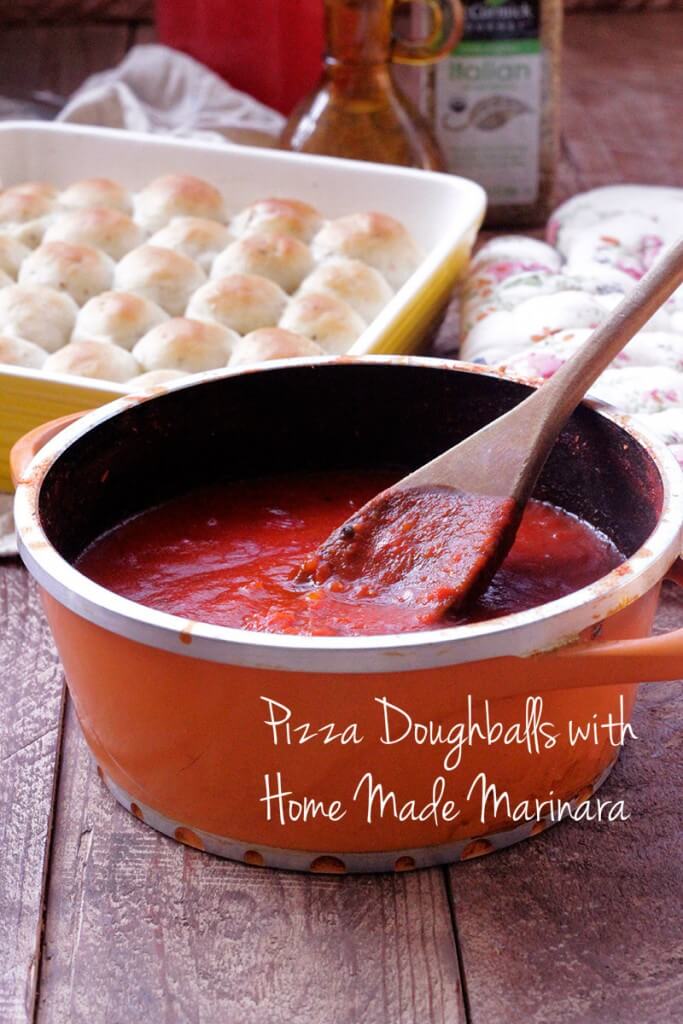 Are you geared up for the big game tonight? I know I have missed the toddler challenge two days straight but I was caught up with few stuff and this recipe technically should be a toddler one because Sarah so loves it. But I won't cheat, I will post something exclusively prepared for her alone. Till then stay blessed, eat healthy and get back to me on how the doughballs turned out to be.