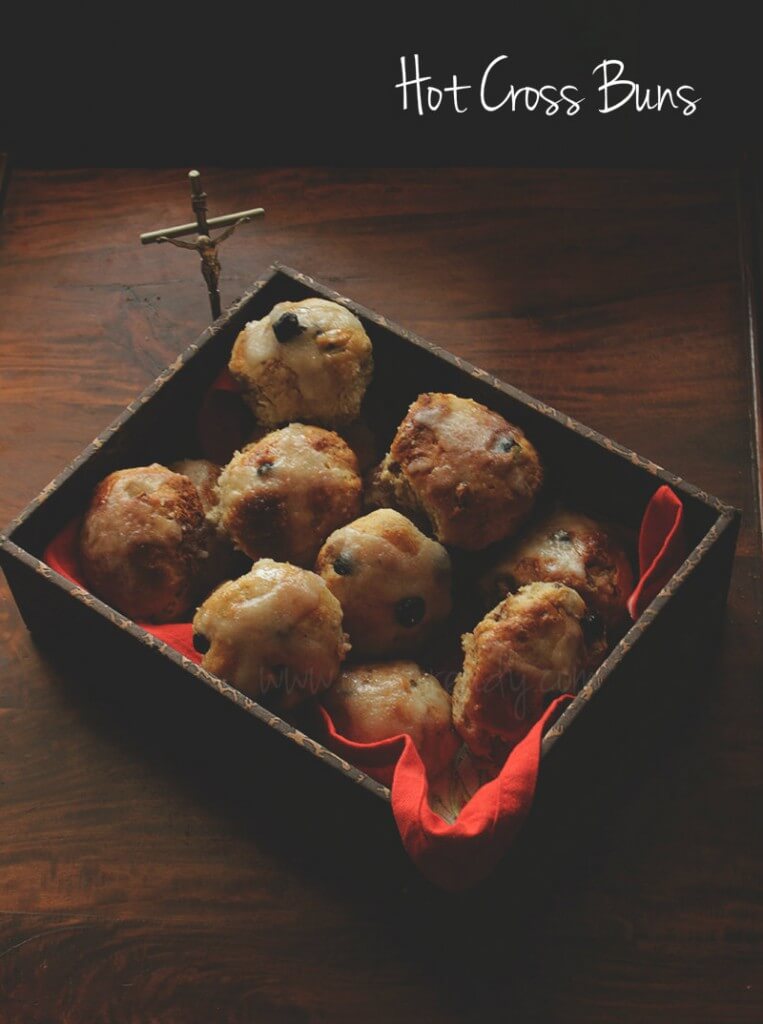 Hot cross buns, Hot cross buns one a penny, two a penny….. If this rhyme comes to your mind I bet you are either an NRI kid or a kid who went to a CBSE school in the early 80's. Because when I ask my desi bred hubby about rhymes, he teases me by saying we in India had better stuff to do than learn silly rhymes. Now as a kid I often wondered how these hot cross buns looked like. As a Christian the only two festivals we ever looked forward to was Christmas and Easter but never did we bake hot cross buns for good Friday. But I remember my mother telling us about these buns because she worked with Dutch missionaries and German missionaries in the initial years of her career. For us the only breads prepared during Easter time were the unleavened breads steamed for Maundy Thursday – the Pesaha appams. But back in Kerala I have seen small buns with crosses affixed on them (crosses from coconut leaf) sold for maundy Thursday and good friday. So I guess we do associate this season with hot cross buns.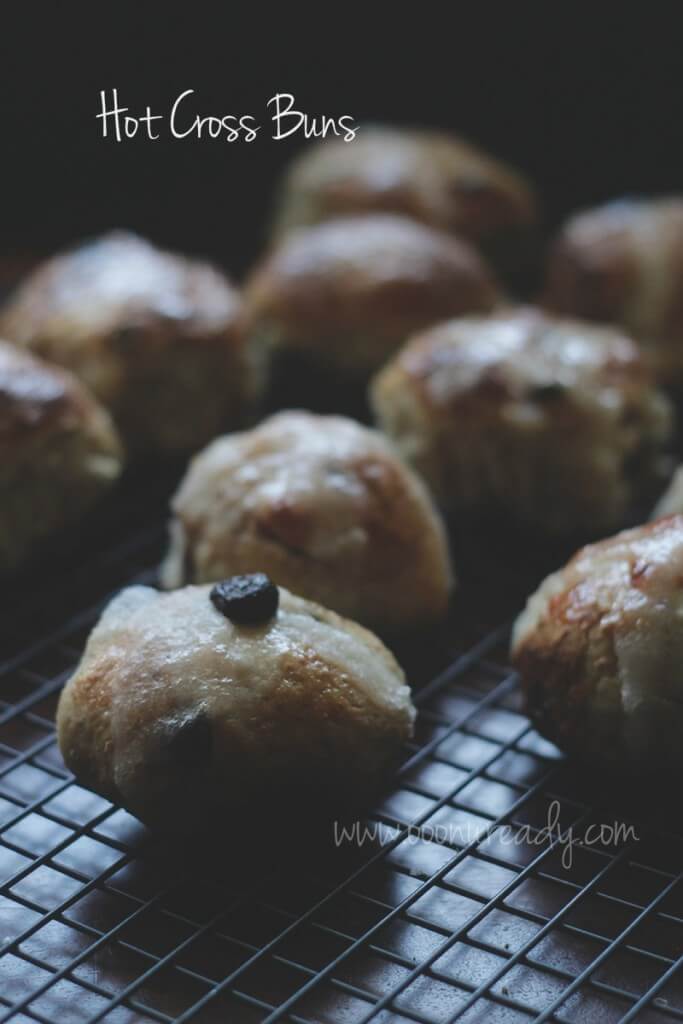 Now I am not a historian but I love food history and the literature tells me that the pagans (non-Christians) and I am assuming this is prior to Christianity, who worshiped their deities offered small breads with cross affixed to it. And these breads were often offered to goddess Eostre from where the term Easter was coined. While Christians celebrated Easter, the practice of pagans got carried over as a custom and the cross was given a new significance. There are quite a few superstitious beliefs attached to the hot cross buns. It is believed that the hot cross buns baked on good Friday lasts till the next good Friday and protects the house from fire and other dangers. Travelers carried these buns on voyages and people used the shreds of these buns as medicine.
I am not sure about these stories, but the readings made me all the more excited to bakes these buns. My other reason being this recipe was my way to use up the leftover currants from Christmas. I will share the post of Pesaha appam tonight so that people who need this recipe for preparation can use them, and I will upload better pics when I click them this time.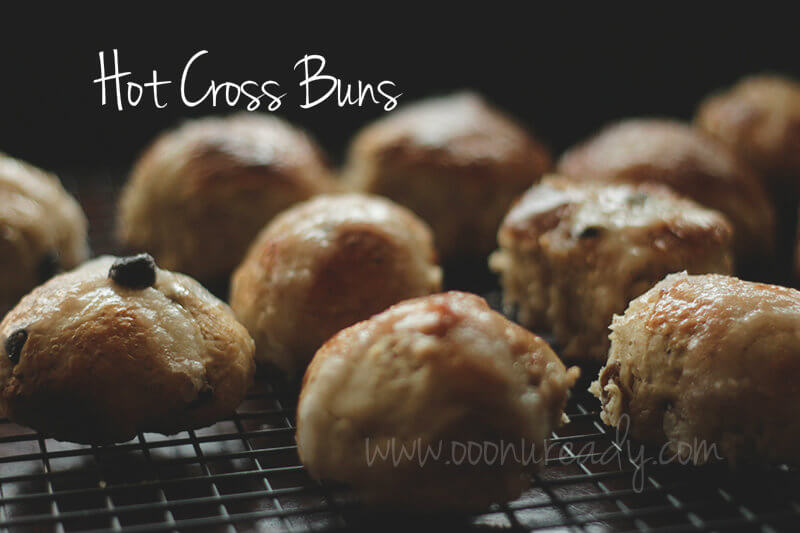 Ingredients for Hot Cross Buns
Flour- 4 cups
Yeast- 14 g
Caster Sugar- 1 1/2 cup
Mixed spices- 1 1/2 tsp (nutmeg,cinnamon, bay leaf, cloves and green cardamoms)
Salt- 1 tsp
Black currants- 1/2 cup
Butter- 300 g
Milk- 300 ml
Eggs- 2
Jam- for glaze
Flour- 1/2 cup ( for the cross)
Water- 4 tbsp (for the cross)
Directions
Combine flour, yeast, sugar, mixed spices, salt and black currants in a bowl. Heat the butter in a sauce pan and add the milk. Warm the milk for 5-10 seconds and add it to the flour. Also add the whisked egg and using a spatula bring the ingredients together. Knead the mix into a soft dough and transfer the dough to work station. Knead for another 5 minutes and transfer the dough to an oiled bowl. Cover with clingfilm and let the dough rest for 1.5 hours till it doubles. After the resting period, make 12 balls out of the buns and transfer them to a baking tray lined with parchment paper. Let the buns prove for another 40 minutes and they will double again. Preheat the oven to 190 degrees meanwhile and make a flour paste with flour and water and using a piping bag or spoon draw a cross on the buns. Now bake the buns for 15- 25 minutes till they top of the buns brown. Cool the buns on a wire rack and brush them with some jam for a glaze. I was not happy with the cross so I mixed 4 tbsp icing sugar with some water and made another cross on top of the previous ones but they looked perfect even without it. While serving cut the buns into half and slather some butter and enjoy with a cup of coffee.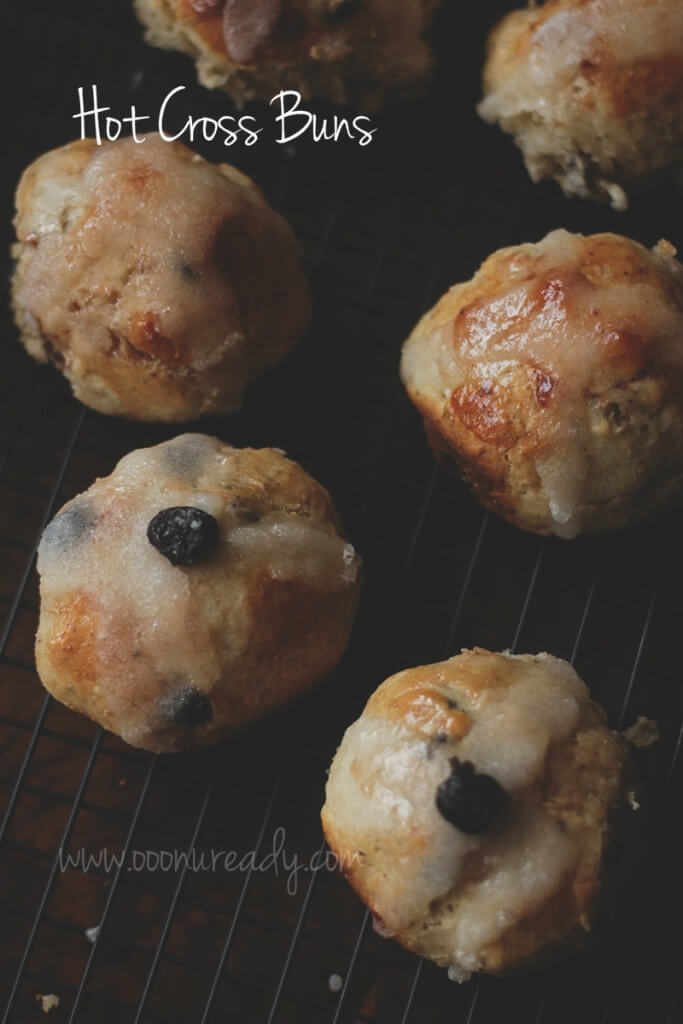 May there be peace and harmony in your family in this passion week and have fun baking and cooking with your loved ones. Stay tuned for our Family menu for Easter and I am so excited to cook for Sarah who is all eager to sample everything on the stove these days. She did not approve these buns because she did not like the spices. I avoided orange rind and apples for the same reason but I guess even the mixed spices was too much for her.