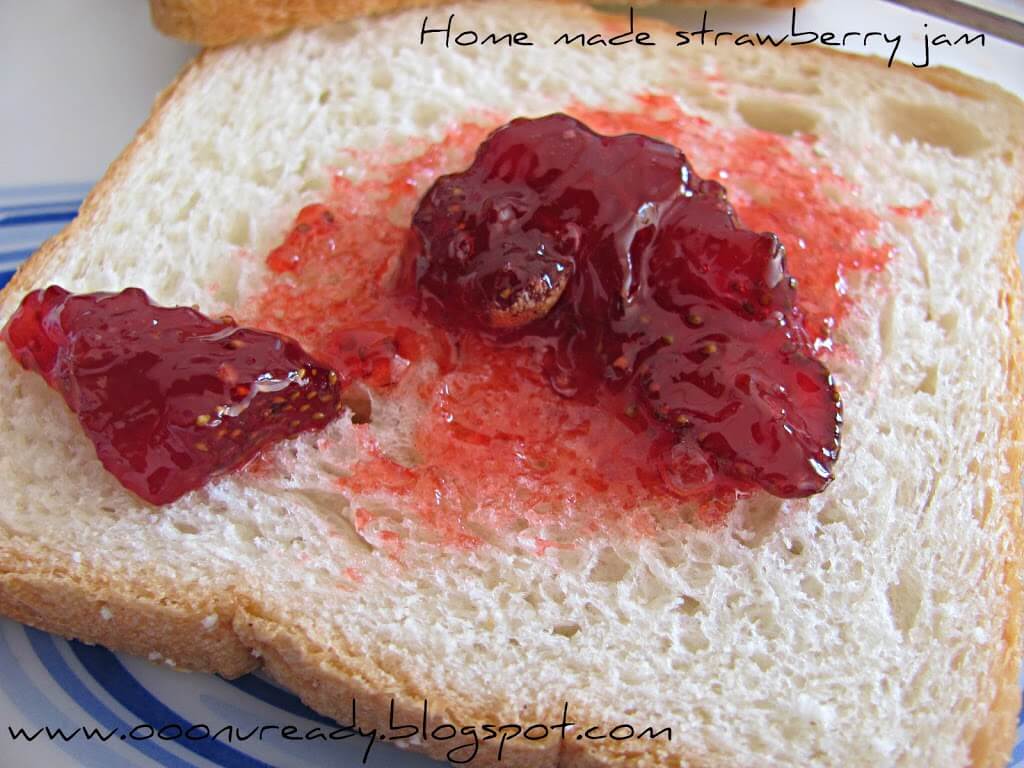 Happy New Year folks. This year seems to be quite promising to me. I hope to submit my PhD, I am awaiting my baby's arrival and we hope to move to our new home in Sarjapur. A lot's happening around me and I am overwhelmed. I am also struck by a catastrophe called 'Carpal Tunnel Syndrome'- numbness in my right hand, especially the wrist due to some fluid retention in my arms- a side effect in some pregnancies. My docs tell me it can't be cured till the baby is born and my body gets back to normalcy. Worst case requires surgery and they weren't kidding. So in short life is a mess right now. I can't knead, and cook like before. I am trying to do stuff with my left arm but that hurts after a while. But maybe I will soon become ambidextrous :)
But to be frank I cooked massively in the past months with this numbness until I was informed clinically about my status. I firmly believe my kiddo is training for master chef junior within me inspiring me to hunt recipes I never would have in the first place.The diagnosis now makes me feel seriously ill, though I was ill all the while :) so to break myself free from self victimization, I thought I should get back to what I enjoy the most. It has not been easy, it hurts all the while but then I need to indulge in something that takes my mind off these thoughts. I wanted to start the year with some other recipes but then maybe you should explore possibilities with strawberries before the season ends so here's something I did with strawberry.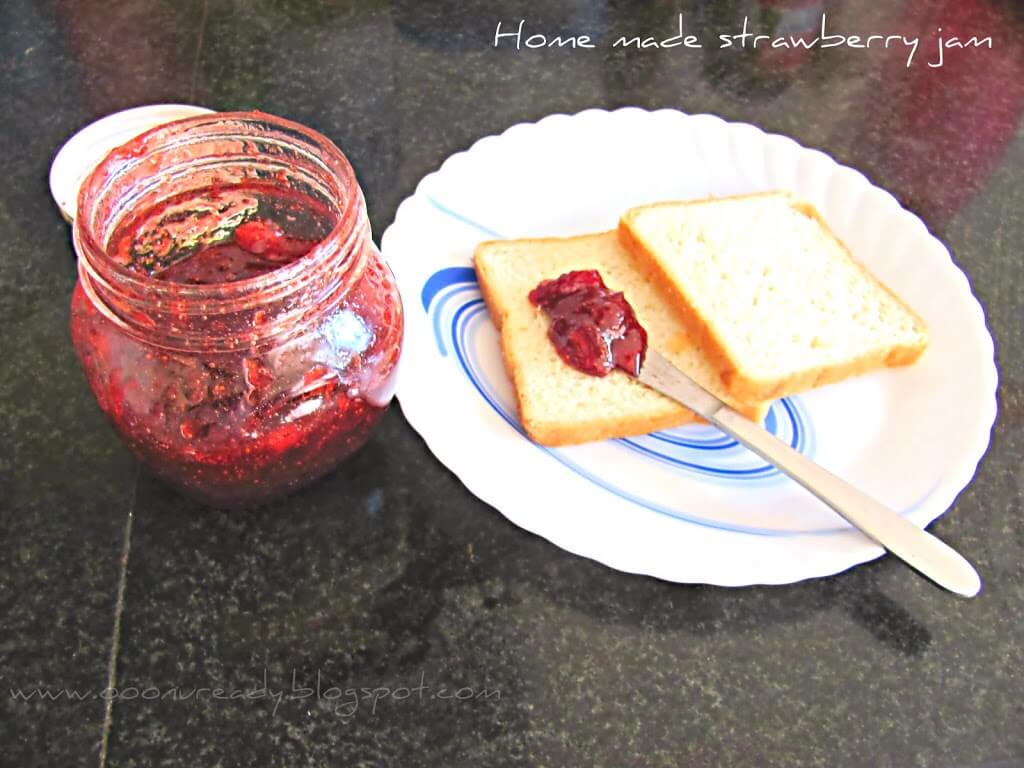 Ingredients for Strawberry Jam ( Recipe Courtesy: Purple foodie)
Strawberries- 500 g
Sugar- 200 g
Sterilized jar – 1
Directions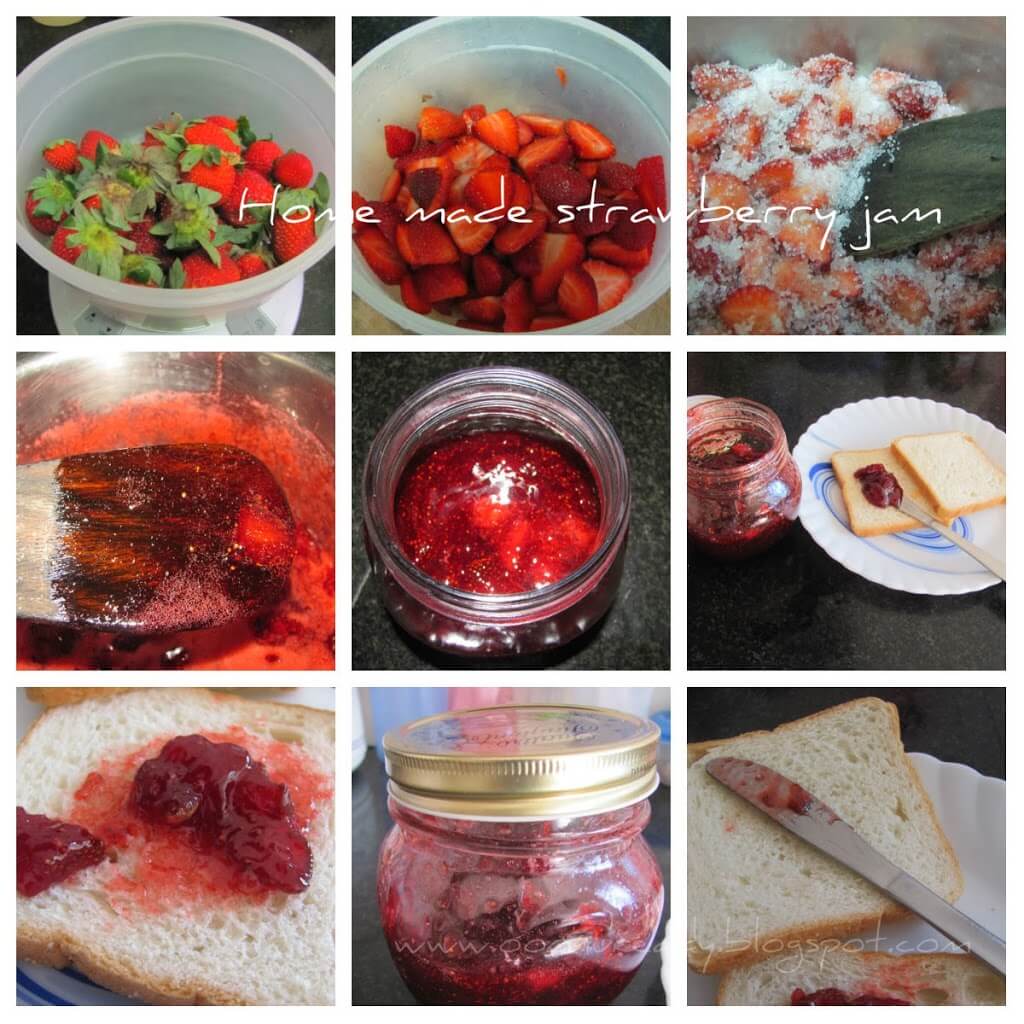 In a pan ( preferably copper pan) add the washed strawberries ( I halved them) and cook them till they break down. Add the sugar and bring the mixture to a boil. Skim off the froth and stir from time to time. I used the saucer test to find out if my jam was done. Pour the jam onto a saucer once cooled this should form a skin. It took half an hour for this jam to be done. It could be done faster in a copper pan. Once the jam cools bottle it and turn the bottle upside down for a while this will create a vacuum and increase the shelf life of the jam.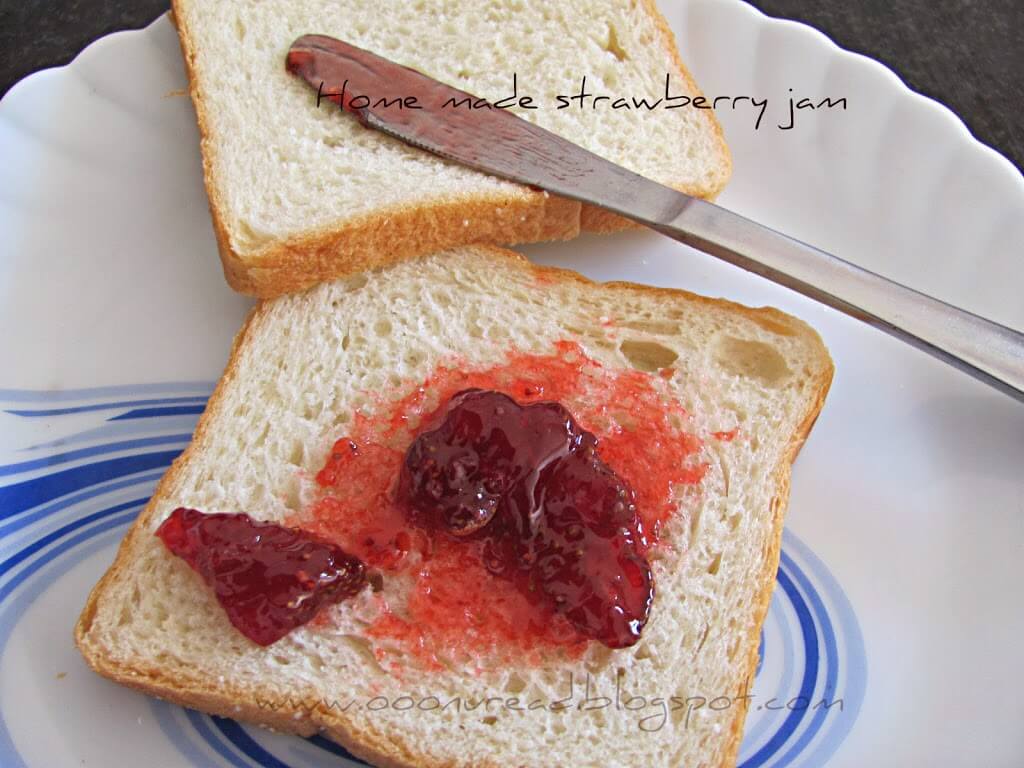 I am not a jam person but maybe it's the possibility of having fresh jam without preservatives or less sugar, my family took instantly to this jam. And I am glad I tried this recipe. Hopefully I will make another bottle before the strawberry season comes to an end. Jam making isn't difficult and once you start making home made jams, I bet you will never lay your hands on the ones you find in the super market. So what did you do with strawberries this season?