Gozleme, yep it is not a fanciful word created by me, it's the name of a Turkish pastry-flat bread and the common filling is spinach and feta. As a kid I loved arayees- the Lebanese stuffed flat bread and for years this recipe was in my to-do list. I still haven't figured out how to do it, So when I came across this recipe for gozleme I was excited. You could call this a glorified keema paratha but I love the rustic flavours of the kheema. It has no Indian spices and therefore I don't think it qualifies to be called a paratha in the first place. It is more like a stuffed flat bread. Now Sarah was more happy to eat the crust than the meat because she hates meat. I am told mother's eating habits in pregnancy affects the kid's eating style and I thought this was an old wive's tale. But the fact is I was a vegetarian throughout my pregnancy because I was undergoing a treatment for my carpal tunnel syndrome. I can't believe I am over those days when my hands would go numb and I could not sleep because my hands ached. Those were the toughest of days with no help except hubby dear who was my cook, masseur and therapist. I was eager to see my little one out and regain the freedom to move around.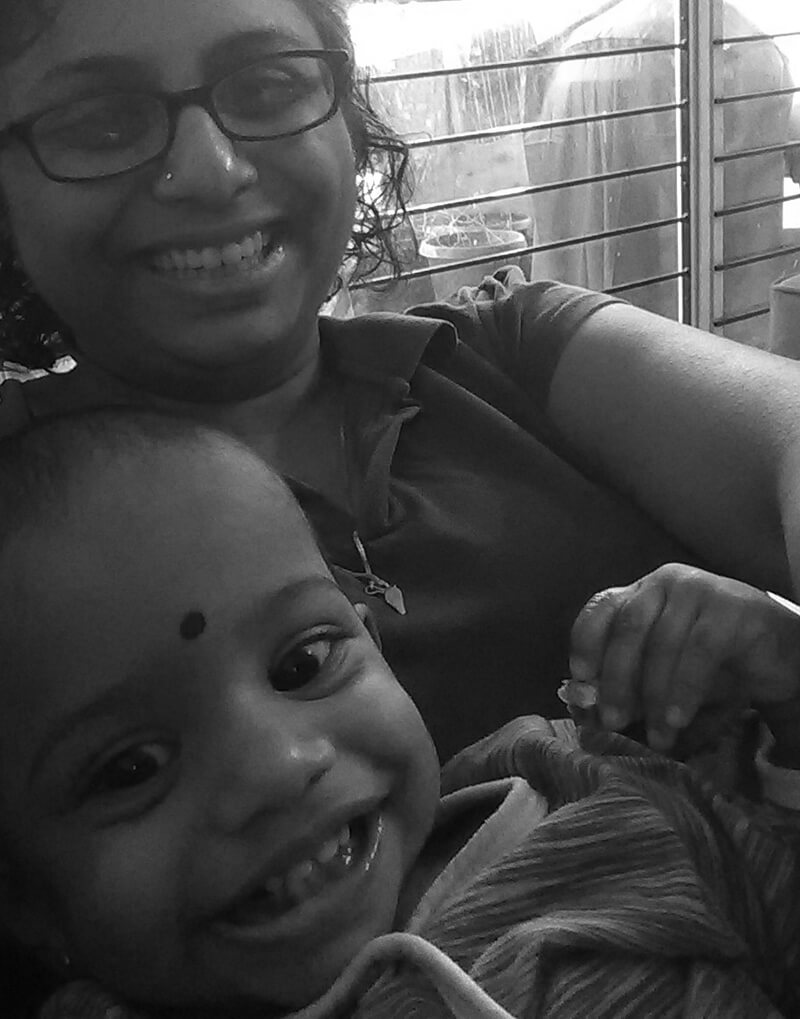 Never did I imagine, the new phase once she would be out. And boy isn't she a high spirited one? I have devilish thoughts watching her stampede the kitchen, strewing plastic containers around, tampering my props and throwing stuff down the balcony. I have lost count of what's missing in this house. And who could imagine feeding a child could be much painful than a carpal tunnel syndrome. My mom tells me children need variety in food and I wonder if that weren't a luxurious demand? So while I am at it, I am trying to make stuff that can be a meal for us adults as well. Sarah did nibble 2 slices over an hour's time with the help of some tv commercials. So I am done for the day. I think I will try spinach and cheese, I think she will love more veggies than meat. I know whole wheat flour would be healthier but I was trying this recipe for the first time and so I let it be. I think they tasted a lot like tortilla wraps so maybe we will try Mexican soon. Sarah loved Chili last time we were at a Mexican place and with the winters I guess we will be seeing a lot of soups and warm stuff for dinner.
Ingredients for Gozleme
All purpose flour- 3 cups
Yeast- 8 g
Salt- a pinch
Olive oil- 1/3 cup
Sugar- a pinch
Warm Water- 300 ml
For Stuffing
Mutton minced meat- 200 g
Onion- 1
Garlic- 3 cloves
Salt- to taste
Tomato puree- 1 tbsp
Olive oil- 1 tsp
Mozarella- 50 g
Directions
To prepare the dough begin by activating the yeast. For this add sugar and yeast to the water and let it rise for 5 minutes. In a bowl add salt, flour and oil. Now slowly add the yeast solution. Knead into a pliable dough. Transfer the dough to an oiled bowl and cover with a damp cloth. Leave the dough to rise for 30 minutes and prepare the stuffing meanwhile. For the stuffing, heat oil in a pan and add the minced garlic cloves. Add the chopped onions to the garlic after 2 minutes of sauteing the garlic. Add the minced meat soon after along with salt. Saute the minced meat and add the tomato puree. Cover and cook till the meat gets cooked thoroughly and your stuffing is ready. Now go back to your dough after 30 minutes. It would have risen. Divide it into balls and roll them out into round discs. Fill them with the stuffing and top with grated mozarella.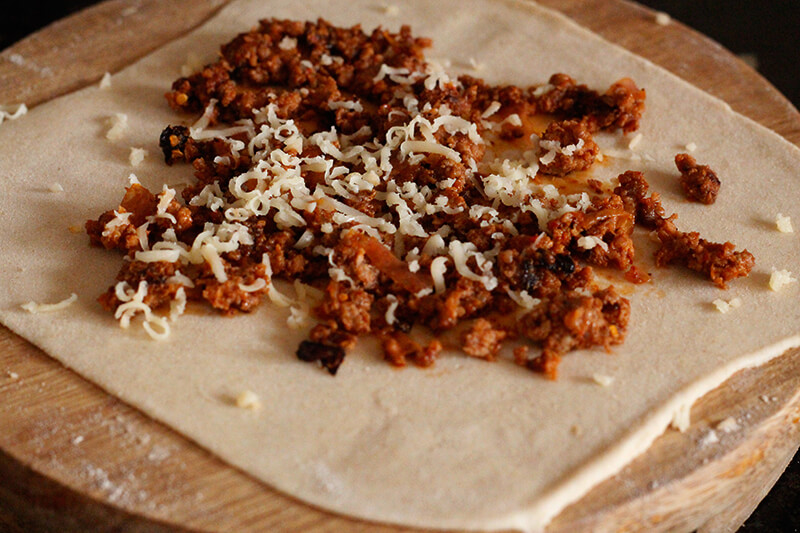 Cover the gozleme into halves and seal the edges forming a moon shape.
Heat a pan and grease with some olive oil. Cook the gozleme over the both sides till they are cooked thoroughly. You will know this from the red spots on the bread when you turn them over.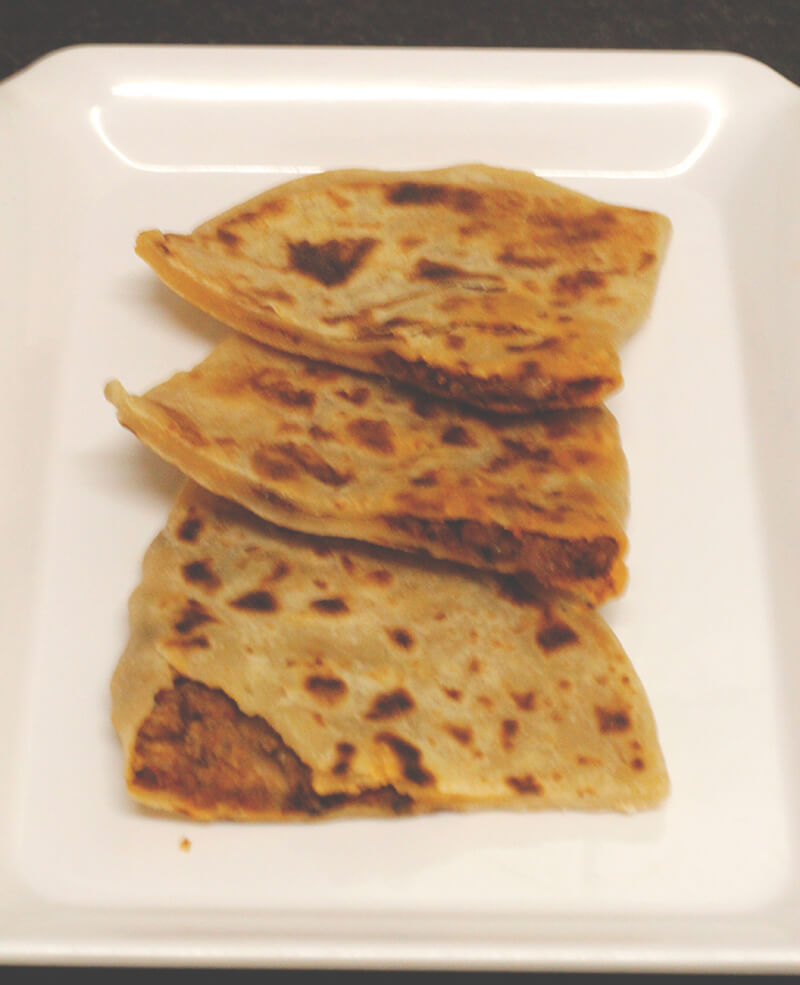 Note:
Please cook these breads over low flame.
2.And roll the gozleme as thin as you can so that they cook properly. If it is thick they will puff up and not cook completely.
Also as you fill the gozleme press them down with a spoon before folding into half else all the filling will come to one corner and not be even.
You could make the filling a bit saucy too, the sauce would keep the stuffing fixed to one place.
See you soon, I have some awesome stuff lined up for tomorrow, keep guessing.