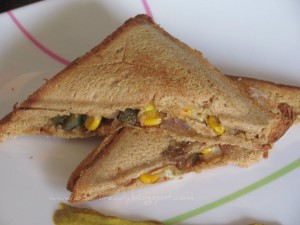 The Lenten season has begun and we have turned herbivorous. I thought I would post some of the yummy carnivorous stuff I had in store but then decided to take up this new challenge of posting veggies alone for these 40 days. Lenten season is always a challenge for me. I don't like boring my appetite and my hubby with the same old stuff so I work really hard to ensure we make something different and simple this time of the year. This also happens to be the only time of the year when my hubby agrees to a vegetarian diet so its more like a detox diet and cleansing of the body rather than just abstinence. So my first post this season is a sandwich. Cafe coffee day has recently changed their menu and have got in a lot of yummy stuff. One such item on their menu was a tex mex sandwich. I have always loved their sandwiches plus they come to us students at a discount inside my institute so I have been lucky to have tasted every sandwich at CCD. This sandwich of mine is inspired from the tex mex veg sandwich of CCD. I assumed it was made more or less this way and tried my luck and it did turn out well. Hope all the vegetarians out there would give this a try.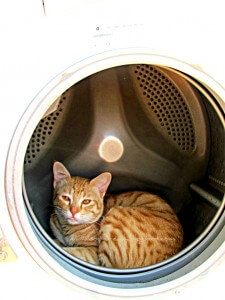 That's Don our cat whose taking refuge in our washing machine on a sunny day. he loves to watch me cook and just lies down near the stove hoping to grab a bite. This lenten season would disappoint him but he still faithfully joins me in the kitchen for our cooking sessions.
Ingredients for Tex Mex Veg Sandwich
Wheat bread- a pack
Corn- 50 gm
Capsicum- 1
Onion- 1
Crushed chilli flakes ( You can try peri peri too)- 1 tsp
Light Soya sauce- 1 tsp
Salt – to taste
Mozarella sliced – 2 strips per sandwich
Margarine- 5 tbsp
Olive oil- 2 tsp
Directions
Boil the corn for 15 minutes, drain them and keep aside. Chop the onion and capsicum.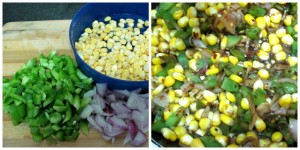 In a pan heat the oil. Add the onions and saute them for a while now add the capsicum and continue sauteing for 5 minutes. Add the light soya sauce and chilli flakes followed by salt. Blend the spices with the capsicum and now add the corn. Cook for five to ten minutes before taking the corn capsicum mix off the flame.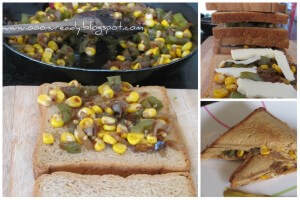 Spread margarine or butter over the bread. Lay the filling over one slice of the bread. add the grated or sliced mozarella strips over the filling and sandwich the bread slices. Grill on a sandwich toaster and your sandwich is ready.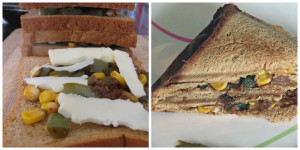 Now this is a spicy sandwich and trust me you don't want to try this if you are scared of a runny tummy especially on a working day. So please be careful with the chilli flakes omit it if spicy stuff isn't your thing. We love stuff spicy so I decided to go with this sandwich and my hubby kept saying it wasn't spicy. The cheese brings in the wow factor for this sandwich and I somewhere felt I was having a veg pizza in the form of a sandwich that reminds me you can go ahead and add a dash of oregano too and then it would be definitely a pizza in form of a sandwich.