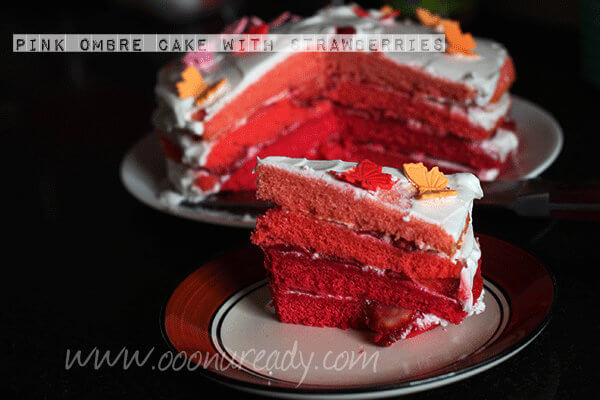 I have never been good with dates. Maybe its my poor planning or my disregard for special days :P I have always failed at composing a post around festive days. Be it Easter, Christmas, Anniversaries or Birthdays, I just cannot post something on the right day. It was gonna be the same today. Yesterday was an unusually hectic day. I had an order for 60 pita breads, hummus (3 kg), falafel(40 falafel) and shish taouk (32 mini skewers). I was up from 5.30 am till 11 am doing the order. And I pushed off to do some New year shopping for my hubby with a friend (so not like me) though I thought I should sleep through the day. Back home, with an active 9 month old kiddo, I thought I was done for the day when, I thought I need to post something for this valentine. Now I did not have the energy to bake something. And my hubby never eats more than a spoonful of any dessert. So I rummaged through my folders and voila ! I found this. This is not something I baked for Valentine, it was actually baked for New year, but it seemed appropriate here.
Every cook has an achilles heel- a weakness, a shortcoming. Mine is frosting and icing. It could also be because of my lack of patience. Nope, that could not be the reason because I have done tougher assignments. Maybe my sense for aesthetics is poor. But I promise I am learning :) So ombre cake seemed a tough task to me. But then recently I discovered naked cakes were done in the ombre fashion. As in cakes were baked in different hues of a colour and stacked together with minimal cream to bring them together as layers. This seemed doable. And I had my cousin Viji all eager to bake a cake with me for New Year. So we began our new year with this cake.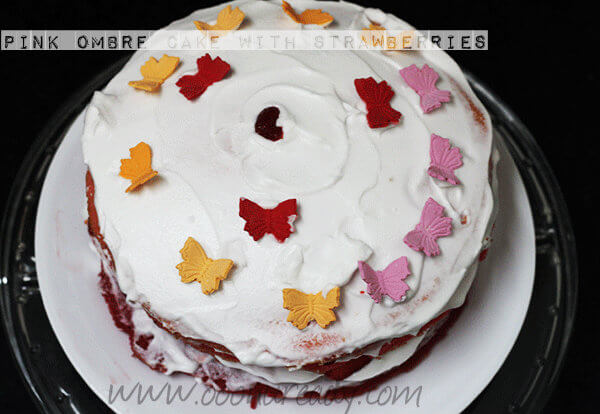 Viji needs a little intro here. She is my mom's sister's daughter but I hardly knew her until she came down to Bangalore. I am not a popular cousin, I hardly socialise with the younger ones in my extended family. But Viji has been a constant companion in my kitchen experiments for the past few months. She is missed profoundly, especially since she is now in Chennai for her job training. Viji if you are reading this, come back soon, I really could use some help, Sarah is disrupting my experiments these days.
Ingredients for Pink Ombre Cake with Strawberries
Flour- 188 gm
Baking powder- 1 3/5 tsp
Butter- 206 gm
Sugar- 206 gm
Vanilla essence- 1 1/2 tsp
Milk- 50 ml
Eggs- 5
Food colour- pink
Directions
Sieve the flour and baking powder and keep aside. Cream the butter, sugar, milk and vanilla essence. See that you add the sugar slowly and not all at once. Also the butter and eggs should be at room temperature.Beat in the eggs once the butter is creamy. This cake is a plain pound cake which has been divided into four shades of pink, The third and fourth layer look almost the same- 'mea culpa maximus' but the cake tasted awesome, especially after chilling overnight int the refrigerator.Break in the eggs one by one and keep whisking. I dont have a cake mixer so I use the egg beater for those of you with a cake mixer it would be easier. But dont over do the whisking on power mode. Use the mixer for a minute or two and the with the paddle attachment mix and blend. Fold in the sifted flour. Now mix well and divide the batter into four bowls. Add one drop in the first bowl, two in the second, three in the third and four in the fourth bowl to get different hues of pink. In four 9 inch pans line the pans with parchment paper and pour one colour in each pan. Bake at 180 degrees for 30 minutes. I baked this cake in a microwave oven and this was the time it took for the cake to bake. If you use an elecrtic oven you might require 40 mintues. Once baked transfer cake to a rack to cool.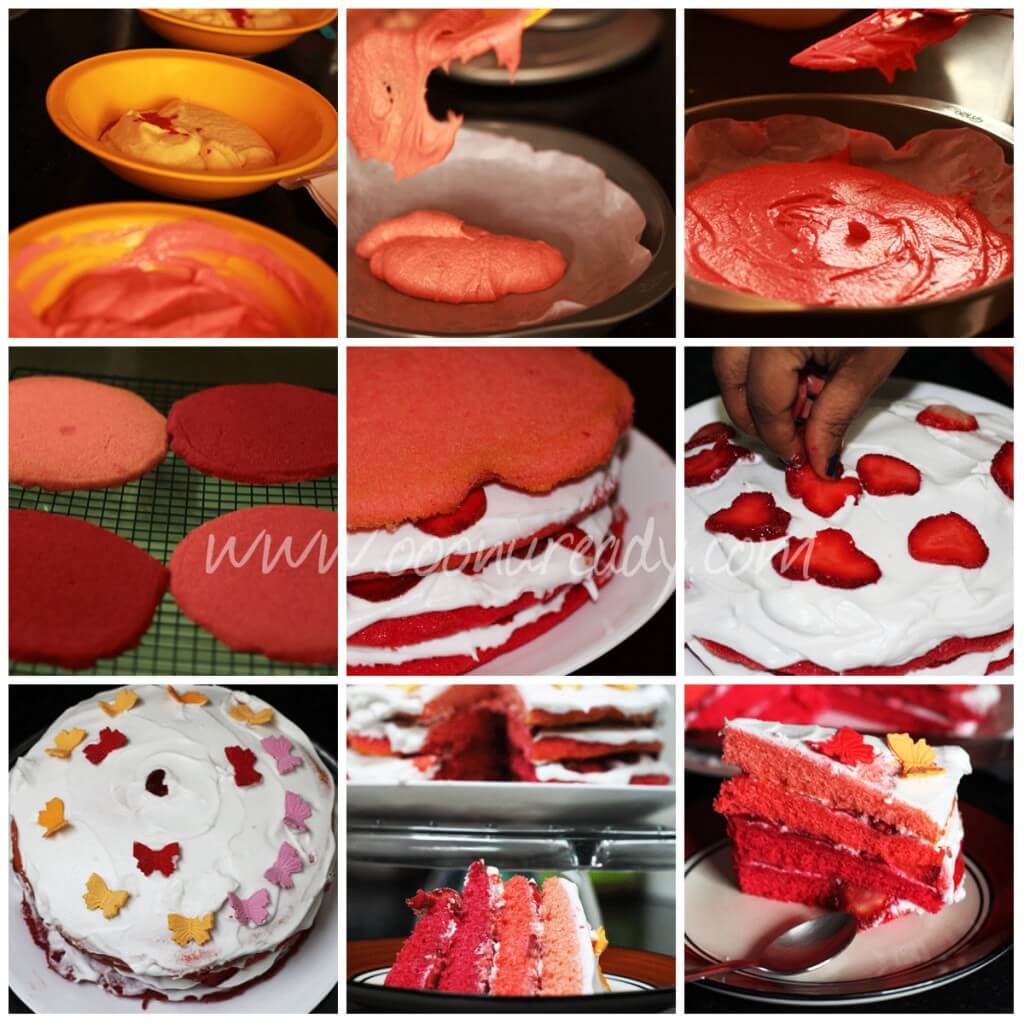 For assembling the cake once the cakes have cooled decided how you want to stack them from the darker shade at the bottom to lighter shades upward or vice versa. I had two similar shades so I just alternated the other two between them, if you do more layers the ombre colour would stand out.Meanwhile wash and hull the strawberries and slice them thinly, these will be used in between the layers and for decoration. Whisk the whipped cream as per instructions on the package. Smear some whipped cream on a cake board or plate and fix your first layer of cake. Now add whipped cream onto the first layer and decorate with strawberries.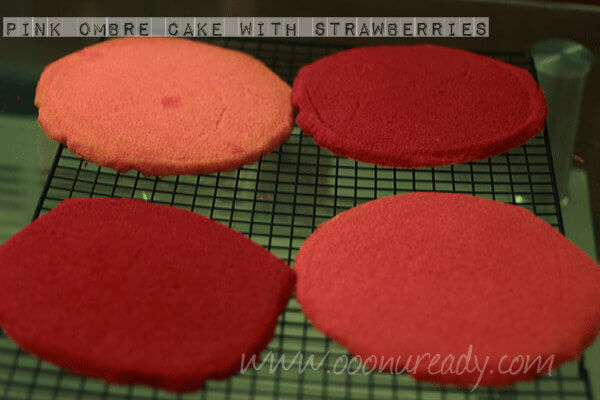 Continue the steps till the last layer. And frost the topmost layer with whipped cream and decorate with strawberries. Chill the cake for an hour before serving and it will taste awesome. Something else I missed above is that I moistened each layer of cake with a little brandy mixed with sugar syrup. This made the cake moist and taste heavenly. You can add fruit juice to the sugar syrup instead of liquor.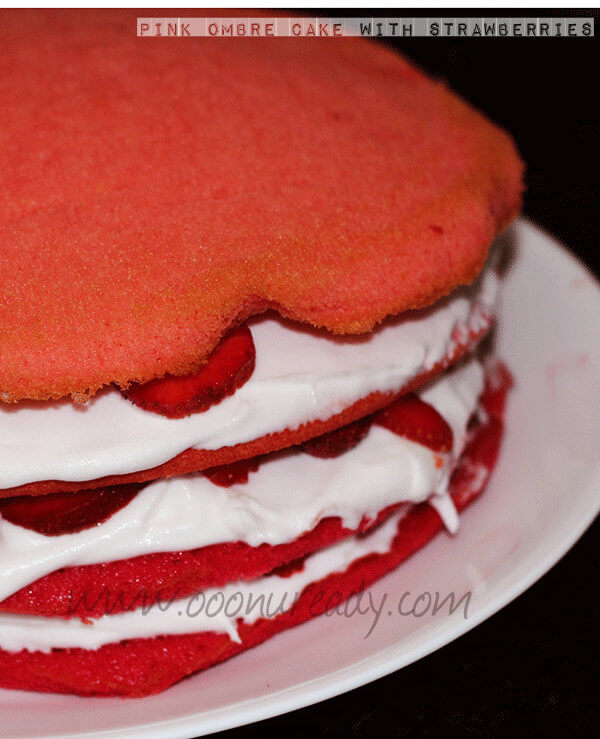 Hope you all have a wonderful Valentines day with your loved one. May St. Valentine bless you all with some love dust and angel kisses :)
I am getting back to baking for Sarah. I promised I would do one cake for her each month and she has missed a lot of cakes in the last four months so I will make four new cakes to celebrate those lost months, and guess what she can eat her cake now :) So stay tuned for more updates.