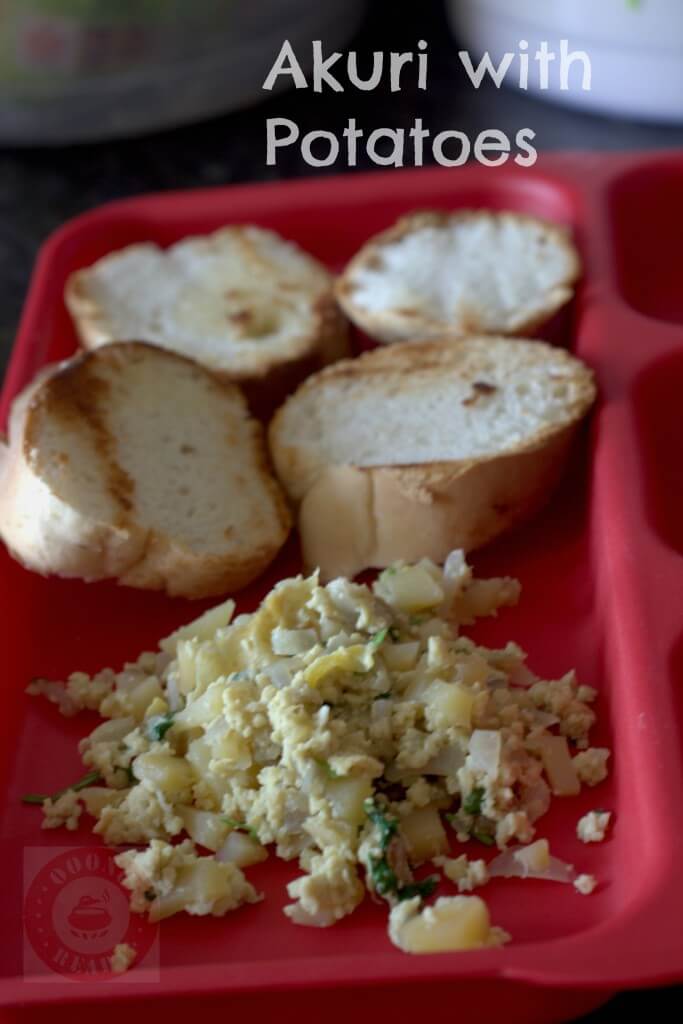 Hello, you lovely people. So as promised here's my new recipe for the toddler meal series. Sarah has developed this fondness for spices. So we decided to try the eggs once again with some mild spices. And so Imade some Akuri with potatoes- the Parsi style scrambled eggs with some potatoes. My mother often made these with rotis but never called them akuri. I now realize how Bombay influenced, her recipes were. The addition of potatoes to Akuri is not a must for this recipe but then Sarah loves potatoes too, but there are some wonderful veggies that can make your scrambled eggs healthier and filling, we"ll get to them in the end of this post. I have started giving her proper meals like toasted bread and omelette dosa with sambar, appam with egg curry gravy. I also serve her food in different plates and this amuses her and she has her fill. She loved the Akuri with potatoes, I think she loves everything with potatoes on them.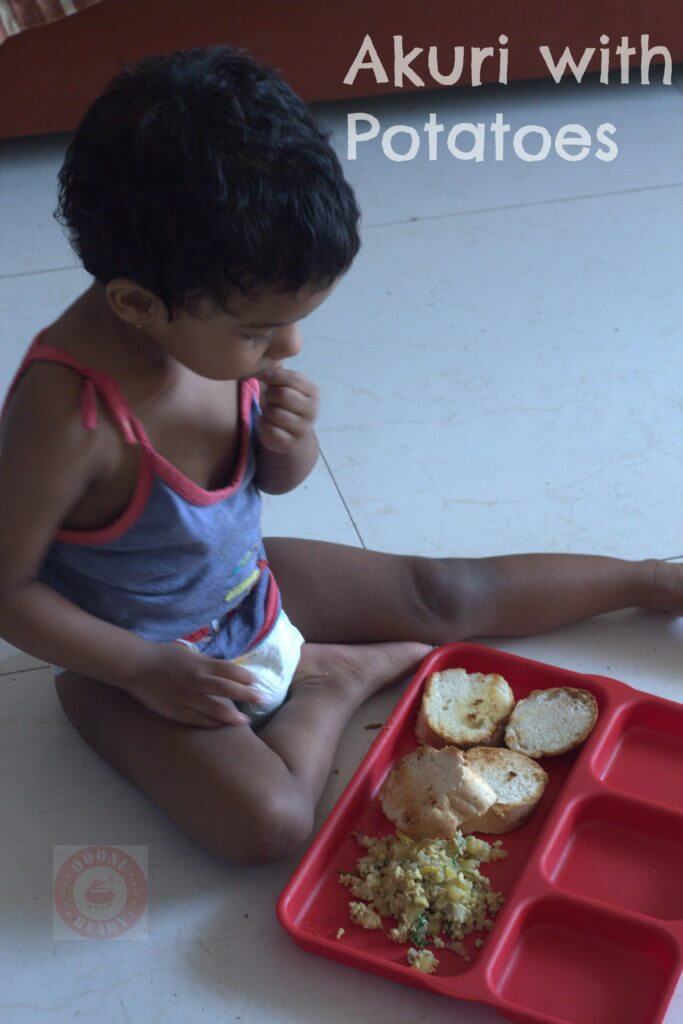 Akuri with potatoes has green chilies, garlic and coriander leaves and that's the only spices I added for her apart from some cumin. I had to still struggle to get her to complete her meal, because she insists upon having it all on her own and ends up wasting half of it. But slow and steady, we are reaching to that point where she is having her meals on her own and not messing up the surroundings. You can add some tomatoes, grated ginger, grated cabbage for a different variant of akuri and they work well with kids. In addition to the regular ingredients, I have added some butter and milk and kept the akuri a little runny unlike the regular recipes. This is a very easy recipe, It is no recipe at all actually so go ahead and try these, they go well with breads, tortillas and rotis.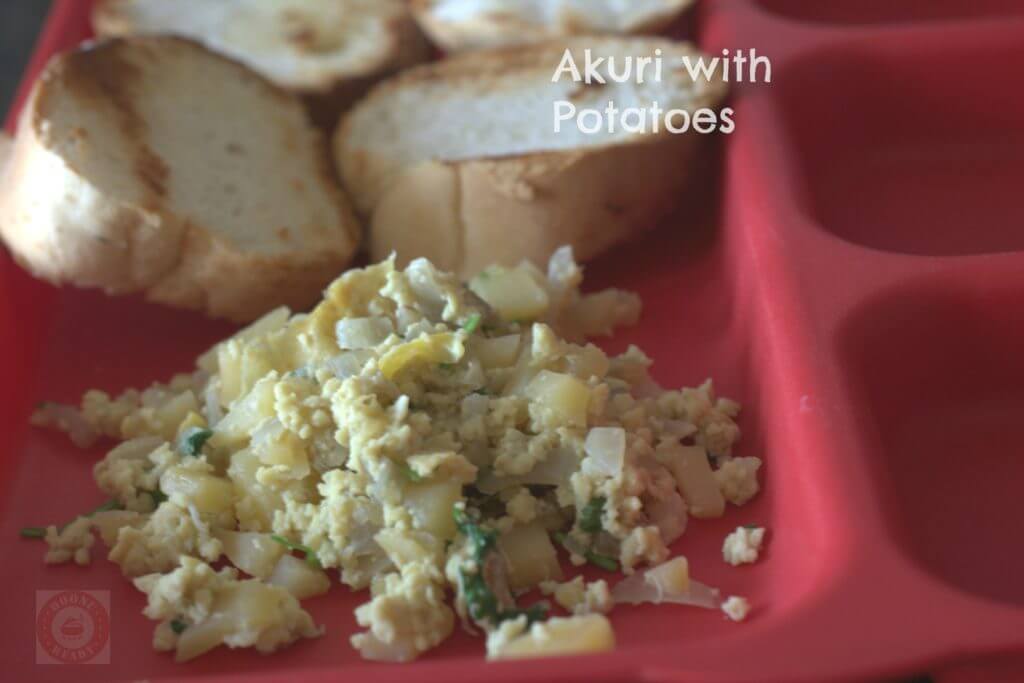 Ingredients for Akuri with Potatoes
Eggs- 5
Potatoes- 2 medium sized ones
Onions- 2 large
Garlic- 5 cloves
Green chilies- 1
Cumin – 1 tsp
Salt- to taste
Butter- 2 tbsp
Milk- 50 ml
Chopped cilantro- 3 tbsp
Directions
Heat the butter in a pan and add the cumin seeds. When the cumin seeds splutter, add the chopped onions, minced garlic and finely diced potatoes. Add salt and 1/4 cup water. Cook the potatoes over low flame.When the potatoes have cooked break in the eggs into the potatoes along with the milk. Scramble the eggs till they are cooked. See that they are a bit runny and not dried up completely. Garnish with chopped cilantro and serve warm with toast.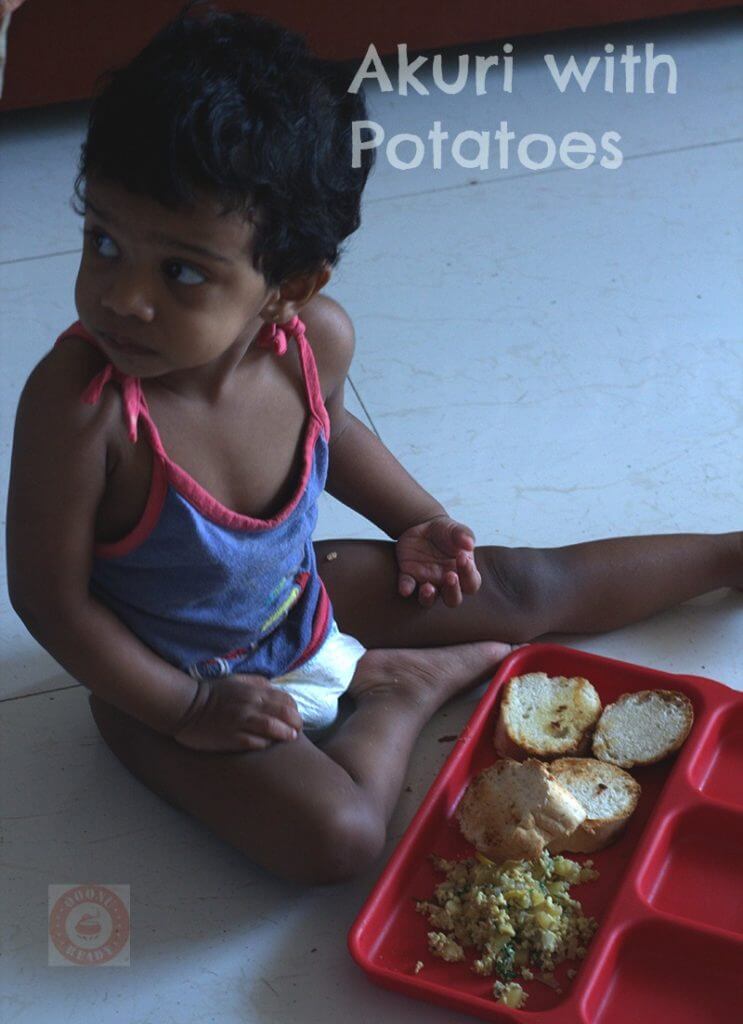 I know I constantly fail to upload the recipes due in toddler series but trust me, we are still on the challenge and I should write a post on how it has benefited Sarah and me. If not for this challenge, I would not have persisted in my efforts to give Sarah the best I could and to understand her preferences. We have both emabarked on a wonderful culinary journey with this series and it gives me immense pleasure to continue the series. I will do a separate post on this so till then stay tuned for more posts and stay blessed, eat healthy!